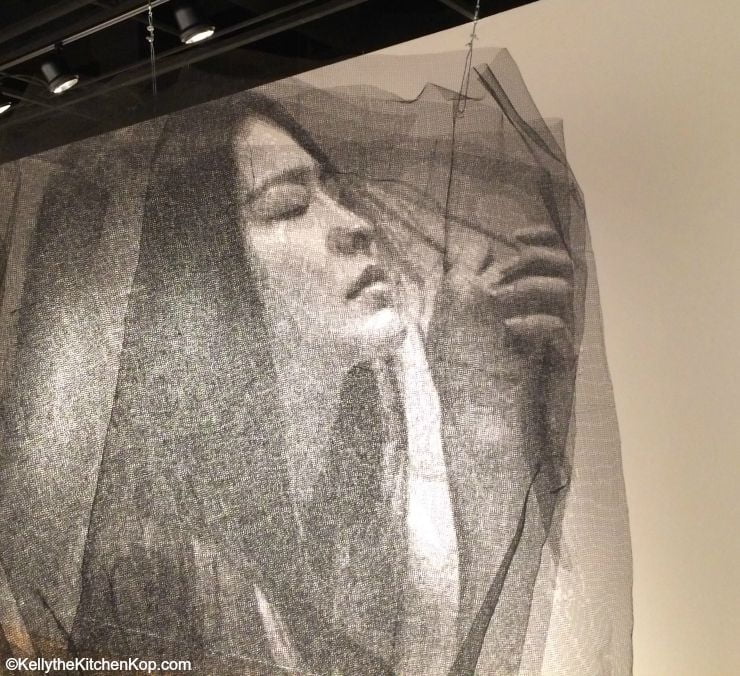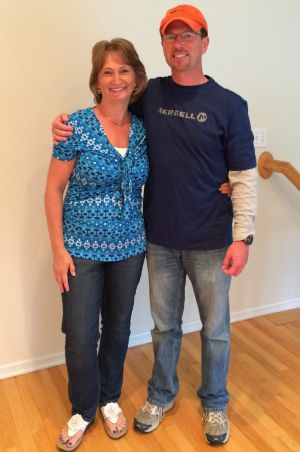 Today I'm sharing a lot of personal stuff, so click away now if you must!  
If you're a FOODIE like we are, I think you'll like it, because I'm going to tell you all about how Kent and I celebrated our 28th anniversary the other night — we had SO much fun, and lots of really good FOOD was involved.  NO, there is no picture of us (although on the right is a fairly recent one), because even though I parted with a whole $10 the other day to buy a selfie-stick, Kent said there was no way he was going to be "one of those people".  LOL.  I didn't argue, because people do look a little silly sometimes, so I'm not sure if I'll jump on that trend or not…  But then again, I might.  (When Kent's not around!)
So first we checked out Art Prize and were sort of disappointed.
Normally there are some venues that have a LOT of unique art together in one spot, so you can go a few places and really see a lot, then you can walk around and catch more, and really get a good feel for it all in just a few hours.  This year, the area that is normally FULL of many cool pieces of art was just a bunch of food trucks.  (With mostly junk food of course.)
Everything else was so spread out, you couldn't see much at all.  🙁  However, the photo at the top was my favorite that I've seen so far (we'll go back a few times).  That was made all out of a bunch of layers of thin mesh!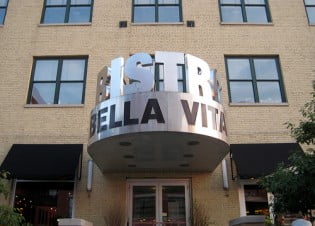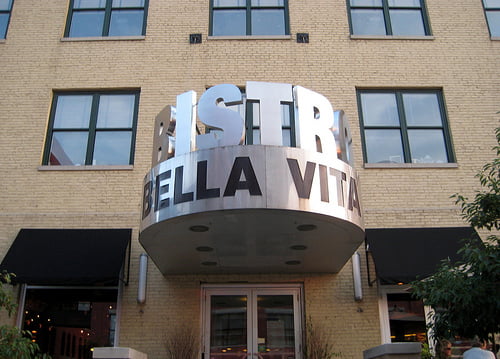 It was a perfect warm fall evening, so we went to one of our favorite places to eat outside:  Bistro Bellavita.  Because I'm a foodie, and since you're reading this you're likely a foodie as well, you probably also LOVE talking about/hearing about food, so here's the scoop on this FABULOUS meal…
First, you should know that…
When Kent and I go out, we both love trying new things so much that A.  We usually share dishes so we can try more, and B.  We also usually eat off the specials menu so we can enjoy whatever wonderful dishes the chef had in mind that day.  It's SO fun this way!
We started with a "late fall harvest salad" — it had watermelon (yes! sounds weird huh?  It was amazingly good), peaches, pistachios, goat cheese, greens of course, and a light delicious dressing.  This was perfect with my old-standby-favorite-never-lets-me-down wine:  Late Harvest Riesling.
Next, we had a stroganoff-type dish, oh. my. gosh.  "House Made Rag Noodles:  Beef Cheek (whatever that is, maybe I don't want to know), Urban Mushroom (I don't even like mushrooms, but these were good), bordelaise (a broth sauce with wine — I had to search online for that), mirepoix (that one I knew:  carrots, celery, onions cut small and sauteed until crisp tender) — the broth was so good that when we were done and only had forks, we had to tell the wait staff who kept trying to take the plate away that, "No, we actually would like some warm bread so we can eat the rest of that sauce!"  And what is WRONG with me?  Once AGAIN, I was too busy in my happy place to remember to snap a picture!!!  You'll just have to imagine it.
OH and we ordered the Pinot Noir that the menu said paired well with it, because now that Kay has turned me on to wine pairings I know that I don't want to miss this treat.  (Read about my trip to Minnesota last summer where my longtime reader friend, now real life friend, Kay, pampered me and introduced me to all sorts of wonderful things!)  I don't generally like reds, but this was SO smooth, and especially when you have a bit of the noodle dish/broth sauce, and then a sip of the Pinot…  WOW.
Next we ordered this:
I don't know what "pork jowl" bacon is, but just as I suspected, if it says "bacon" it's better than good — it was like a crispy piece of fatty bacon, and that, along with the flavors of the garlic puree with those heirloom tomatoes (which always taste better than regular tomatoes, don't you think?!), and the fresh mozz and basil — it all came together so perfectly, we were LOVING it.  The crust was just right, too.  (We'd love a pizza oven in our back yard, wouldn't that be fun?!)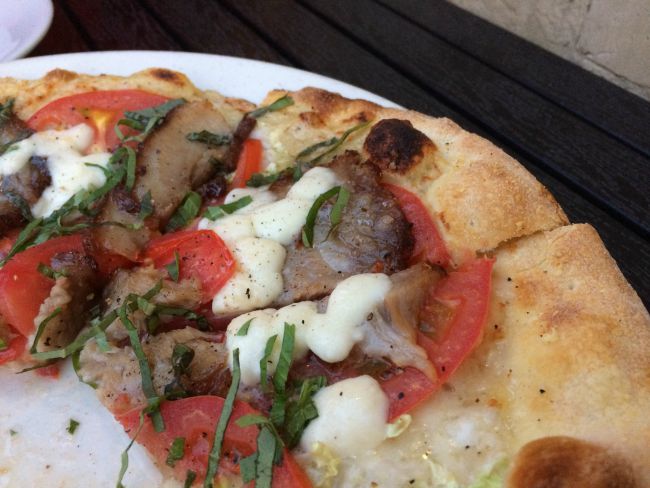 You'd think at this point we'd be too full to go on, but we didn't want it to end, and besides, that's why we share, so the fun can last longer!  Plus it was still so warm outside, and we were right downtown enjoying the bustle of the city around us, and the excitement of Art Prize was in there air…  So you know what that means:  DESSERT:

Yes, this was as delicious as it sounds, but what made it better was the wine pairing.  (Again, thank you Kay for turning me onto Port wine!!!)  This port smelled like caramel, and tasted the same, plus it was so smooth, and with the Creme Brûlée, you guys, it was an experience.  The thing about port is that you just need a tiny taste of it on your lips to get the flavors to all go together, it's not something you drink very much of, but it's……………. oh my…  Yeah, it's all that and more!
Here's what I love even more than all of this food:
I love that Kent enjoys the experience of a slow, delicious, well-prepared and well-sourced meal like this TOO!  We've both sort of grown in this area.  We used to think food should taste good, yes, but we didn't get how it can also be an evening full of entertainment!
When it's all done, since we shared everything, we were definitely satisfied and pleasantly full, but not painfully so, which, in my opinion, is the best way to end a dinner.  🙂
There's more!
At this point we were feeling very old because we looked at the time and were like, "Cool, it's still only 9:00!"  But we ended up walking back over toward the BOB (Big Old Building in downtown Grand Rapids) and there was an Art Prize dance party going on!  The DJ was changing up the music with a mix of old songs we loved and new ones we'd never heard, but that everyone around us seemed to know the words to, ha!  So we people-watched for a while and had a blast.  Kent's commentary was cracking me up.  Plus we loved how safe it felt there in the middle of the city, and we were appreciating that we have, what we think, is the perfect sized city so close to us.  Big enough where there is really neat stuff going on all the time, lots of sports teams, great restaurants, etc., but not so big that you can't get around, or the crime is outrageous.  There were ALL ages dancing there, from toddlers to teens and college-age kids, to young married couples, to senior citizens, it was SO neat.  At one point this gal started dancing and she was really good and was getting the whole crowd going, Kent thought she was a plant of some sort, to make sure everyone was having fun.  I doubt it, myself, but she was fun to watch.  She had on high heels and looked like a professional dancer, she'd pull someone out from the crowd now and then, men or women, and make it look like they could dance, too.  Then we'd watch an older couple for a while that seemed to be having so much fun.  Then a guy walked up with a man-purse, Kent calls it a satchel, and it had a Hello-Kitty design on it, too funny — he and his wife knew all the same coordinating dance moves, so they were also a blast to watch!
Neither of us can believe it's our 28-year mark, but we're very thankful that the Lord has brought us so far.
If you made it all the way to the bottom, thanks for reading guys, I hope you actually enjoyed my rambling a bit!