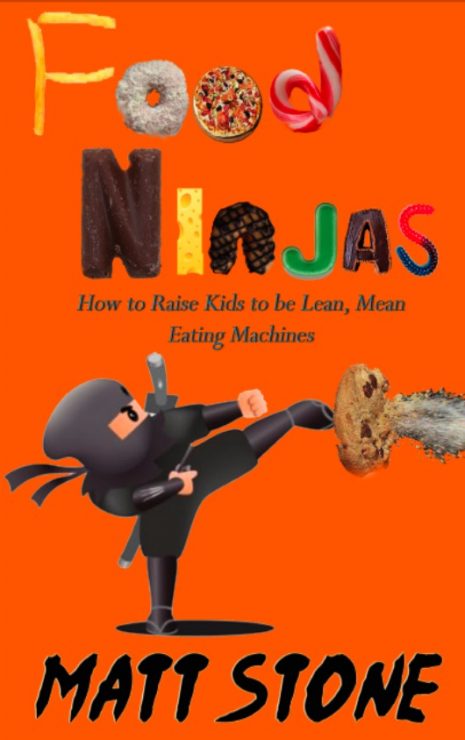 Real Foodie that I am, I tend to evaluate the worthiness of everything that goes into my mouth or onto my table, which occasionally makes me wonder if I might be instilling a bit of food neurosis into our children.  We all know people (and might be one ourselves) with a love-hate relationship with food, or who've yo-yo dieted in the past and fluctuate between deprivation and overindulgence (with the energy deficit and excess weight that accompanies).
But I want my kids to enjoy food without obsessing over it, to have hearty appetites, but be able to just as easily take or leave a plate of cookies–and not blimp out if they do eat the plate (the cookies, not the plate).  I want them to maintain consistent, healthy weight and energy levels, to be "lean, mean, eating machines"….Food Ninjas, as Matt Stone would call them!
According to Matt, it all starts before they're even born.  Did you know that adults whose mothers were exposed to famine-like conditions (extreme calorie restriction) during the first half of their pregnancies are 80% more likely to be obese?  As it turns out, our amazingly-intelligent bodies will program themselves for a life of scarcity or abundance, depending on the conditions thrust upon them.  So if you want your kids to be Ninja Warriors, don't eat like wimpy birds while you're pregnant or breastfeeding!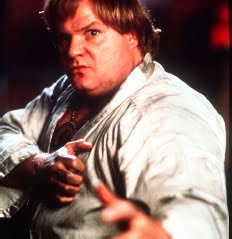 And while plenty of calories from fats, carbs, and protein is of utmost importance in growing Food Ninjas, the type of fat consumed plays a big role as well.
Notice how nuts and seeds are most abundant in the fall, before many of our furry friends decide to hibernate for the winter?  As it turns out, nuts and seeds are very high in linoleic acid, a type of polyunsaturated fat.  Research has shown that animals who do not consume enough linoleic acid in the fall cannot slow their metabolisms down enough to successfully hibernate for the winter.  However, Ninjas don't hibernate, they need lots of energy to do Ninja things!
Matt points out the vast difference in quality between different mothers' breast milk, depending upon the mothers' diets.  Moms who eat large quantities of linoleic acid, abundant in oils from nuts and seeds (liquid vegetable oils like corn, soy, canola, and cottonseed), not only slow down their own metabolism, but also produce a lot of arachidonic acid in their bodies and milk, converted from linoleic acid.  Arachidonic acid is highly inflammatory, enough so that high enough levels can trigger an asthma attack in some people.  To be a Ninja, children need both a zippy metabolism, and low inflammation and stress.
So what type of fat do Ninjas eat?  (You're going to love this!)
Metabolism-supporting, low-inflammatory saturated fats like coconut oil, chocolate (yay!), butter (grass fed is best), egg yolks, full fat milk and dairy products, and red meat (with fat) from grass fed animals. Why grass fed? It's not only the natural diet for ruminant animals, but whole grains also contain a lot of linoleic acid, which converts to arachidonic acid in the animals' bodies, and so it goes.
Which leads to the question of grains and starches.
Matt loves starches and grains just as much as fats and proteins for Ninja fuel, and as you might have guessed by now, refined grains, such as white rice and white flour, are actually more metabolism-supporting than whole grains because the linoleic acid is removed with the bran and germ, along with the phytic acid and enzyme inhibitors that make grains difficult to digest for many people.    (Whaaaaat?!  Does this rock your world, after we've been told for years that 'whole grains' are best?!  Doesn't it make you wonder if the huge switchover to whole grains in recent years has led to the increase in gluten intolerances, since it is so difficult for many to digest?  Traditionally whole grains were properly prepared, which makes them much more digestible.  I still say that a true sourdough is the healthiest bread on earth.)
And it's not just food that's necessary to build a strong metabolism, but hydration levels influence it as well, though not as you might think.  Turns out, over-hydration slows down metabolism, and can even lead to an emergency-type stress state within the body.  Matt shows how to recognize signs of over-hydration and to quickly remedy it if the need arises.  Don't force your little Ninja to down water if he's not thirsty, and forget about the "8 8-ounce glasses per day" rule".  This is an example of a principle Matt emphasizes repeatedly: we need to get out of the way of the body's innate ability to regulate itself.
A Food Ninja's body will tell it if it's thirsty or hungry, just like a mouse's body lets it know.  The problem is, we humans tend to over-intellectualize and override our bodies' signals, which is exactly what Matt is trying to de-program out of his readers so they don't impose these weird ideas onto their kids.
And while the above factors that play into metabolism are a bit scientific, there are other, just-as-important factors that are less so.
One of the biggies is "neutrality".  Food Ninjas don't view food as either a reward or punishment and don't categorize it in terms of "good" or "bad", because these attitudes tend to create impaired eating behaviors.  Kids who have a healthy relationship with food recognize their own satiety cues and never feel a need to binge. Their parents don't make them finish their vegetables (a price to pay) before they can have a bowl of ice cream (a reward).  So they never feel the need to "make up" for times they may be deprived or "reward themselves" by binging on an entire carton of ice cream.
But for parents whose children have unhealthy eating habits, whether finicky with low appetites, or insatiable, over-indulging tendencies, Matt teaches strategies for bringing them to a place of balance.  I will say that some of these strategies might seem a bit counter-intuitive, but that's probably because I'm not Ninja enough to have thought of it on my own!
Yes, balance is key, and as Matt says, "No modern childhood is complete without some glowing orange cheese dust from time to time."  🙂
There is more to the book, but you will have to read it yourself to learn about his approach to exercise, how to recognize signs of an improving metabolism, and the 5 Ninja Training Tests your kids must pass to become true, modern Ninja Warriors.
Food Ninjas is not a book about reversing food allergies, healing digestive disorders, or addressing other health conditions (other than low metabolism), but I think it can be a great book to balance the type of over-analytical approach to diet that competing therapeutic dietary protocols can leave a person with. Even though it points out some specific dietary factors that affect metabolic rate, it is mostly a liberating "chill pill" that could help return parents and their children to an easier-going and more enjoyable relationship with food, even if they must remain on a somewhat restrictive diet (like gluten-free).
It's a fun read and highly recommended, that is, if you want to be Ninja!