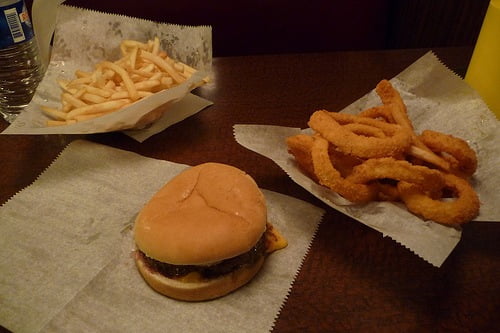 Sadly, this isn't a joke:
"It could happen. As a public service, British researchers are proposing that fast-food eateries dole out complimentary cholesterol-lowering statin drugs to offset the hazardous glories of their fatty cuisines.

"When people engage in risky behaviors like driving or smoking, they're encouraged to take measures that minimize their risk, like wearing a seat belt or choosing cigarettes with filters. Taking a statin is a rational way of lowering some of the risks of eating a fatty meal," said Dr. Darrel Francis, a cardiologist at the National Heart and Lung Institute at Imperial College London."
Read the entire Washington Post article on statins with your fast food.  (This is from a few months ago, I just found it buried in my drafts folder.)
What's really scary is that this is over in Europe, where they have in the past been smarter than Americans when it comes to food.
Here are a couple examples of how they "get it" where we still don't:
The French have been much more reluctant to cut out the healthy and flavorful fats in their food.
Throughout Europe it is required that GMOs be listed on food labels.
Are there more examples I forgot?
So I'm not sure where this Lipitor nonsense came from and hopefully it's too dumb to ever be implemented anyway.
Also, notice the small print in that Washington Post article – you may have heard about this:
"Next year, the fast-food giants and other restaurant chains will have to supply calorie counts on menus and drive-through signs, thanks to a provision in President Obama's health care reform legislation that even affects vending-machine manufacturers."
Oh, how this "a calorie is a calorie" mentality wears me down.
Can you imagine how many people could be WELL again if instead of listing calories on labels or how much saturated fat the food contains, they listed things like the dangers of artificial colors and flavors, HFCS, GMOs, MSG, vegetable oils, low-fat anything, or artificial sweeteners?
There is hope!
We do have good reasons to be hopeful, though.  The other day on TV I saw an ad for a big yogurt company (they sell only low-fat yogurts, unfortunately), and they said, "Now made without high fructose corn syrup!"  The fact that they're excitedly mentioning this fact made me giddy, because you know that other companies will likely be jumping on the bandwagon, and other nasty ingredients may soon go the same way that trans fats and high fructose corn syrup have gone.  Why?  Because you and I have let them know that we don't want all that crap in our food anymore, that we want our kids to be able to learn and behave again, and that we're sick of not feeling well!  We've let them know with our calls to their companies, and by how we spend our food dollars; let's not stop!
Have you seen other signs of hope?  Please share below.  🙂

Confused about healthy fats and the cholesterol issue? Scroll down a little at this post on Healthy Fats and you'll find all sorts of articles specifically about cholesterol.