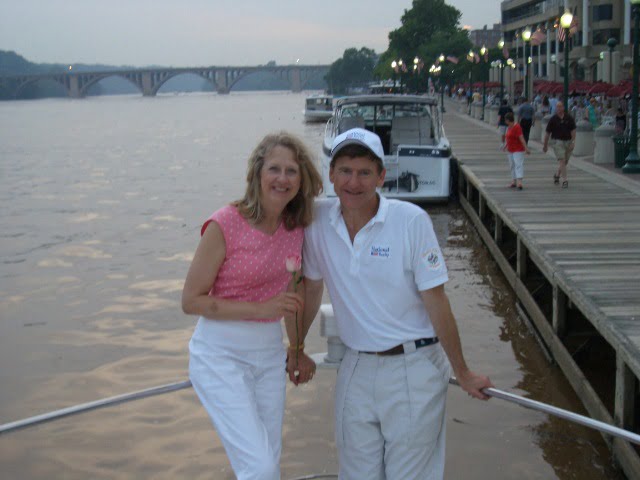 If you don't already know my friend, Kimberly, blogger at Hartke is Online and publicist for Sally Fallon Morell and the Weston Price Foundation, today you'll get to meet her and her husband, Keith.  Find out how they got into the Real Foodie lifestyle and what their daily joys and struggles are in this latest Real Foodie health & nutrition interview.
1.  What is your # 1 motivation for eating healthier meals?
She said: I want to maintain a youthful appearance and have abundant energy to live a joyful life. Before the transition to a whole food diet, I was tired and lacked vigor. Now, I feel like I have turned back the clock 30 years!
He said: Good health, to avoid pharmaceuticals and the medical system.
2.  What started you on the path to better nutrition?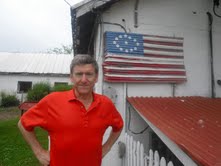 She said: I was experiencing severe knee pain. We went looking for lifestyle solutions like diet and exercise, and discovered the Weston A. Price Foundation, and the dietary guidelines just made sense.
He said:  I weighed 184 lbs at the time, and wanted to lose weight. I had just been put on blood pressure meds, and diagnosed pre-diabetic. My brother and wife read The South Beach Diet, and I said to Kimberly, "If you'll cook it, I'll eat it."
She said:  And for Keith (a picky eater), that was really saying something!
3.  What is your biggest struggle in eating more nutritious meals?
She said: Dirty dishes and storage space. It seems our counter is always full of dirty or drying dishes. Our kitchen is small, and with all the glass containers we use and reuse, cupboard storage becomes an issue.
He said: Finding Weston Price Foods at restaurants and grocery stores. Sometimes on a restaurant menu, there is only one option that fits our dietary guidelines! And I just read in the Wise Traditions magazine that one grocery store chain evaluated the nutritional value of the food it stocked, and found 77% of items on their store shelves had zero nutritional value!
4.  What is your favorite Real Food Recipe?
She said: Stanley Fishman's Herb Crusted Rack of Lamb. Stanley is the author of a fabulous cookbook, Tender Grassfed Meat: Traditional Ways to Cook Healthy Meat. I highly recommend it. To succeed at cooking these meats, you must learn their history, nutritional properties and the proper techniques. I had only had Rack of Lamb in restaurants prior to learning this recipe. Now, we can celebrate special occasions at home!  (Sources for safe, healthy pastured meats.)

He said: Grassfed meatloaf. Kimberly makes it with lamb and beef mixed together, seasoned with salt and pepper, pastured eggs, crumbled crispy pancakes, and green onions. When juicy enough, she then makes awesome meatloaf gravy!
5.  What is your best kitchen/nutrition tip?
She said: Invest in good knives, I use Cutco. Love them! Also, bring back the drippings jar!  Which leads me to my nutrition tip, shun vegetable oil. For cooking, switch back to bacon drippings (from pastured or forest raised pigs) for frying, sautéing. Not only does it impart good flavor, it is high in vitamin D when the pork is humanely raised in woods or pasture. And, use olive oil for homemade dressings and condiments.
He said:  We recently bought titanium cookware
and love it. We feel it is safe and because it is non-stick, cleanup is easy. My nutrition tips? Stay away from white flour and sugar. And, only use healthy animal fats and farm-sourced olive oil.
6.  What did you have for dinner last night?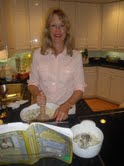 She said: Grilled grassfed steak, collard greens with pancetta, corn on the cob with butter, Amanda Love's Soothin' Infusion iced herbal tea.
He said: We love our healthy lifestyle, and we never go hungry. I lost 30 lbs, now weigh 152, I no longer take any medication. Kimberly lost 20 lbs and no longer suffers with knee pain. We exercise together at the gym, it is great to be in this together. These small changes we made have made a huge impact on our life.
She said: We have made many new friends along the way! Joining the Weston A. Price Foundation has given us many new ideas and a great way to share this information with others. I encourage your readers to do the same. Become a member and I know you will reap the same rewards.
THANK YOU KEITH & KIMBERLY!  🙂
Kimberly Hartke blogs on health and wellness at hartkeisonline.com. Her husband Keith is a Weston A. Price Foundation member and sponsors a producers-only farmers market and several farm buying club drops in the parking lot of National Realty, the real estate company he and his brother own in Reston, Virginia.