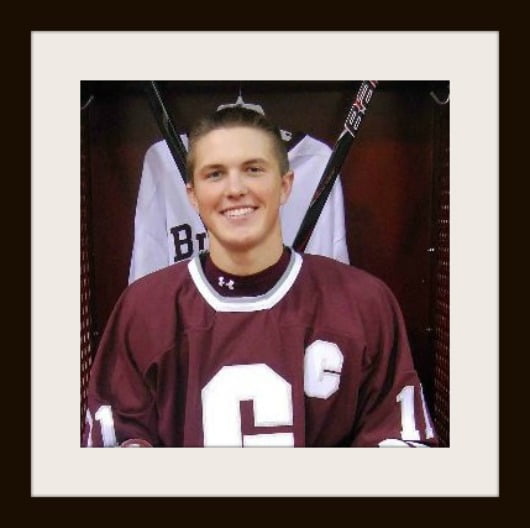 Ryan was captain of his hockey team and loved by all who knew him.  This past March he was to play in a huge semi-final game in Plymouth, Michigan, but instead his Dad found him dead in his bed that morning.  We don't know the Fischer family, they are friends of friends and live on the other side of Grand Rapids from us, but we are shocked at their faith and their strength.  Especially when I think about his parents who still went to the game that night to cheer on their son's team.  Wow.  Only with God could that be done.  I still cry every time I watch this video and others like it.  And I melt when I hear about what a solid kid he was — kind to everyone, strong in his church, and thrilled to be heading off to serve his country in the military after graduation.
What Causes an Enlarged Heart?
His family learned that he unknowingly had hypertrophic cardiomyopathy, also known as an enlarged heart, which can often go undetected.
"He's had this condition for a long time. This is not something that suddenly occurred overnight. This is a genetic disorder. It can run in families, so you look at genetic history of other family members," said Dr. Loker.
"The majority do not have any symptoms until their cardiac event. The majority of cases with hypertrophic cardiomyopathy that present this way, their first episode is sudden cardiac death."     (Source)
If there are no symptoms ahead of time, there's really nothing that can be done, but sometimes there are warning signs.  Anytime someone experiences fatigue, an abnormal heart rhythm, shortness of breath, or swelling, that should be checked out, obviously.  I've been doing some research and poking around online trying to find some help for those with a family history or who show symptoms, and all I found was a tiny glimmer of hope.  Apparently early trials suggest that "Curcumin, a natural ingredient in the spice turmeric, when given orally to a variety of mouse models with enlarged hearts (hypertrophy), can prevent and reverse hypertrophy, restore heart function and reduce scar formation".   (Source)
Is it just me, or doesn't it seem like we hear about a lot more of these cases lately?
It's been on national news — kids collapsing at football practice for example — and even here locally when I was researching for this post I found several similar stories in recent years!  It may be genetic, but that doesn't mean it's normal, what could be causing this?
I'd love to hear what you think. And please pray with me for Ryan's family.