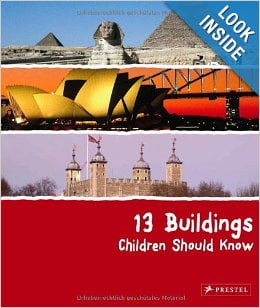 Today I'm sharing a few homeschooling thoughts on my mind as a way to update you on our year so far.
First, thank you Diane for suggesting the following books recently, I just ordered them: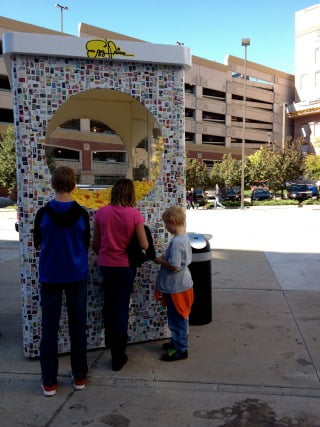 These looked especially appealing because my sister and I took the kids to Art Prize the other day (one of the entries is pictured here) and while I've never been one to 'appreciate art', I now wonder what has been wrong with my brain all these years that I've missed such beauty!
I don't want my kids to grow up missing it like I did until a few years ago.
Art Prize has done this for many people, it's a HOT event here in Grand Rapids and brings people from all over.  I'll probably have to do another post on it soon because I love it too much not to tell you and show you more.  Yeah, it's not really food related, but neither is this post!
The main reason I'm posting today, though, has nothing to do with books or art.  It has to do with what a dingbat I continue to be and how I'm TRYING to get better…
I know that all of you, my super helpful reader friends, keep telling me to CHILL THE HECK OUT about homeschooling, but as I've told you, last year felt TOO loosy goosy for me (although we still did a lot, but were very weak in writing), so this year we bought a curriculum.  While it's really nice knowing that those who are much smarter than I am have figured out exactly what our kids should be learning at this age, it's really tough getting through everything some days.  So much so that in the beginning I couldn't figure out how to even have time out of our day to hit a daily Mass or to take a day off for the beach, etc.
But that flexibility is one of the main reasons I wanted to homeschool in the first place!
Add to that how the kids were feeling overwhelmed, too, and because of that, driving me freaking CRAZY (teasing and distracting each other or just plain not doing their work), it wasn't a good start to the school year.  It felt like when I was little and playing school with my friends and one of the neighborhood boys wouldn't play right.  One day I was a sobbing mess because our 14 year old would not do anything!  I thought, "What else can I do but put him back in school?!  He can't lay around all day doing nothing!  If I can't motivate him, I guess that's what has to be done…"
But my heart literally ached at the thought of it.  
That night he and I had a heart-to-heart and he said that he just needs motivation.  Makes sense right?  We all need that, that's why we have things called, 'paychecks'.  He had been grounded from the dumb video games for being a terd earlier that week, so he had no motivation.  I finally told him that if he'd work well the next day, he could have some time again, and guess what?  It was a great day.  I guess I found what works, but still, it seemed like a lot for us to get through each day.
So then I talked to a couple friends, other homeschooling moms, Anne & Jann.  They reminded me of some crucial points, which my brain needs to hear over and over!
"Even in 'regular school' teachers don't get through every single thing in the curriculum and they have things that throw off their day."  (One of my friends said something that made me feel much better:  "I'd be embarrassed if you knew how much we DON'T get done in a day!")
"YOU are the teacher, YOU decide what is important and what you can just touch on lightly or skip all together!"
"Instead of teaching each child each subject separately, teach using the oldest's material to save time!"
"Just because you paid $900 for this curriculum doesn't mean you should drive everyone crazy making sure every single thing is checked off the list."
So although it's been a bumpy start to our year, we're getting into the groove more as we go along.  Like Jann said, "You felt too loosy goosy last year, and this year you've gone too far in the other direction, so now you have to find a good middle ground."
However, as usual with me, there are still things I need help figuring out:
1.  As I said, I know I need to chill out more, and I'm MUCH better, but I do still want them to get through this curriculum because it's really good stuff!  And also, I don't want them to get TOO used to me saying, "OK, we can skip this…" or "We can do this orally instead of in writing…", because how do I know this won't create a lazy mentality in them?  An attitude of, "Oh, I can fuss a little and get out of this…"???
2.  I'm curious how others handle video game time??
3.  Where do you keep all the papers and books at your house?  We're being overrun!  I use a lot of storage baskets, but do you have any more tips?!
Daily schedules…
This post from my online friend, Avivah, about finding time to do it all, helped take the pressure off more, too.  She tells about how a normal day looks for her, and she homeschools MANY more kids we do!  One thing that has been really different this year is that I've been sleeping on Kent's schedule of 9:00 pm (ish) until 5:00 am.  That's been wild for this stay up 'til 3:00 am-to-get-it-all-done kind of gal, but now I work in the mornings 'til it's time to get the kids up and if I'm not done, I'm not done.  I don't get through all I could or should, but I'm getting more sleep and it's working out somehow.
The benefits continue to be worth the work!
I still LOVE not yelling them out the door every morning, not having them go off with someone else for 8 hours every day to learn only what someone else deems important, and then yelling them through homework and into bed.  And as I said, this curriculum is great, I love the stuff they're learning.  But some days it feels like SUCH a sacrifice when my WHOLE day is taken up with schooling, breaking up arguments, trying to keep them on task, feeling like my nerves are frazzled (I'll take more FCLO for that!) and often not having a moment to get dressed until noon, but I also know deep in my heart that sacrifice can bear great fruit, and nothing worthwhile is easy.
Thanks for continuing to share your encouragement with me along the way!