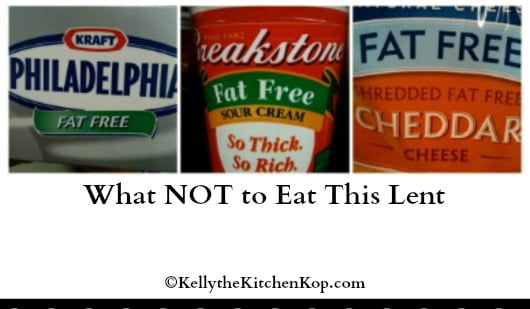 What to Eat for Lent (and more importantly:  what NOT to eat)
When sorting through some piles the other day looking for meatless meal ideas for Lent, I found an old recipe card that was DISTURBING.  It was a list of Lenten meal ideas that included things like:
Wendy's baked potato bar
Taco Bell bean burritos
Burger King burgers without the meat
FOR REAL YOU GUYS!
Over on the other side of the same card were ideas for what to make at home…
Veggie sandwich with low-fat dressing
Whole wheat bagels with low-fat cream cheese
Fat free soup with low-fat crackers
Thank God I eventually found out the truth about real food and healthy fats before it was too late!  How sad, though, that I bought the whole mainstream line of thinking about fats without even stopping to think if it made any sense.  I wasn't a label reader then and just didn't know.  I suppose we all have to give ourselves a break, now that we know better, we can do better, but wow.
If you're wondering what to eat for Lent, at least now you know what to avoid for sure!
Any skeletons in your closet that you care to share, you know, to make me feel a little better?!