It seems weird to go on with life now when I'm still so sad, and for days I didn't know if I'd ever feel like getting back to it, but slowly the desire to write again is peeking through, so I'll start by telling you a little about our Chicago trip.
It was SO nice having our whole family together again!  Those of you with all your kids graduated from college and/or moved out for "real" jobs, I just don't know how you do it.  It was hard enough when it was our first, what do people do when it's their last?  Some say they celebrate (LOL), but I don't think that will be us.  I pray we're healthy and can enjoy our empty nest years, and obviously we'll be thankful to hopefully be sending our kids off into their happy lives, but geesh, it's our babies.
So with everything that we've been through with Mom, our Chicago weekend was really the first "summer fun" thing we've done.  Our first day we ate at Lou Malnatti's and I don't know if we were really hungry or what, but we all thought it was SO good.  I ordered mine with butter crust, of course.  We walked around the city a lot, and the guys went to the Liverpool soccer game at Soldier Field, which was the whole reason we were in Chicago in the first place.  The only part that wasn't good was when the six of us innocently went down for the hotel buffet breakfast and it cost us $150!!!!  That one still hurts to think about!  At least it was delicious with made-to-order omelettes and real butter for the toast.  Here's a couple of pictures from the Hancock tower – isn't it cool how the clouds make huge shadows on the water?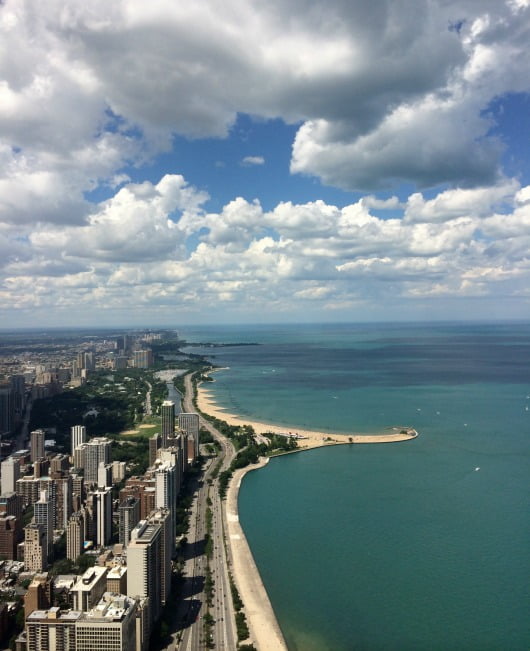 I've pulled together a few things for you, I've got TWO weeks of stuff to tell you about before it's too late…
First up:  Does this sound like you?
I'd wake in up the AM with fatigue. How could I be on top of my game if I have chronic constipation or diarrhea?
Why was I hitting the wall at 3PM everyday even after a full night's rest?
Why was the list of foods I could eat diminishing instead of growing?

Click here to learn more about how Joette Calabrese can teach you to deal with specific gut-related issues.
Wondering what's in my Amazon cart right now…?  Activated Charcoal!  I'm going to try it for teeth whitening per Mama Natural's advice in this video (don't you love her videos?!):
My friend, Chris, has let me know that The Savory Institute has facilitated a webstream of their "Putting Grasslands to Work" conference to share with the world:  "You can enjoy footage of the entire conference at no charge. You simply need to register here and enter your email so you can watch online. It will be available for 30 days and it is all 100% free. This is a one-time offer. It's not something we are currently planning on doing at future conferences; we just had a special opportunity present itself here. So take full advantage to glean insights from the global line-up of "solutionary" speakers presenting at this event."
Is anyone else's house a complete PIT right now?  Yes, I have a good excuse, but still, it's frustrating and I've got to get on it.  Have you seen this book series, 30 Days to a Clean and Organized Home?  Click here to learn more.  I think that just might be the help and motivation I need!  (I love getting rid of stuff, don't you?)

Knowing what we know nowadays about the scary JUNK in grocery store meat (One example in the news now:  In a two-to-one decision, the U.S. Second Circuit Court of Appeals ruled earlier this week that the FDA will not have to consider banning the practice of regularly feeding antibiotics to animals that are not sick, despite its finding that such misuse of antibiotics threatens the effectiveness of essential human medicines.  Source),  I don't get it, why anyone wouldn't just find safe meat locally or get it online!!  Cut other areas of the budget if needed, but spend a little extra for safe meat.

Have a great week!