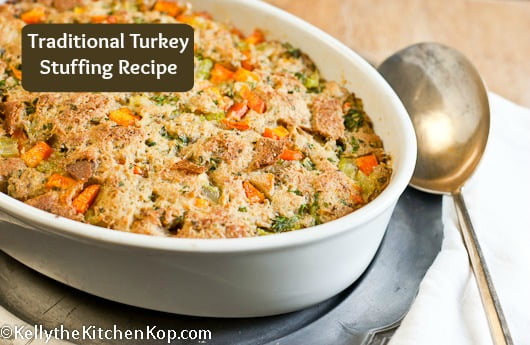 Traditional Turkey Stuffing Recipe
At the risk of putting out a post with the same recipe as 90,000 others are posting this week, I thought I'd share this easy traditional turkey stuffing recipe, which is from my Mom. 
And she got it from another relative I believe, you know how that happens with great recipes. There just might be someone out there who wonders how to make it, or how to make it a more nutritious.
We had it today and it actually wasn't for a turkey. Kent put a chicken in the oven, and we decided to make stuffing since we had a "bomb" loaf of bread to use up. (Yes, I had another bomb when trying a new recipe – I should've stuck to my original Bosch homemade bread recipe.)
Traditional Turkey Stuffing Recipe (or is it "Turkey Dressing"?)

See more about amounts and variations in the notes below.
Ingredients:
12 Tablespoons butter (Butter is good for you, especially pastured butter!  Don't believe me?  Read more here about healthy fats.)
1 onion, chopped small
3-4 cloves garlic, chopped
3-4 stalks celery, chopped small
2 carrots, chopped, if desired
Handful of parsley, chopped, if desired
1 1/2 teaspoons sea salt
1/8 teaspoon pepper
3/4 teaspoon sage (or more to your taste)
1 beaten egg
About 1 1/4 cup broth — homemade broth is best — use more if you like it more moist.
1 pound/16 ounces bread of choice, preferably soaked, fermented, or sourdough bread
Instructions: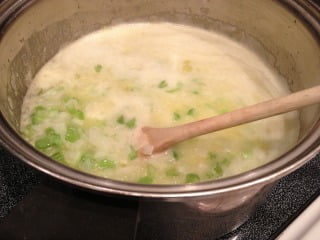 Melt butter in a cast iron pan or a medium sized pot.  Add veggies and parsley, salt, pepper, and sage.
Sauté on medium heat until vegetables are soft, 10 minutes or so.
While that's cooking, break up a loaf of bread into cubes into a mixing bowl.
When veggies are done, pour all of that over the top of the bread and stir well.  Add a beaten egg if desired, for more nutrition & moisture.  Add enough broth to get it as moist as you like.  We like it moist but not wet.
Stir until it's all mixed in, then transfer to a buttered dish or stuff your bird once it's cleaned out well.
Bake 30-40 minutes on 350*, OR if you're stuffing a bird, it will take much longer, obviously, since it depends on the weight.  See below for more on that.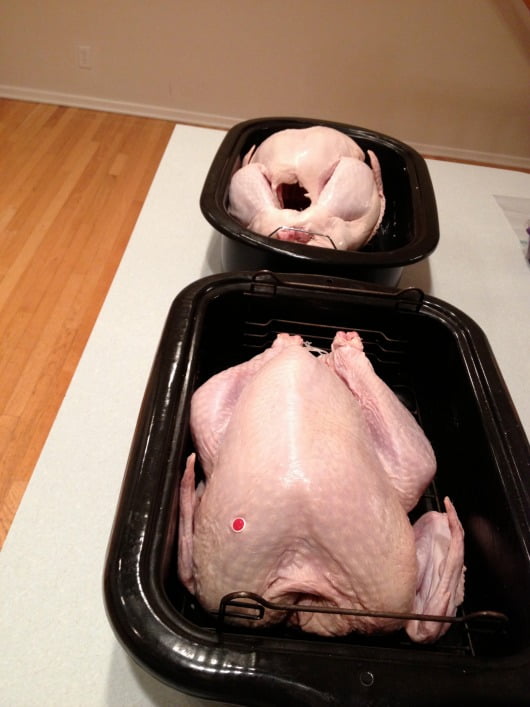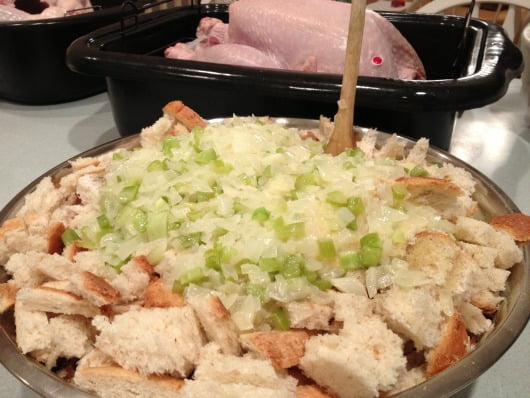 Notes:
Use organic ingredients whenever you can.
Even though it tastes best stuffed in a bird, you don't

have

to do that. For our chicken today, we just put it into a shallow buttered baking dish. Since the chicken was in our big covered stone, and there was no more room in the oven, we baked it in our toaster oven.
AMOUNTS:  If you're using it as a stuffing: Mom's recipe says that a 1 pound/16 ounce loaf of bread makes approximately 8 cups of stuffing, and that you need about 1 cup of dressing for each pound of turkey you're stuffing.
VARIATIONS:  Some people like to add some cooked, ground sausage for more flavor, or some wine, or maybe real cream…what about you, what do you put in

your

stuffing recipe? (Don't say raisins, yuck!)
NOTES ON COOKING A TURKEY:  Cooking times will differ depending on whether your bird was purchased fresh or frozen. Plan on 20 minutes per pound at 350* for a defrosted turkey and 10 to 15 minutes per pound for fresh.  (We start at 350* then turn down to 325* if it starts to brown up too quickly.  Add water to the bottom if not much liquid is forming, because you want lots of goodies for making gravy!  Instructions for making gravy are here.)  NOTE that the last time we made a turkey, it did NOT take 20 minutes per pound, even when we turned the temp down.  We're not sure if our roaster just cooked it faster or if those times are not accurate.  If you have experience with this, please share!
Notes for future reference:  8 pounds of potatoes FILLS a 6 quart crock pot.