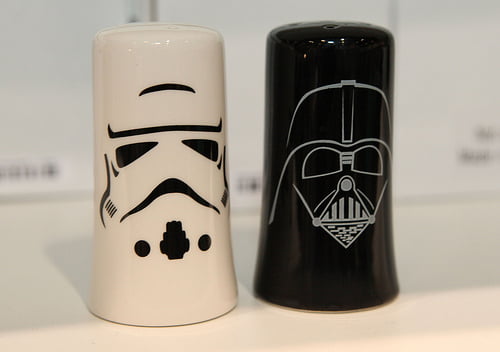 For years the idea of cutting back on our salt intake hasn't felt right to me.  Salt is a traditional food!  And besides, how many thousands of years has it been used as a natural preservative?!  I've even heard rumblings of how some people with blood pressure issues can eat unrefined, mineral-rich sea salt without problems.  We salt our food liberally around here, along with eating plenty of those demonized-but-oh-so-delicious AND good for you saturated fats, and we're rarely sick, feel great, and are full of energy.
Then I came across the following New York Times article that finally took on the "lower your salt intake" mentality and couldn't wait to share it with you!  It was no surprise to see that it was written by Gary Taubes, the guy known for taking on other mainstream health topics and turning the "well-known" facts upside down.
First:  Here's where to find unrefined good-for-you salt!
Here are a few excerpts:
"Salt consumption is said to raise blood pressure, cause hypertension and increase the risk of premature death. This is why the Department of Agriculture's dietary guidelines still consider salt Public Enemy No. 1, coming before fats, sugars and alcohol. It's why the director of the Centers for Disease Control and Prevention has suggested that reducing salt consumption is as critical to long-term health as quitting cigarettes.

And yet, this eat-less-salt argument has been surprisingly controversial — and difficult to defend. Not because the food industry opposes it, but because the actual evidence to support it has always been so weak."

"While, back then, the evidence merely failed to demonstrate that salt was harmful, the evidence from studies published over the past two years actually suggests that restricting how much salt we eat can increase our likelihood of dying prematurely. Put simply, the possibility has been raised that if we were to eat as little salt as the U.S.D.A. and the C.D.C. recommend, we'd be harming rather than helping ourselves."

"When several agencies, including the Department of Agriculture and the Food and Drug Administration, held a hearing last November to discuss how to go about getting Americans to eat less salt (as opposed to whether or not we should eat less salt), these proponents argued that the latest reports suggesting damage from lower-salt diets should simply be ignored. Lawrence Appel, an epidemiologist and a co-author of the DASH-Sodium trial, said "there is nothing really new." According to the cardiologist Graham MacGregor, who has been promoting low-salt diets since the 1980s, the studies were no more than "a minor irritation that causes us a bit of aggravation."