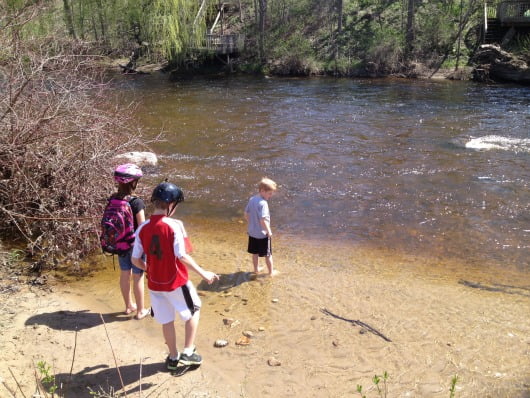 Just as all homeschooling parents are these days, I've been researching like crazy to figure out how our homeschool will be the same and how it will be different for fall…
I know you all keep reassuring me that I'm not going to scar my kids for life if I don't do this or that subject perfectly, but wow, the amount of insecurity I have in this area is pretty huge some days.  Mostly in regard to our now 8th grader.  I'm SO thankful we started homeschooling this year and not next, but I totally feel the pressure to "get this right" since next year it officially counts on his transcripts for college.
So I've decided to bite the bullet, at least for 9th grade, and pay for a consultant who will talk with me on the phone 3-4 times throughout the year, help me choose curriculum to fill in any weak areas, and keep track of grades and transcripts.  (I'm going to use Mother of Divine Grace, because my friend, Anne, who helped me choose curriculum last year, has always used them, so I'm already doing a lot of the stuff they recommend.)  If I find out that the expense isn't worth it, then I won't do it in future years, but for my own peace of mind I'm going to give it a try.  (The only issue I'm wondering about has to do with the fact that they're in California, and for the money we'll be paying them, I sure hope they'll also be up on Michigan curriculum requirements…)
But there's a lot that I've learned from this year, and based on that, here's what we'll still be using:
Teaching Textbooks – We'll use this again for sure for the younger two (they do math almost entirely on their own!), and I'm still undecided for our 8th grader.  (He may need something with more repetition, this is something I'll discuss with our consultant.)
Writing strands – We just started this recently.  It's a writing book that they go through mostly on their own.  This isn't enough for writing, but it's at least something more.  (This is an area I'm getting help with next year, they'll be going to English classes at their homeschool enrichment building.)
Story of the World history books – We're almost half-way through the 2nd book already.  We'll keep going through these and do an occasional activity in the accompanying activity book.  This is another subject we all love because the books are so well-written and keep their attention well.
We'll keep doing some type of Latin/Greek practice.  Mostly I'd like to cement in their mind the 100 words we learned in this year's book:  English from the Roots Up.
We'll keep learning and memorizing more poetry from the Harp and Laurel Wreath book, I know that the act of memorizing is so good for their brains.
We just started using History Links and I love that it's something we can all do together and it can be adapted to the different ages of the kids.  There are also a lot of different choices on what projects or research we want to do with each topic.
Each one of the kids will be taking different enrichment or core classes at our homeschool enrichment building as it's a great way to fill in the gaps from what we might be missing at home (science and writing are our weak areas) AND it's great for the socialization/friends aspect, too.
So that's what I have so far, what are you using in the fall?  What great finds have you come across that work really well for your family?  Please share!