Well, I'm taking a break from sorting through my Mom's bills and receipts from 1968 to crank out my Monday post.  I'm not kidding.  I knew Mom kept a lot of stuff, but wow.  My brother, who is not sentimental at all and keeps nothing, offers this adamant advice, "Go home and sort through your crap so your kids don't have to do this!"  Although, had Mom not kept all of this stuff, we wouldn't have had as much time to laugh and cry together as we go through it all.  Yesterday all five of us kids were here sorting for the day and I just felt like Mom was looking down and enjoying watching us together.  Then I'd walk upstairs, look at her spot on the couch, and her house that's getting emptier by the day, and start bawling again.  I'm learning that tears aren't such a big deal, though, and thank you, Wendi, for suggesting this book on grief.  I ordered it and hope to read it this week.
By the way, some of you have been asking for a homeschooling update, so I'm hoping to get that up soon, maybe even this week, we'll see!
Here's what I found for you today…
Well we haven't had much beach weather here in Michigan this summer, but since I haven't had time to go to the beach anyway, I've been loving the beautiful summer days with the windows open and no need for air conditioning.  This picture I shared on Facebook last week cracked me up!  How to have a beach body:

I'm always sharing cool trailers with you guys that I've come across.  Here's my latest find about our broken health care system: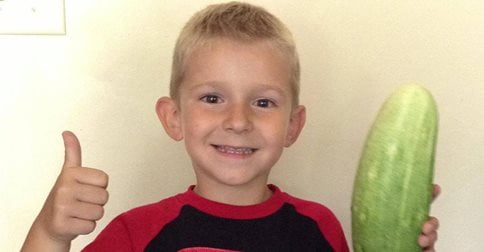 Check it out, this is right by us!  These guys are doing it right, and thanks to the 15 acres of healthy soil created by organic farming methods, they have an enormous bumper crop of veggies ready to donate to people in need. Bravo, Let's Grow Farm and Garden Supply!  Read the story here.  If you love what they're doing, share it here.

Want to see something wild?  Click here to compare these two menus:  1. For a low fat diet seminar, featuring the types of dishes touted by the USDA and The Academy of Nutrition and Dietetics (formerly the ADA) as healthy, and…  2. For a Weston A. Price Foundation conference.Pay attention to how you FEEL while reading the two menus. Notice the sense of deprivation and weakness associated with the first menu, contrasted with the sense of satisfaction and deep nourishment upon reading the second? Amazing how our bodies know what they need, even in print!How did you feel while reading these two menus?
I sooooooo wanted to go to this year's Wise Traditions conference in Indianapolis since it's a drivable distance and because I had to miss last year!  But I'm still playing catch-up from Mom's illness and passing, and I don't think it's going to happen.  I hope lots of you will get to go, though, and if so, please plan on sharing your experiences so I can post it here for everyone to enjoy and learn from!
Speaking of real food menus and healthy fats, in case you missed this last week…  "In The Big Fat Surprise, investigative journalist Nina Teicholz reveals the unthinkable: that everything we thought we knew about dietary fat is wrong. She documents how the low-fat nutrition advice of the past sixty years has amounted to a vast uncontrolled experiment on the entire population, with disastrous consequences for our health… In this captivating, vibrant, and convincing narrative, based on a nine-year-long investigation, Teicholz shows how the misinformation about saturated fats took hold in the scientific community and the public imagination, and how recent findings have overturned these beliefs. She explains why the Mediterranean Diet is not the healthiest, and how we might be replacing trans fats with something even worse. This startling history demonstrates how nutrition science has gotten it so wrong: how overzealous researchers, through a combination of ego, bias, and premature institutional consensus, have allowed dangerous misrepresentations to become dietary dogma."Click here to listen to a radio interview with the author, Nina Teicholz.
Kent and I went out the other night and had an AMAZING dinner at Amore Restaurant.  The ravioli was the creamiest, dreamiest best EVER and so was the truffle soup, and I don't even like mushrooms!!!  The owners, husband and wife, are always out milling around and chatting with everyone there and making you feel like family.  Jenna, the owner/chef came out and after chatting a bit, came back with this super yummy drink for us to try that they had just made up — it had cucumber and lime in it, yum!!  The best thing about dinner out with my hubs is that he's as much of a foodie as I am, so we always split a TON of food; that way we don't get too full but we try a bunch of different dishes!  He also oohs and aahs over it all with me and doesn't even think twice about it when I pull out my camera for another shot.  (Only I guess he doesn't necessarily groan over it like I do, he's more like, "Damn, that's good.")
Have a great week everybody!