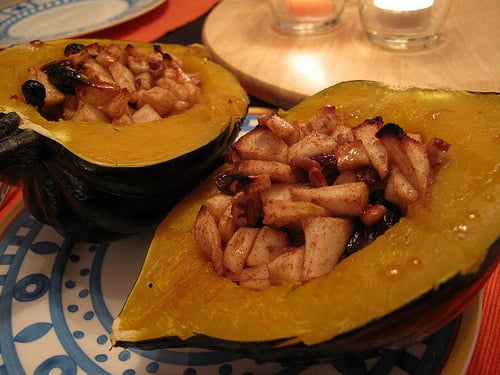 Today Barb, our holiday recipe extraordinaire, has shared another great fall Real Food recipe for stuffed acorn squash that would be perfect for Thanksgiving!   I do believe this recipe is the answer to my recent Friday Food Flop, my blah-tasting stuffed squash (which actually looked pretty, though):
Print
Barb's Stuffed Acorn Squash
Ingredients
1/2 squash per person, gutted
1 small apple per serving, cored and chopped. Peel if desired.
1/4 cup of crispy pecans or walnuts per serving, coarsely chopped
1/8 cup of fresh/frozen cranberries per serving, halved
1 Tablespoon (or more) butter per serving
Cinnamon
Instructions
Mix the chopped apples, nuts and cranberries together, fill squash and top with butter. Sprinkle and drizzle desired amount of cinnamon and maple syrup. Cover each with tin foil and place in a roasting pan. Bake at 375* for about an hour or until squash is tender.
Did you make a real food recipe?
I want to see it! Tag @KitchenKop on Instagram and hashtag it #KitchenKopRecipes OR share anything you know I'll love by tagging @KitchenKop and hashtag #KitchenKop -- see you over there!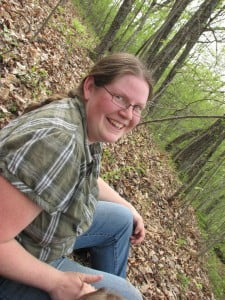 Barb's bio: "I'm a stay at home mom, beginning sustainable homesteader, heritage (everything) enthusiast and real food foodie living in the Driftless Region of Wisconsin." Check out Barb's blog: www.wholeandthensome.weebly.com