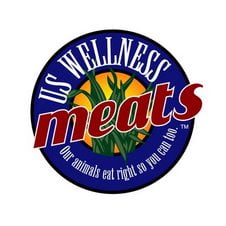 If you've been part of the Real Food movement for a while now, you already know about the huge health benefits of grassfed meats, but you may not have figured out yet how exactly to fit it into your budget.  First, keep in mind that while there is an extra expense, it's worth it.  You get what you pay for and you can pay now or pay later, just as you've heard it said…  As in, pay more for real food now or pay the doctor later.  But today John from U.S. Wellness Meats shares seven ways to save money on this real and life-giving food, and he also shares more about how he got his business started.  (This is my favorite place to buy meat online if you don't have a good local source.  Use code KOP for a discount!)
Yes, 5th generation in NE Missouri.  Great Great grandparents settled into Lewis Co. in 1852.
How did you first learn the importance of pastured/grass fed meats and then get started in business? 
It was a combination of discovering Dr. Michael Pariza's CLA research at the Univ. of Wisconsin, reading Holistic Resource Management by Allan Savory and subsequently bringing in a registered educator into Lewis Co. in 1993, and Univ of Missouri's lead in managed grazing.  This planted the seeds for grass-fed beef production but none of us had a clue in in the mid 90's where the vision would lead.
What's your own personal favorite cut of meat or other product you sell?
There is no personal favorite. I simply enjoy the flavor of grass-fed fat in a variety of cuts.  From a value and flavor stand point, top sirloin, flatiron and burger are hard to beat.
Can you tell us about the other farming friends who provide meat for U. S. Wellness Meats?
We are simply cut from the same cloth.  All have a passion for being part of a grass-fed industry and enjoy doing what is good for the soil, plant community, rural community and the end consumer.
I'm curious where you're at with whole WAPF thing, do you mainly eat pastured meats, or do you also take FCLO, eat plenty of butter, drink raw milk, etc.?
Both of my grandfathers lived well up into their 90's and one two weeks shy of a 100 and they were WAP diet junkies.  Neither had heart disease, diabetes or cancer.  Yes, I believe the WAP diet is top shelf and am in better heath now than when I started this journey in the mid 1990's.  Growing up, I drank raw milk, consumed raw butter and raw cottage cheese from the family dairy cow and tended to a very large garden that pretty much fed our family growing up.  Went off to Iowa State in the Fall of 1970 and gained ten pounds in the first semester eating conventional food for the first time. Now I know why.
The biggest complaint about grass-fed meat is how expensive it is.  Can you give us ideas for saving money while eating well, too?
Here are seven money-saving tips (note that these are from several years ago and are likely outdated, just check with USWM for current deals):

Flat iron steaks and sirloin steaks are a great buy on a per pound basis.  11.25 to 12.50 per pound before discounts. Essentially 40% off compared to strips and ribeyes and you give up very little quality.

Buy ribeye and striploin primals and cut those costs 40% by cutting your own steaks.

Read our newsletter and pick up red letter 15% discount code every other week.

Combine order with friends to get the $25 off for each 40 lbs. ordered.

Buy the inside round primal and back rib primal for 7.13 and 4.38/lb respectively before discounts.

Get 50 lbs. of 75% burger to your door for 4.94/lb. which is much cheaper than most grass-fed in grocery stores.  (75% burger contains double the CLA and omega 3 as the 87% product. You can split with a friend if storage is an issue.)


Call our office and we can show you the value deals.
Thanks John!  If you have more money-saving tips to share with us, we can't wait to hear from you in the comments.  🙂

My friends at U.S. Wellness Meats sponsored my trip to the Wise Traditions conference!  You may want to check out my small print stuff: privacy policy, copyright, disclaimers, terms & conditions.