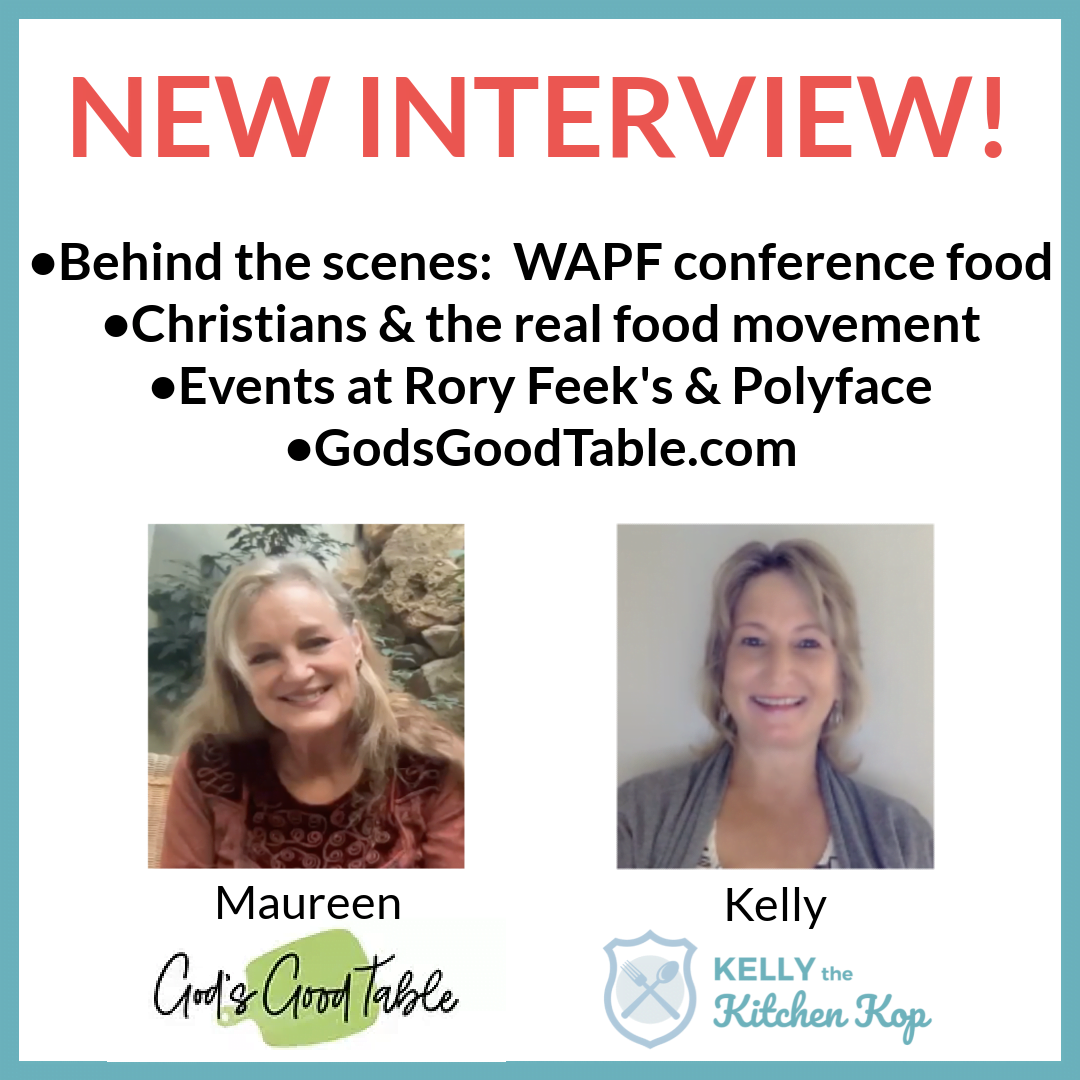 Secrets Behind the Wise Traditions Conference with Maureen Diaz
Recently my longtime friend Maureen and I sat down for a chat and covered all sorts of ground.  She shared some secrets behind the Wise Traditions conference (Weston A. Price foundation), she talks about the early days of her real food journey, and tells about her new business venture too.  Maureen, and her daughters Erin and Abby, hope to reach more Christians:
For years, we have watched Christians struggle with their health. For years, we have also struggled with our own health issues. As we have searched for answers, we realize that the answers to our questions lay not in pills, surgeries and injections; but in God's word.
Join us as we share the knowledge we have learned and follow the principles laid out in scripture, demonstrated throughout history, and validated by science – one meal at a time!
Check out their site here: GodsGoodTable.com.  And wait 'til you hear about the events they're planning at Polyface Farm and at Rory Feek's homestead!
Related:  Gluten free maple flan recipe–recreating conference food.  This kitchen experimentation was inspired by Maureen's delicious dessert at the chapter leader meeting on the first day of the conference.  (See the conference recap video below.)  ***Also at that recipe post are some behind-the-scenes conference photos Maureen shared!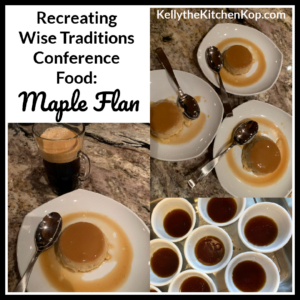 See the timestamps here and the video below.  🙂
0:00 Intro
0:48 How & when did you become involved with the Weston Price Foundation?
1:58 Have you always cooked traditional foods & raised your family this way?
4:33 Her introduction to the Nourishing Traditions book
5:26 When her vegan diet no longer made sense (God told us in the Bible to eat animal products)
10:50 Their son's gut health damaged after soy foods & how they healed him
14:00 WAPF conference food!
16:33 Which foods they make every year because they're so successful
17:29 How so many more ate the pâté this year than in previous years & the ferments too
20:20 Does she sleep at all during the conference? When is it the most stressful?
20:59 What were the two stressful things that happened at the last conference?
26:46 Who helps implement all of the delicious meals?
27:30 What do the hotel chefs & staff think about working with the WAPF?
27:58 How they've helped kitchen staff & families overcome health issues!
28:41 How she loves learning about other food cultures from international kitchen staff members
29:50 Crazy food mishap stories
31:53 The biggest disaster they've ever had & how amazing this Allen TX hotel staff is
38:49 How she got the idea for her new business venture
40:15 How big a support Joel Salatin has been for her
40:38 Profit vs. non-profit companies
42:47 How her daughter Erin got involved
44:28 Their online classes & courses
49:26 How to keep in touch with them
50:21 Conferences will include praise & worship time Sunday morning!
51:00 Polyface event at Joel Salatin's farm in June!
51:57 Event in TN at the Rory Feek homestead in the fall!
55:00 How the real food movement has evolved into including ALL types of people
55:50 What Sally Fallon Morell thought of this business idea
56:33 "The Marvelous Pigness of Pigs" book by Joel Salatin & his thoughts on Christians and the real food movement
57:41 We're supposed to be stewards of this earth and our bodies, NOT the government and others
58:10 Why do we ignore God's instructions and avoid God-given foods that have been demonized?
100:10 Bringing non-Christians in as well—when we're healthy we can reach more people for Him
100:01:54 Contact them with suggestions or for more info or to have them come to your church
Watch the video with Maureen Diaz–Secrets Behind the Wise Traditions Conference:
More you might like:
Wise Traditions conference recap video (after the ad) from 11/21 in Texas: