Good morning everyone, I hope it's been as gorgeous where you are as it has been in Michigan lately.  Kent and I hosted a neighborhood chili cook-off Saturday and it couldn't have been a more beautiful fall day.  It was fun sampling so many types of chili, and it's wild how they all taste so different.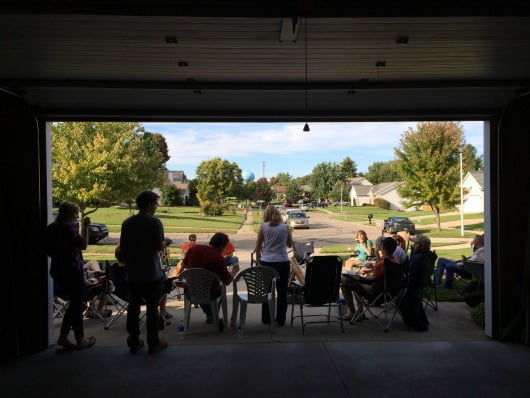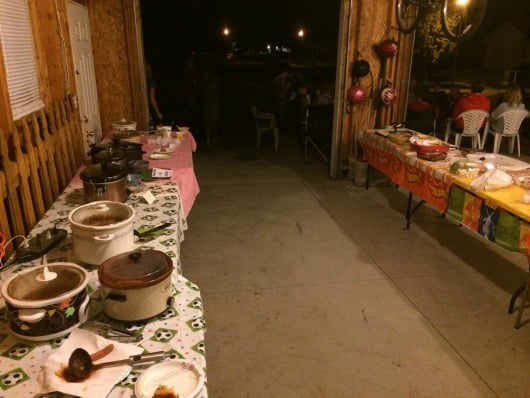 Yesterday my sister, sister-in-law, niece, and I walked in the Crop Hunger Walk in our hometown because it was dedicated to my Mom.  She worked on this committee every year with her church, and beforehand a family friend said a few sweet but tear-jerking words about Mom.  He talked about how fitting it was that she would've been so involved in this event to end world hunger, since she was constantly feeding those right in her own small town, whether they were elderly folks or someone not feeling well.  At their church smorgasbord she was the one who insisted they get to-go containers to take meals around town to those who couldn't get out, or to those who may have just gotten home from the hospital.  While in town I stopped to see my step-Dad and wow, as many of you who have lost a parent understand, going to her house without her there is really hard on the heart…
The other day Kent and I celebrated our 27th wedding anniversary (a day we're always especially thankful for since we almost didn't make it), and went to one of our favorite places, Amore restaurant.  The chef/owner, Jenna, is so cool, she walks around the dining room and chats with everyone like we're family.  The food is so tasty that I always forget to snap pictures because I'm too busy enjoying it.  🙂  I had the yummiest pumpkin sage ravioli!  Jenna told us about her latest favorite drink and when she had us try it I had to order one.  It's made with an all-natural ginger soda and a special vodka and tastes JUST like a ginger snap cookie!  We took our time enjoying dinner so much that we didn't end up getting over to Art Prize.  🙁  I'll get there soon, though, but I heard it's more packed than ever this year.  Have any of you gone yet?  If so, what was your favorite?  Any of you who are out of town, this is worth a trip to Grand Rapids, you've got to experience how amazing this is.  (Here are my past posts about it if you don't know what I'm talking about, and here is the official Art Prize site.)
Here's what I've got for you and just a warning, I'm ALL over the place this week…
Ditching ultra high-heat processed, iodized, ain't-nothing-left-but-sodium chloride-and-anti-caking-agents salt (yuk!) and replacing it with REAL, unprocessed sea salt (that link is my favorite) with the original minerals intact is an important step in transitioning from processed to real foods.  I also love these Himalayan salts — they're economical and tasty — really, after you switch, you'll never go back to nasty-tasting industrial salt.
Here's a highly-rated 3-book set for only 99 cents on Kindle.  Download it here.  (No Kindle? Get a free reader for your phone, tablet or computer by clicking here.)
Did anyone watch the Dr. Oz episode on pesticides and GMOs?  Are you still pinching yourself, too, that these issues are being talked about in the mainstream?!  I've been blogging about this stuff since late 2007 and it's so encouraging to see that slowly but surely, our movement is growing and spreading!  My friend taped it for me but it didn't work, darn it.  I wish they'd post the whole show online, but at least you can watch this longer trailer.
An Austin children's book author got a visit from the police and investigated by CPS

(and all her children interrogated) because she let her 6 year old son play outside, unattended, about 150 yards from her house (in a location she could see from her house). You won't believe the CPS agent's advice when the case was finally closed! 

Read the FB comments and see the post here

.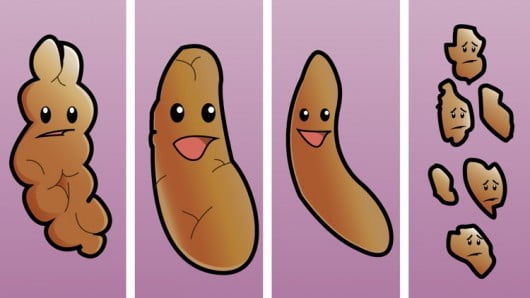 Speaking of that topic, this pic cracked me up last week!
Did you know this?  Citric acid is added to most processed food, but hey, it's just acid from citrus, right? WRONG!  "Today, it is not only true that nearly all citric acid is made through mold fermentation with GMO corn, but that it is produced by some of the biggest of Big Ag food producers, both in the U.S. and in China."  Read more.  If you need citric acid, you can find the non-GMO variety here.
Kent is so sick of hearing me talking about this movie, but you guys, you HAVE to go see it.  It's in theaters now so I took the kids last week on my birthday.  The ending will ROCK you — you want to teach your kids this stuff.  I'm going to buy it when it comes out because these are the kind of movies I want to support.  Here's the trailer for When the Game Stands Tall:
Do you ever wonder who those nasty internet trolls ARE and how we should handle them?   "An internet troll is someone who comes into a discussion and posts comments designed to upset or disrupt the conversation. Often, it seems like there is no real purpose behind their comments except to upset everyone else involved. Trolls will lie, exaggerate, and offend to get a response. What kind of person would do this?"  Read this about internet trolls to find out.
"In (the libertarian) movement, we're accused a lot of being elitists," Salatin told the LPAC audience. It's a charge he also hears about healthy-eating evangelists such as himself. But "the real elitists" are the people who say "we need to tell Americans what to eat."
"We would be a much healthier culture if the government had never told us how to eat," he suggested, bringing up the U.S. Food Pyramid—an advice module that's fallen far, far on the wrong side of nutritional history. "These elitists thought the country was too stupid to know how to eat, how to feed their kids."
In his view, the elitists are also "the ones who want subsidies in the farm program," who "run around telling us that backyard chickens are hazardous", look to "factory farms as the answer", say you can't "build a pond on your farm, that's water hoarding", think farming is only "for those kind of people," deny people the ability to operate stills and grow hemp, and zone people out of running businesses from their own homes or land. The elitists are "the Republicans who want to be in bed with Monsanto" and "the Democrats who want to govern every morsel of food we put in our mouths." 
What do you guys think?  Is this hype, or could this stuff be true?  Read it here:  Ebola is a GMO.
Have a great week!