Read the words of Weston A. Price in Nutrition and Physical Degeneration about the changes noticed after a group of kids were fed a diet with plenty of pastured / organic grass-fed butter:
Two different teachers came to me to inquire what had been done to make a particular child change from one of the poorest in the class in capacity to learn to one of the best.  Dental caries is only one of the many expressions of our modern deficient nutrition.

I have referred to the importance of a high-vitamin butter (from cows on grass) for providing the fat-soluble activators to make possible the utilization of the minerals in the foods.

This butter is usually several times as high in fat-soluble activators including vitamins A and D as butter produced from stall fed cattle or cattle on poor pasturage.

Unfortunately, milk may have a high cream line or butterfat content and still be low in essential fat-soluble vitamins."
This is HUGE:
So if you're eating real butter or drinking whole milk, that's great and much better for you than not doing those things, but you still may not be getting all the fat-soluble vitamins needed in order to utilize the minerals in your diet that are necessary for abundant health.
This is something I haven't been as vigilant about in the past, mostly due to the cost, but I really want to focus more on making sure our butter or ghee is grass-fed.  We eat so much of it, it could make a big difference in our health over the long haul.  (Maybe even avoiding braces for the younger kids…?  We'll see.  That could surely off-set the extra cost for grass-fed butter and ghee — along with no medical bills or prescription drugs, and on and on…!)
What is ghee?  How do you pronounce it?
Ghee is pronounced "gee" with a hard G.  Ghee is butter without the milk solids, which is why it doesn't burn or brown like butter does so quickly in higher heat.
(Where to find grassfed ghee or grass-fed butter)
Grass-fed Ghee is great for frying in high temps:
You never want your fats to smoke as this could cause free-radical formation, which can lead to cancer.  It's the milk solids that smoke at higher heat, so ghee is perfect for anything you would use butter in, but especially for frying, due to the higher smoke point, which is 400*.  (One source said 485*!)
Not just for frying…
I love organic grass-fed ghee.  It was such a great feeling even just making a grilled cheese sandwich with it, knowing that all the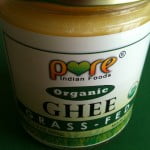 minerals we took in from the soaked whole grain bread and raw cheese would be fully absorbed.  (Yes, I'm weird that way, and stuff like that makes me giddy.)  It is shelf-stable so I leave it on the counter top and it's nice and spreadable for toast, or to melt over popcorn.  I even used it in place of the oil in baked goods.  Different kinds of spiced/herbed ghee are fun to try in different dishes; the garlic and Italian are especially delicious in soups and on pasta.
More interesting facts:
Make sure your ghee is organic and from grass-fed cows. "Pasture-grazed cows have more CLA in their milk than grain fed cows and our lab tests show our ghee has more CLA than plain butter. CLA is an antioxidant and essential fatty acid that has been getting a lot of attention lately. In animal studies, it reportedly exhibits anti-carcinogenic and other beneficial physiological effects."
Talk about a traditional food! "Ghee has a very long and rich history. It has been used in Indian cooking for thousands of years. According to an article published in the journal Nature, traces of ghee and cheese were found in pottery from 6,500 BC."
Did you know that some who are dairy intolerant are able to eat ghee with no problems? Read this testimonial:
Your Grass-fed Organic ghee is wonderful. My daughter has been unable to take dairy for years but tolerates your ghee very well. She was not able to take the kind I found at the grocery store. Thanks!"