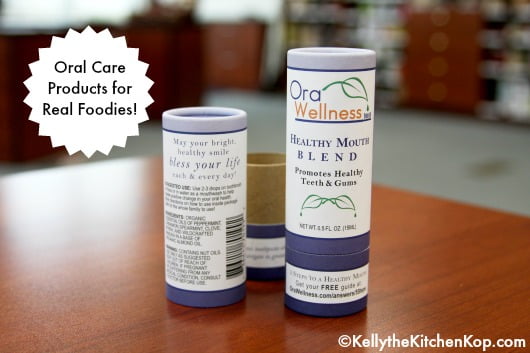 If the topic of super good-for-you oral care products doesn't get you goin', you're probably normal. But we all know that real foodies are not normal.  🙂
I say this a lot:  Once you've been into real food for a while, the natural progression is to then move toward things like natural skin care products, natural deodorant, natural cleaning products, and natural oral care products.
Recently I've been going a little nuts on the natural oral care products part…  It's like real food, once you are using the more natural stuff in your mouth, when you try to use anything else it just feels or tastes nasty.
Here are my favorites:
This HealThy Mouth tooth oil blend is ruining any other toothpaste out there for me.  I use this kind in a pinch (if I run out of the blend), but I just LOVE the oil drops.  At first the oil felt weird in my mouth, but the taste is so nice and natural and refreshing, and my teeth feel so smooth afterward (not gritty), that I've become addicted now!  It only takes a drop or two on your brush so a bottle lasts a long time.  "It kills the bad bugs in your mouth that cause gum disease without harsh chemicals, artificial colors or toxins, while supporting the gum tissue to heal quickly by increasing blood flow to the area."
I'm embarrassed to admit that I've never been one to floss daily, or even weekly, or even…  You get the idea, I don't do it enough.  But NOW I keep these little doohickeys in my purse and love having them on-hand, it makes flossing almost fun.  Sometimes I'll put a drop of the healThy mouth blend onto the floss for an extra burst of a clean-mouth feel (it works better than a breath mint!):  "Flossing with the HealThy Mouth Blend provides an even deeper method to get the anti-microbials deeper in the gum pockets, especially between molars where gum disease gets going easiest."
Lastly, even though I always thought a toothbrush is a toothbrush is a toothbrush, I gave these a try just because what I'd read about them was impressive and they weren't very expensive.  Now I love them because of the way the bristles are spread out, they get down in deeper than other brushes do and it feels great.  "First, the bristles are more spaced out and there are fewer bristles in the brush head. What Dr. Bass found was most toothbrushes had too many bristles to effectively wiggle between the teeth and down into the gum line. So, he created a brush with much fewer bristles to be able to get down where the bad bugs thrive to disrupt and remove the bacteria. The same is true today as most conventional toothbrushes have too many bristles to effectively use the Bass brushing technique. The second way the Bass toothbrush differs from other toothbrushes is the bristle tips on the Bass brush are rounded, polished and very smooth. See the photos below to compare the rounded bristle tips of the Bass toothbrush and the jagged, rough cut bristle tips of many other toothbrush bristles."
That's the scoop on how I've become a weirdo about oral care products now, too.  🙂
Note that this was not a paid post, I really am this odd.  LOL.  But there are affiliate links here so if you purchase any products, a small amount will help with site upkeep costs.