Good morning readers!
I'm late getting this Monday post up today because when I got home from the conference last night I decided to watch the Bible movie with the family and then go to bed!  Aren't you proud of me?  I listened to Chris Kresser's podcast on the way home and was reminded again that I can't keep starving my body of sleep like I got into the habit of doing again recently!  He said that even if you think you are running on all cylinders and that it's not affecting you, a very clear study he looked into showed that it does cause productivity and clarity issues even if you can't feel it.  And as I've often said, 'How stupid would it be if I spend all this time and effort on eating well, but still get sick because I'm not getting enough sleep or taking care of myself in other ways?!'
What a fun weekend!  
It was my first time at a regional conference and nice having it a bit smaller and easier to catch everything unlike when there's SO much going on at the national conferences each year.
One thing that really made me feel good about this organization that I've been a member of for years now was just seeing Sally again and how sweet and personable she is to everyone she meets, and always with such class.  And at the chapter leader breakfast she said something that I know I've heard her say before, but it was good to hear her say it again.  She was talking about how every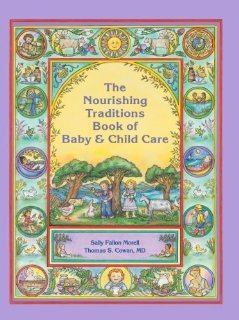 chapter is different, they don't all hold meetings, and that's ok, but for sure they all provide food resource lists.  Then she said, "If you have young children, don't try to hold meetings, it takes a lot of work and family always comes first."
By the way, have you seen Sally's brand new book?  The Nourishing Traditions Book of Baby and Child Care.
(If you're not a Weston Price Foundation member yet, click here to join!  You'll get the quarterly publication that you won't be able to put down, and you'll be supporting this real food movement, too.)
Below I'll share lots of pictures and tweets from the weekend to give you a good overview…
First some photo highlights:
Ahhhh, the food.  I didn't get a picture of the GRAVY, but it was my FAV and I came darn close to bellying up and drinking it straight from the bowl.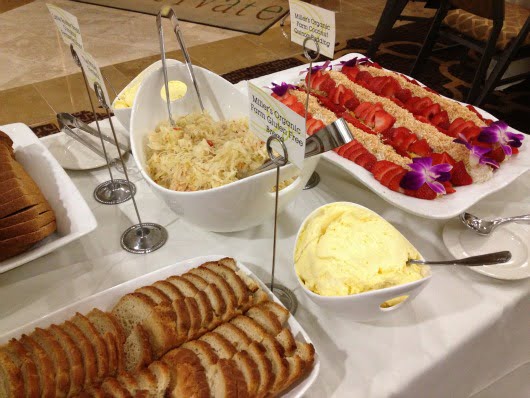 Here's my pathetic and LAME table.   See those little signs?  Yeah, behind them were rolls of tape and drinking glasses to hold them up on the slippery tablecloth…  I never said I was a classy chick.
Here's Matt, the hotel tech guy who was a big sweetie and huge help.  Also Liz (from the WAPF office) was there with her son, Tomas, who was such a calming influence and my hero when there were some dumb tech issues right before my talk.  (I can't believe I didn't get a pic of him!)  This shot is Matt taking pics as he was tweeting, too!
Here's what I saw as people were coming a few minutes before I began my talk.  See the funny looks on some of their faces?  I'm sure they were wondering why the speaker was taking a picture of them.  (I had to tweet it ya know!)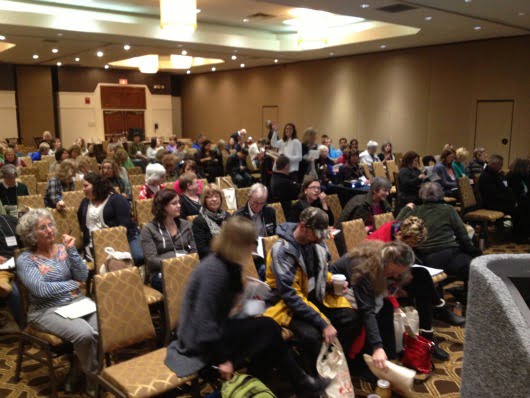 Here's my good friend and co-chapter leader, Janice, who introduced me.  It was so nice having her there.  She did a great job introducing people all day.  🙂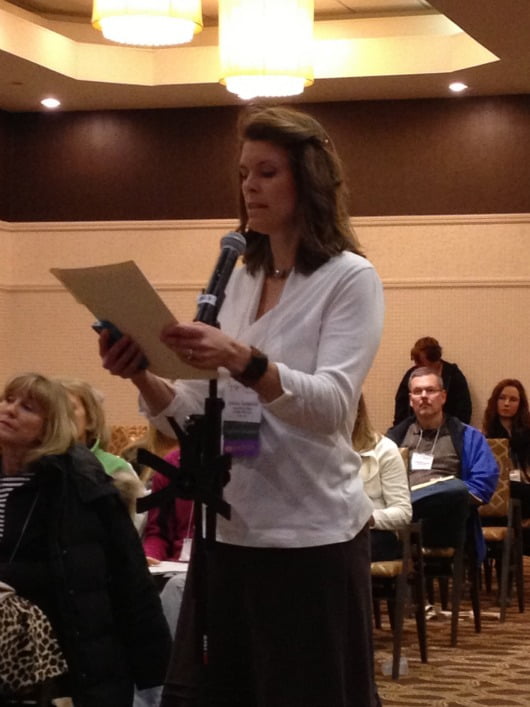 Here I am right after my talk:
Sandeep from Pure Indian Foods (I love Sandeep!):
This is Jennifer and Jordan, a cute and fun couple from Fab Ferments!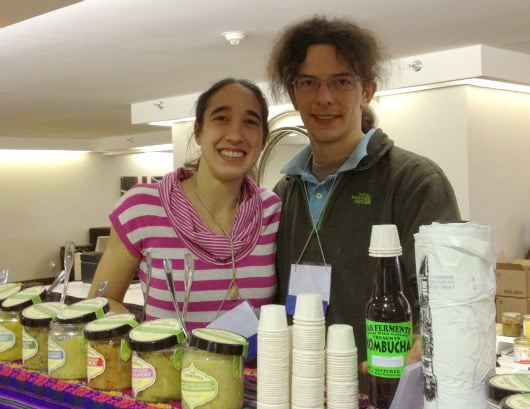 Here's Jake from Olea Estates – they have some delicious olive oil!
It was great to meet Jennifer from 20 Something Allergies, and to catch up with my friend, Sarah Pope, from The Healthy Home Economist!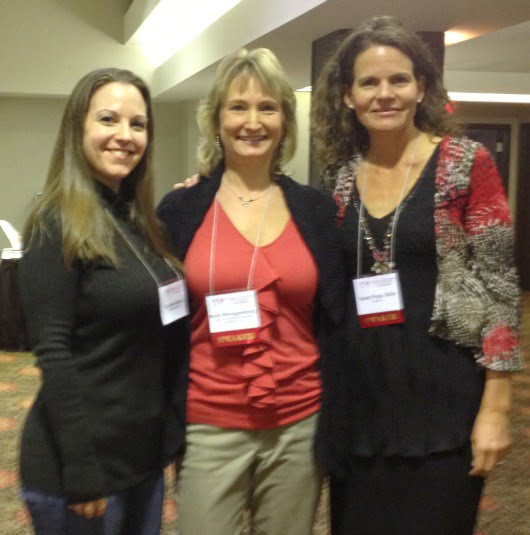 I've known Dan, Archie and Karen from Organic3 since almost the beginning of my blogging career (I met them waaaay back at the Deidre Currie conference) – they make some rockin' probiotics and soon will have a new cod liver oil out!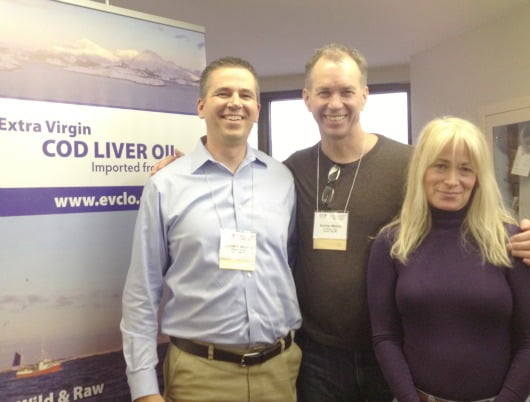 These are the happy gals from NessAlla Kombucha: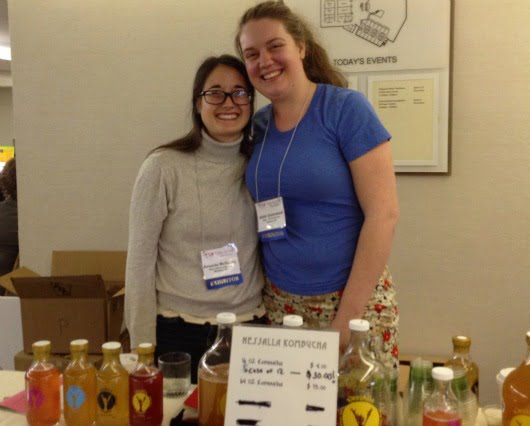 This is Mark Baker from Baker's Green Acres Farm – he spoke Saturday night and I've got a bunch of video that I'll share soon.  They also recently began a new program on their farm (near Cadillac, MI) called, Anyone Can Farm, where they teach you all the basics and beyond!  Also, and this is important, I see they've updated their website since yesterday to answer the question, "What can we do?!" – which is what everyone wanted to know after he spoke.  Be sure to click the link to find out how YOU can help protect our farmers.
You probably know Pete from the Farm to Consumer Legal Defense Fund – click there to become a member and SUPPORT the farmers who provide us with nutrient-dense foods!  Pete is the first person I'd call if any of my farming friends were raided.  Sadly, it's not a far-fetched possibility.
This is the closing panel of speakers:  Dr. Brownstein, Dr. Kaayla Daniel, Sarah Pope, Chris Masterjohn, Kathy Pirtle, and Sally Fallon Morell:

Now some Twitter highlights (start at the bottom if you want them in order as they happened – there are a lot of interesting sound bites here!):  
Sally Fallon's aha moment – after eating duck liver pate for the first time: "This is what your body has been waiting for!"
Kathy Pirtle's aha moment "That I LIVED and started getting better!" after beginning to eat traditional foods.
Chris Masterjohn-tooth decay and anxiety disorders after becoming vegan. His aha moment – he read WAP book and Sally's book.
Kaayla Daniel about her aha moment: She couldn't stop eating liver! (Her body needed it after being a vegan.)
Dr. Brownstein about his aha moment: "When I realized 'I guess they didn't teach it all to me in med school.'"
Sarah Pope: "Processed food is so much more expensive than real food. Buy in bulk, buy locally from a farmer."
"I cannot afford to eat this way" –> Kathy Pirtle: "You can pay the farmer or the doctor."
Kathy Pirtle: Weston Price 'diet' isn't really a 'diet', it's just going back to traditional foods.
Chris Masterjohn:Nothing I've read on acid vs. alkaline diets made sense. Just give the body what it needs to regulate that balance on its own.
What about those who say eat more alkaline vs.acidity of meat &dairy? Sally: Dr. Price never saw signs of over-acidity w/these foods.
Sally Fallon Morell: We are definitely against factory farming and connect WAPF members with animals raised humanely.
Kaayla Daniel:  Underwire bras can be dangerous-many breast cancers form in this area. Just wear it sometimes when you really want to look good. 🙂
Don't put your new baby in a freshly painted room – use safe paints!
Get rid of commercial laundry detergents with Green ones, they didn't use to work good, but now they do!
Try to get rid of wifi in your home if possible. (She said get DHL – does anyone know what this means?)
Electromagnetic fields becoming a big issue – you don't want to become sensitive to that because there's no way to get away from it.
Something very meditative about doing what you're doing FULLY. Going too fast and multi-tasking is burning out our brains.  (Geesh, I really needed to hear that reminder!)
Bone broth important first step in healing. "Good broth will resurrect the dead." 🙂
Quality probiotics a MUST because they work! At health stores they may have high number of organisms but they're probably not alive.
Coconut oil huge in supporting the return to gut health, supports immune health, good for thyroid, good for recovering from soy.
Leaky gut causes allergies, autistic children, mental problems. To heal your brain-start with your gut.   (More on healing your gut here.)
Kale cooked in butter is very good. Raw kale or spinach in green smoothies is high in phytates, oxalates and other anti-nutrients.
Mainstream thoughts: "When in doubt, eat veggies" – Kaayla: "They're mostly a good vehicle for more butter."
Cholesterol is the mother of ALL hormones.
High cholesterol is a good thing – a way your body is protecting you. But need to ask WHAT is it protecting me from?
Kaayla Daniel on heavy metal detoxing – fat helps to protect against toxicity, must get healthy before lose weight.
Even mainstream now finally embracing benefits of butter!  (But they don't yet realize there's no such thing as TOO much butter!)
Needing an afternoon sugar pick-me-up is NOT low willpower. Instead you just need more healthy (pastured animal) fats in your diet!
When trying to get people over to a healthy diet: "Fat is job #1" because they'll feel better almost overnight! (Sarah Pope) (Next she said is cod liver oil!)
50% of children today are overweight or have chronic illness! So sad!
Sarah: We're living in "generation A" – for "generation Allergies". 40% of kids in Detroit carry an inhaler to school.  (Have you seen Sarah's new book?!  Get Your Fats Straight.)
Sarah thinks we need to do a WAPF matchmaker thing for all our kids, lol!
The whole room is about to taste Mela's amazing broth! How loooovely!!!  (How to make homemade bone broth.)
Bone broth supports work of the liver and detoxifying. (Mela Belle)
My talk is done, yay! It was fun. Now hearing about bone broth benefits at the #miwapf  (Benefits of bone broth.)
Got to see Mark & Jill today from @ https://ow.ly/jlOyq ! Learn more about new program 'Anyone Can Farm': https://ow.ly/jlOAC  #miwapf
@SheratonDTW Everyone here has been awesome – super friendly & helpful, great hotel, thank you! (Esp Matt & Jessie!)
"I get so sick of these happy broccoli eaters – Dr. Price looked all over the world at healthy cultures and none ate broccoli!" (Kaayla Daniel)
Even the worst quality dairy at the store has vit D3 that we need vs. vegan alternatives with vit D2.
Can get all the vitamin D you need from the sun IF you're naked all of the time and live in the tropics.
Carrots NOT a good source of vitamin A.
True Vitamin A: raw dairy, liver, egg yolk, shellfish – Kaayla recommends liver once a week.  (Find a local source for raw milk.)
CLO the best way to get omega 3's: DHA & EPA. So if someone insists on being a vegan, at least get them to take this.  (Find cod liver oil here.)
Cholesterol HUGELY needed for hormone health (infertility, moods, loss of libido) – "They're young, in love, and eat lard."
The type of LDL matters (fluffy or dense) – Most important is triglycerides which has to do with too much sugar!!!! (Get off soda!)
It's not risky to have a total cholesterol that's high – it means it's protecting you. Below 180 is NOT GOOD.
Steve Jobs ate loads of fruit & died of pancreatic cancer related to fructose (from fruit, not HFCS). From Kaayla Daniel #miwapf
Dr. Kaayla Daniel – myth: plant based diets are healthier and vegan diets are healthiest of all.
Chris Masterjohn: In physiology everything interacts with everything else!
Functions of vit. D: protects against heart disease, high BP, arthritis, chronic pain, diabetes, auto-immune diseases, osteoporosis.
Functions of vit. A: vision, reproduction, protective against asthma, kidney stones, fatty liver disease, and oxidative stress.
Chris Masterjohn on fat sol vitamins: Vit K2 assoc w/ reduced risk of advanced prostate cancer, reduce risk of liver cancer in women 87%.
Sally: Primitive eskimos: fish and game, animal fat, especially seal oil, soft fish bones for calcium (they didn't have milk).
Primitive Gaelic people fed their kids: seafood, oats, cod liver oil (& cod heads!) – they ate it because it was a matter survival.
They ate a dairy and grain diet mostly, meat once a week and they used the bones for soup – veg only in summer months.
What did they eat? Raw butter, raw cream, raw milk, raw cheese, sourdough rye bread. Not exactly #Paleo ! #miwapf
Primitive Swiss: no one needed braces, only 1 in 3 had dental deformities. Not 1 single case of TB. (Sally Fallon Morell at the #miwapf )
Beautiful, straight and as white as piano keys = teeth of primitive people, as noted by Weston A. Price.
WAP wanted to know why he saw so many dental deformities: crowding, cavities, etc. The teeth are a mirror to the rest of the body.
Up early for chapter leaders breakfast with Sally Fallon, Kaayla Daniel, Kathy Pirtle & many more.
See ALL my tweets here if you're a real foodie die-hard and don't want to miss anything.
Anyone still here reading????  Anyone here who was at the conference?  What did you think?  Any highlights you'd like to share?