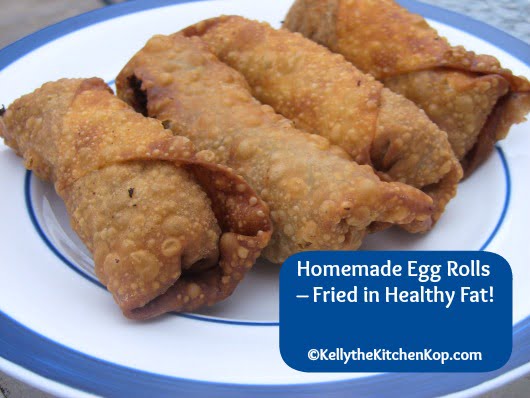 Do you love egg rolls?
These egg rolls, fried in healthy beef tallow, are crispy and delicious!   (Here's where to find beef tallow online or how to render it yourself.  If the big tub of tallow at that link is out of stock, try the smaller tub!)  I often serve it with this simple fried rice recipe.  I've combined a few different recipes for this one, and it's not difficult to make, but does take some time to get the veggies for the egg roll filling ready…
Homemade Egg Rolls Recipe
Ingredients (use organic where you can)
1 Tablespoon butter
3 eggs, beaten
4 Tablespoons butter or sesame oil (I used some of both)
1 medium head cabbage (or bok choy), shredded
About 1/4 pound carrots, julienned
2 green onions, sliced small
2 Tablespoons fermented soy sauce
1 teaspoon sea salt
1/4 teaspoon pepper
1/4 teaspoon ginger
1/2 teaspoon garlic powder
1 teaspoon palm or coconut sugar
Optional:  1/8 cup celery, cut small
Optional:  1/8 cup peas
Optional:  cooked chicken, shrimp, or pork in small pieces
Optional:  adding cooked rice is yummy sometimes, too
14 oz. package egg roll wrappers (I Googled for recipes, fully expecting that I'd have to make these from scratch, but I found some without MSG or GMO's, and a not-too-bad ingredient label!  Good thing, since I didn't feel like making them anyway.)
1 egg white, beaten
Beef tallow for a healthy frying oil (If you don't want to make tallow yourself, find where to buy it online.  We use this for French fries, chicken nuggets, fish, etc.)
Instructions:
Heat 1 Tablespoon butter in a cast iron pan, pour in the 3 beaten eggs and cook without stirring until firm.  Flip the egg pancake over (good luck), and cook for another half minute or so to firm the other side.  Set aside to cool, then slice into small strips.
Heat 4 Tablespoons butter or sesame oil in a wok or large cast iron skillet over high heat.  Stir in cabbage and carrot, cook for 2 minutes to wilt.  Add green onions, soy sauce, salt, pepper, ginger, garlic powder, palm or coconut sugar, and optional celery, peas or chicken; continue cooking until veggies soften, about 5 minutes.  At this point, do a taste-test and see if it needs anything.  Stir in sliced egg, and let mixture cool well.
To assemble the egg rolls, place a wrapper onto your work surface with one corner pointing towards you.  Place about 3 Tablespoons of cooled filling in a heap onto the bottom third of the wrapper.  Brush a little beaten egg white onto the top two edges of the wrapper, then fold the bottom corner over the filling and roll firmly to the halfway point.  Fold the left and right sides snugly over the egg roll, then continue rolling until the top corners seal the egg roll with the egg white, being careful not to let it tear.  Repeat with the remaining egg roll wrappers, covering finished egg rolls with plastic wrap to keep from drying out before they're fried.
Heat your beef tallow (to 350*) in a deep-fat fryer or I used a fairly deep saucepan that would fit 2-3 egg rolls at a time.
Fry until golden brown, drain on paper towels, then place on a cookie sheet in a warm oven until serving.
This recipe made 17 egg rolls (I didn't use chicken or celery this time), but it will depend on how much you fill them before wrapping.
We loved these, but thought they needed just a little sweet and sour sauce to dip them in, so I adapted my old recipe with rotten ingredients into this one:
Sweet & Sour Dipping Sauce
Combine the following in a small saucepan:
Heat until thick, stirring constantly.  This makes a small batch, just enough for a little dipping, but not too much since it's very sweet.  Enjoy!
^