Is Juicing Good for You?
Our daughter has been talking about getting a juicer and I wasn't sure of the answer to this question:  is juicing good for you?  So I dug into it and lo and behold I found this on my blog from a while back (!!) so I'm reposting today…  🙂
My longtime reader and friend, Jeanmarie Todd, was nice enough to not only write another post for my blog, but to do all the research involved first…which is very time-consuming.  Thanks Jeanmarie!
Feel free to skim through the bolded parts if you're in a hurry.  🙂
And if you're just looking for a juicer, this one has great reviews.
Who hasn't wondered:  is juicing good for you?
It's touted as an easy way to get more fresh produce into your diet—the idea being that you'll consume more vegetables and fruits if you don't have to actually chew them. Even if you're not too lazy to masticate, maybe you want help consuming a greater volume of antioxidants, phytonutrients and enzymes from vegetables and fruits.
This is made to sound so healthful—yet IS juicing good for you?  It seems antithetical to "whole foods" or "real foods" eating. Paleolithic man didn't juice, Weston Price's healthy natives didn't juice, and who has the money to throw away so much of their organic produce?
I didn't find much about this on the Weston A. Price Foundation website, and didn't expect to.  Dr. Joseph Mercola says juicing allows you to consume an optimal amount and wider variety of vegetables more efficiently, with better nutrient absorption. But like any other health trend, some have taken a grain of truth and extrapolated it to a whole lifestyle. Dr. Ron Schmid, author of Traditional Foods Are Your Best Medicine, an excellent introduction to Price's research, said it best:
"If you go from a diet of mostly steak, pasta, Scotch and cheesecake, to raw fruits, vegetables and juices, you might well feel better, lose unwanted weight, and think you've discovered the fountain of youth—for a while. But at some point—a point that will vary markedly for different people—you'll run into trouble. And many people will then think, 'Gee, I did great on that diet. Why won't it work now? Something else must be wrong since my diet is fine.'  But this is probably the wrong conclusion. The physical part of the explanation for health problems can almost always be found in the diet."
Jack and the Juice Lady
Jack LaLanne, the 95-year-old fitness guru who hasn't had dessert since 1929, hawks a juice extractor bearing his name, so we know where he stands. Another proponent is Cherie Calbom, author of The Juice Lady's Guide to Juicing for Health.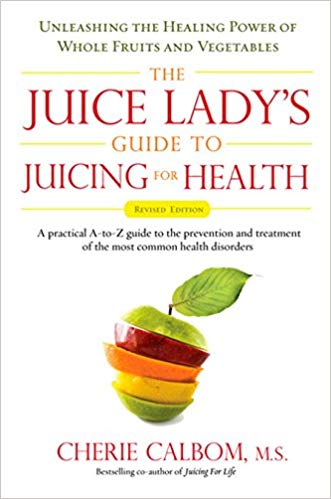 "Juices are loaded with antioxidants, other vitamins and minerals, enzymes, and phytochemicals," Calbom writes. "Most of us just don't get enough of these nutrients in our diets to promote health and heal our bodies" without juicing. It saves time and energy, including cooking fuel.
Not only do food prep and cooking take up valuable time, so does chewing!
"Very few people have the time/energy to eat anywhere near the amount of vegetables they could juice," Calbom says. "I timed eating a medium-size carrot; it took 10 minutes. Every day I juice 5 carrots, along with a beet with the stem and leaves, a handful of parsley, two stalks of celery, a cucumber, 1/4 lemon (peeled) and about a 2-inch piece of fresh ginger root. . . There is no way, any day of my life, that I would eat all that if I had to sit down and chew it all up."
I'm pretty sure I could eat a carrot in way under 10 minutes, but what about all that sugar?
"You can juice items you would probably never eat such as leaves like beet leaves (they are loaded with minerals), stems, seeds, and peels (if organic)," Calbom says. "All of these parts of the plant are loaded with nutrients, some with far more than the portion we're accustomed to eating."
True. I learned from a demo lady at the store that you can throw whole strawberries into a Vita-Mix without removing the hulls, which she claimed are high in Vitamin C. I can't verify that, but I can verify that the hulls are unnoticeable blended up in a smoothie.
Still, is juicing good for you?  Because ingesting minerals and digesting/absorbing them are two different things; for the latter, you need fat.
Advocates claim it can heal conditions ranging from allergies, anemia and cancer to varicose veins and water retention. Calbom even advises raw juices for candidiasis and hypoglycemia. I find the claim troubling, based on my own experience. Wouldn't the carbohydrate content of juice, unslowed by fiber, very quickly hit the bloodstream, provoking an insulin response—and feeding the candida?  Donna Gates of The Body Ecology Diet shares my concern.
'Fit for Life'—Unfit for Work
I once followed the Fit for Life recommendation to start the day with fruits only, until 11 a.m. or so. Instead I had to leave work by 11 a.m. because I was so sick with the worst hypoglycemic reaction of my life.
Still, a few years later I bought a Jack LaLanne juicer. (I never miss the opportunity for Life to teach me the same painful lesson more than once!) I quite enjoyed the juice I made at least three or four times, but I just couldn't stand throwing away all that good fiber. Grandma taught me that most of the nutrients are just under the skin, so why would I want to waste the skins and pulp? Only crazy Americans with more money than sense would pay top dollar for organic produce and toss so much of it, right? Plus, I rather enjoy chewing.
Let's look through our nutrient-dense lenses
Since discovering the nutrient-dense, full-fat, animal-based, traditional foods approach espoused by Weston Price, I examine any health claims through the lens of his insights. Any new information has to mesh with what I already know. I'm skeptical about claims that raw juices will basically solve all health issues.
Eating for lifelong health is not just about one thing—whether fiber, whole grains, acai berries, flaxseed oil, or name your favorite "miracle" ingredient. Is it human nature, or just American consumer culture, that we want to reduce complexity to one simple rule? ("No white foods!" seemed like a good one, until coconut milk came along. And lard.)
Too Fruitful
Funny how we say "fruits and vegetables" rather than "vegetables and fruits," which I've consciously done. Dr. Tom Cowan, a member of the WAPF board, says fruits are overrated as a nutrient source. Dr. William Davis, author of the Heart Scan Blog, says lots of fruit, even whole, can contribute to diabetes.
Modern fruits are the product of many generations of selective breeding to make them higher in sugar (remember, all carbohydrates ultimately digest to glucose), and that makes them easy to overdo. (Picking them green and shipping them across the country may also mean less development of phytonutrients.) Dr. Cowan's advice to me was to eat greens three times a day. Hmmm, juicing all that kale would be a lot easier to swallow…
But we shouldn't eat all of those greens raw!
Cruciferous vegetables, also known as the brassicas, are goitrogenic, meaning they can interfere with thyroid function unless cooked. This vast family includes kale, chard, cabbage, broccoli, cauliflower, Brussels sprouts, turnips, cresses, mustard greens, radishes, bok choy, rutabagas, and more. Well, that cuts down the possibilities for juicing right there. These plants also contain a lot of soluble fiber, the kind that is fermented by bacteria in the digestive tract (feeding the beneficial microbes is a good thing).
Balanced Juice
Notice the offerings at juice bars: most are based on carrots, apples, beets, or all three—not that the combination isn't delicious, but "ideally, you should avoid fruit juices due to their high sugar content," Mercola says. "Although vegetable juice is processed, it doesn't raise insulin levels like fruit juice," he says. "The only exceptions would be carrot and beet juice (and most vegetables that grow underground), which function similarly to fruit juice."
So maybe my concern over vegetable juice spiking insulin is unfounded? Dr. Cowan recommends lacto-fermented vegetable juice for cancer patients—as well as intact vegetables.
Mercola suggests starting with celery, fennel, and cucumbers, adding choices such as spinach, leaf lettuce, endive, escarole; herbs such as parsley and cilantro, and one or two bitter green leaves such as kale.
Add fats for nutrient absorption!
Add fats so nutrients such as beta-carotene, Vitamin K and minerals are absorbed. Balance the juice with fat and protein from raw cream, raw butter, raw eggs, avocado, coconut oil, or freshly ground flax seed, he says. Add some or all of the pulp. Now we're talking!
I still prefer kale cooked, with plenty of fat.
If you're asking, 'is juicing good for you?', how about this:  if you must juice, just consider these tips:
Emphasize vegetables over fruits; make and drink juices fresh.
Cook cruciferous vegetables rather than juicing them or lightly steam any greens before adding them to your juice.
Take juices as part of a meal or balance with fats and protein for best nutrient absorption and to prevent an insulin spike.
Instead of a juice extractor, consider a Vita-Mix or Bosch to make a blended veggie smoothie to retain the fiber.
Flavor a veggie smoothie with raw sauerkraut and fresh herbs, even chicken stock if you need to dilute it.
Try Lacto-fermenting some fresh vegetable juice.
Don't rely exclusively on raw juice for your diet.
Final thoughts:
So occasional juicing as a way to get in more antioxidants and phytonutrients isn't a bad idea, as long as you're following the above tips!
***Jeanmarie has added a follow up note related to the GAPS Diet and how juicing plays into it: "The big surprise for me in researching this was learning that the Gut and Psychology Syndrome Diet, a grain-free, lactose-free, and sucrose-free regimen, recommended consuming freshly pressed juices."
Let us know your thoughts on this!  If this post, "Is juicing good for you?" helped you OR maybe brought up more questions, comment below.  🙂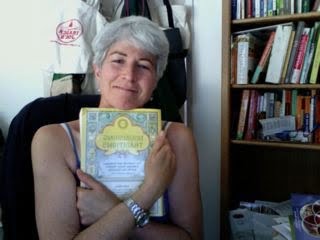 Thanks Jeanmarie!