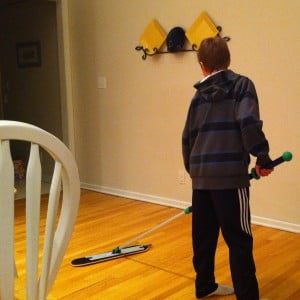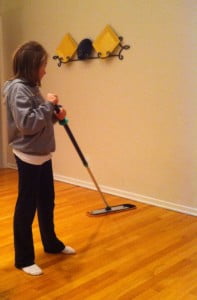 Need some safe, non toxic cleaning products that may even help you to hate cleaning a little less?  Notice I didn't say anything dumb like, "How to 'love' cleaning."  That's impossible if you ask me.  BUT I really do hate it less now, yippee!
And get this:  the kids have been fighting over who got to mop the floor, pushing each other and everything.  For real!  Usually this is annoying, of course, but this time I thought it was kind of funny.  Pictured above is our almost teenager, and on the right is our ten year old.
I started with these cleaning cloths.  I have to admit they were sorta fun because they clean much better (shinier surfaces) than a plain rag and with less elbow grease.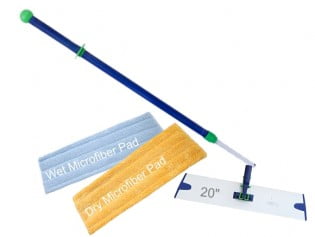 The mop starter kit was my favorite, though.  (You can get the pieces separately, but I wanted the whole shebang.)  Not only because it's fun to push around, but when you're done with the slimy grimy pad, you just tear it off the mop (velcro) and wash it, so it's ready for next time.  Love that.
The last thing I wanted to share with you was that I love not worrying about chemicals when cleaning with these products, since everything I've used so far just needs water!
Now don't get me wrong, if my income ever increases enough to justify a regular once or twice-a-month house cleaning, I'll be all over it, but in the meantime, at least I'll hate it less.  As a matter of fact, we host bible study Friday and are having a family birthday party here Saturday, so I'd better get off the computer and get to it.
I'm curious, do you hate it, too?  Or are you one of those crazies who actually enjoys cleaning?