Overall our school year is going pretty well so far, but every day seems to be so busy and so LONG.
Maybe you can tell me what I'm doing wrong?
We're using this curriculum loosely, and changing things up as needed to make it fit our kids better.  For example, instead of having our 10th grader write paper after paper after paper, we're using this VLA program that one of you told us about and we love the whole philosophy — it's working out great!  Thankfully that part is going well, however…
Everything takes up so much TIME!
Language arts is a breeze for our daughter, but math is where she struggles, so I need to sit down with her every day for 45-60 minutes just in that one subject.  Our 10th grader is like our grown son in that he's not a visual learner, so when he has assigned reading he'll do it, but if I ask him about it later not a lot "sunk in".  If I really want him to learn it, I need to read it out loud TO him, and this takes up a big chunk of the day, too.  (I know I need to find more books on tape, but they're not always readily available for the reading he has.)  Our youngest can do some stuff independently, but of course the three of them need lots of help with their other subjects, too, usually it's at least 6 hours jam-packed every day!  The kids do take breaks to go run outside and we eat meals together, etc., but each day just feels so full and so long.  I know I could just cross things off our lists, but I can't blow off everything or they're not going to learn what they need to!   I'm up at 5:00 am to do my own computer work each morning, and then once I wake the kids up, I barely have time to get dressed, make meals, and throw some laundry in, let alone pull off all the other stuff Moms need to each day.  Plus I'd really like the kids' days to be shorter, too!
I know that you unschoolers will tell me to chill out, let them learn and explore on their own, etc., but I need more routine and know I'm not the type of Mom who could pull that off and turn everything into "a teaching moment".  I need the structure, I just don't know how to decrease the stuff we need to get through each day.
My constant question is, "How in the world do classroom teachers do this with THIRTY kids?!"  (I was talking to my sister yesterday, who teaches 2nd grade, and she was telling me how on top of that, as if 30 kids wasn't enough, the administrative burdens are getting worse every year.  The pressure to get the kids' test scores up, all the paperwork, not to mention all the autistic kids now and behavior-challenged kids, WOW.)
I've been reading more by the author of the writing program mentioned above and am getting her book:  The Self-Propelled Advantage — The Parent's Guide to Raising Independent, Motivated Kids Who Learn with Excellence.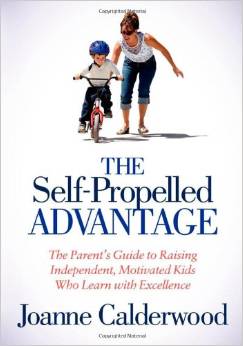 She says that her kids taught themselves all of their high school subjects, and those already in college got crazy-high ACT and college entrance exam scores.  Of course I have to wonder, maybe she just had gifted kids anyway, though.  I'll let you know what I find out as I read more.
Any advice reader friends?  Thank you!  (I added this later:  check out the comments below, already the ones there have helped me a LOT and I'm going to be changing some things…)
(Please forgive any grammar or spelling errors, I wrote this post FAST!)
p.s.  Catch all my posts about our homeschooling journey here.