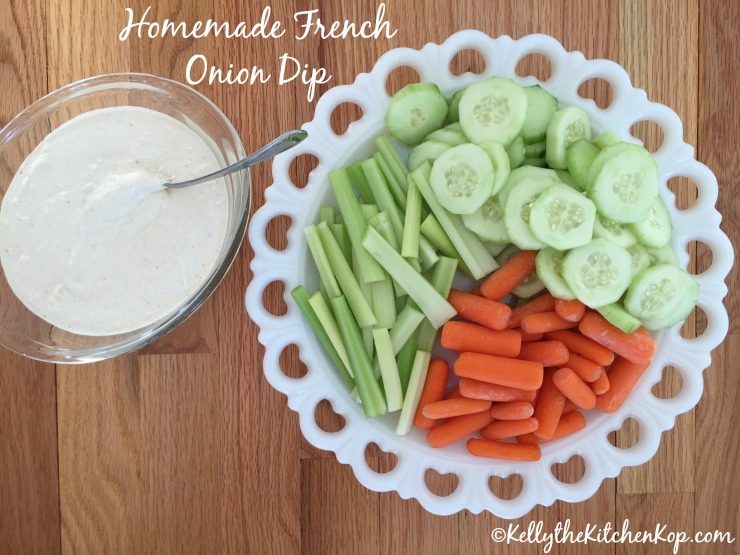 Did you love potato chips and French onion dip as a kid too?  
The other day our son found this organic French onion dip mix way in the back of our pantry, so he mixed it up with some sour cream and loved the taste, and it was pretty darn good, but as usual, I knew we could make an even better homemade French onion dip.  He loves to work on recipes with me and taste-test 'til we get it just right, so we went to work and came up with this tasty version with no questionable ingredients — because even organic processed foods sometimes have extra fishy ingredients in there that I don't love.  In this packet the ingredient I wasn't sure about was, "organic maltodextrin".  So I found out that it's a corn-based food additive/sweetener, and since it's organic, at least wasn't made with GMO corn, but still, I'd rather make it ourselves and avoid that additive all together.
Here's how we did it…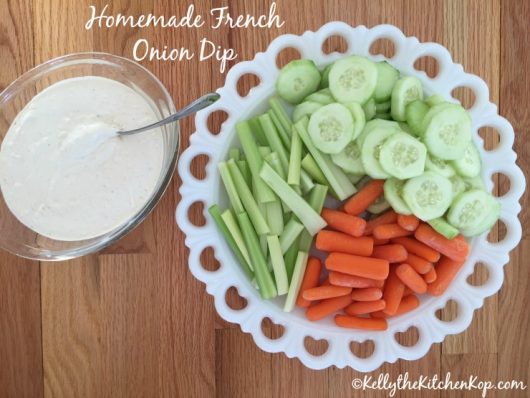 Print
Homemade French Onion Dip
Yield 2 cups
Instructions
Mix everything together and taste test to see what else you think it might need more of, it'll depend on if you like it with mild tastes or bold tastes.  You may want to add more dried or toasted onions and onion powder to give it a more pronounced flavor.  It also may need more salt, depending on how you like it.  You really can't screw this up except by using too much salt, so just be careful with that part.  Then cover and leave in the fridge for an hour or overnight so all the flavors come together nicely.
Serve with organic corn chips, maybe some homemade potato chips, or vegetables as pictured above.
Did you make a real food recipe?
I want to see it! Tag @KitchenKop on Instagram and hashtag it #KitchenKopRecipes OR share anything you know I'll love by tagging @KitchenKop and hashtag #KitchenKop -- see you over there!
I wanted to make a mix using dried ingredients to try and mimic what was in the packet this time, but another time I might try caramelizing onions and garlic together in a little butter and using that as a base to mix with the sour cream.  That sounds good too!
Let me know what you think.  🙂
More you might like: