Hello readers, this is just a quick Saturday post to tell you about a book that a friend of mine came across recently.  It sounds like a rare find, especially for those of us who love good traditional food stories!  Here's what she shared about it:
I actually bought this book for my daughter for Christmas, but I've been reading it myself and loving it!!!  It's like reading about a full on hardcore modern real foodie, in WWII era France, plus it's adorable and packed full of traditional recipes that include all the elements of WAPF.
One might think that Clementine was a chapter leader for the Weston A. Price Foundation, except that these stories of her and her incredible French cooking were originally published in 1943!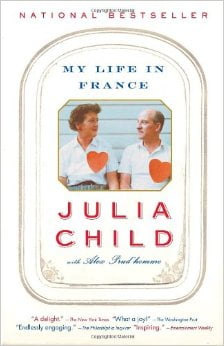 Clementine in the Kitchen chronicles the life of an American ex-patriot family in pre-WWII France, and their adjustment back to the United States. Through stories of their beloved cook, Clementine, it takes the reader back to a time and place where people were intimately connected to the land and their sources of food, which was mostly purchased at outdoor farmers' and artisan markets much like our own. Clementine's adaptation of her very traditional farm-to-table style cooking to American ways is both inspiring and hilarious!
It's like Julia Child's "My Life in France" in reverse, since it's about someone who grew up in an amazing traditional French foods culture coming to the United States at a time when processed foods were starting to really take off, and most people were already disconnected from their food sources.  The chapter about her first trip to a supermarket in America was great, and ended with her basically leaving with an empty cart:  "There could be no more decisive break with the Old World than this."  She chose instead to buy real food ingredients from their sources, which she would first research and make sure they were trustworthy.
The book includes 170 of Clementine's recipes featuring traditional elements such as gelatinous bone broths, raw cheeses and cream, organ meats, and lots of glorious, grass-fed butter.  The recipes really are amazing — they are sprinkled throughout as they fit into the story, but the end also has another whole section with more recipes.  She also knew how to forage; as a matter of fact, there's a funny scene connected to her and the kids collecting snails from the garden for escargot, along with detailed instructions and the recipe for making it.  I love how she included knuckle bones in her stews and roasts to create a good broth/sauce, and how she knew how to make organ meats and "nose to tail" cooking appeal even to Americans!
This would make a fantastic gift for a real foodie or Francophile, plus a super fun read for yourself.