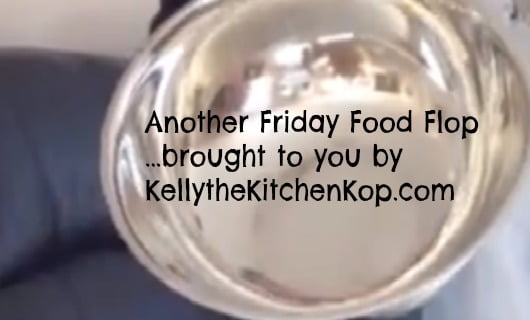 If you've seen any of my other Friday Food Flops, you know that they're not always directly food related, they're just about random stupid stuff I pull, in and around the kitchen, and believe me, there's always plenty of material for these posts…
Remember I told you about the new big stainless steel bowl I ordered?  Here it is:  a 30 qt. Stainless Steel Extra Large Mixing Bowl
.  
"I just hope this size isn't too big", I had said.  It doesn't look that big from this picture, right?
Well, here's a little video to show you how big it really is… video plays after the ad… 
So that sucker is going back, and I found something better!  I ordered these instead, it's a set of 4 – Heavy Duty Stainless Steel Mixing Bowls – 3, 5, 8 and 13 qt. sizes.  I know I'll be able to use these sizes a lot!
Also, here's a 20 quart one if you're looking for that.
Do you have any food or kitchen-related flops lately?  Please tell me I'm not the only one always doing dumb stuff?!!!