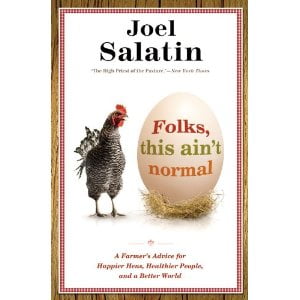 As soon as I opened the Farm to Consumer Legal Defense Fund e-letter today and saw the following, I knew that you would want to see this:
"We've been snookered!"  Listen as Joel Salatin explains how.
I love Joel Salatin for the way he's made commons sense Real Food chit chat normal, and for showing the world that sustainable farming, which provides food that nourishes us, can be done well and also be profitable.  I love the FTCLDF for the way they stand up and fight for our beloved farmers.  Are you a member yet?  We all need to hang on to our food rights, please join!
Now listen to this FTCLDF video with Joel Salatin talking about his soon-to-be-released book, Folks, This Ain't Normal: A Farmer's Advice for Happier Hens, Healthier People, and a Better World, and then let me know what you think in the comments.  🙂