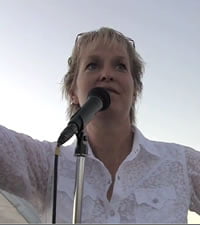 Are you outraged at how our food choices are being threatened and food rights being taken away?  This post includes a letter from Laura Bledsoe from Quail Hollow Farm after their farm to fork dinner party.  Sadly, this is becoming so common, I don't know why I continue to be shocked by these government raids on our beloved farmers who our nourishing us with local, nutrient-dense, sustainably and organically raised foods, but it's wrong on so many levels and goes against basic common sense! 
I'll share an excerpt of the appalling story here, and then you'll want to click in to watch the videos of the whole fiasco.  Also, when you're done, be sure to sign up to become a member of the Farm to Consumer Legal Defense Fund, truly what would we do without them?!
(In Monday's post there will be more scoop on farmer Michael Schmidt's hunger strike over his right to provide raw milk to those who know and appreciate its health benefits!)
Farm-to-Fork Dinner Fiasco
By Laura Bledsoe | October 24, 2011
When an over-zealous regulator shows up at a farm dinner demanding that food be destroyed as hungry guests await, who do you call? Here's Laura's account written as a letter to her guests who had come to Quail Hollow Farm expecting a meal of foods harvested from local small family farms.
This incident shows the value of the 24/7 legal hotline for farmers like Laura who need help…even on a Friday night!  A member benefit like the hotline is available thanks to the financial support of the many FTCLDF members and donors.
Dearest Guests, (You have all become dear to us!)

What an evening we had this last Friday night!  It had all the makings of a really great novel: drama, suspense, anticipation, crisis, heroic efforts, villains and victors, resolution and a happy ending.

The evening was everything I had dreamed and hoped it would be. The weather was perfect, the farm was filled with friends and guests roaming around talking about organic, sustainable farming practices. Our young interns were teaching and sharing their passion for farming and their role in it.  (A high hope for our future!)  The pig didn't get loose.

Our guests were excited to spend an evening together. The food was prepared exquisitely.  The long dinner table, under the direction of dear friends, was absolutely stunningly beautiful. The music was superb. The stars were bright and life was really good.

And then, …

for a few moments, it felt like the rug was pulled out from underneath us and my wonderful world came crashing down.  As guests were mingling, finishing tours of the farm, and while the first course of the meal was being prepared and ready to be sent out, a Southern Nevada Health District employee came for an inspection…
Continue reading the story here and see the videos from this farm to fork dinner last week in Nevada.
Read more of these types of stories (if your stress level can handle it) at these Save Farm Freedom Friday posts.  (Scroll all the way down to see them all.)
Read about the upcoming FTCLDF fundraiser party coming up soon at the Wise Traditions conference in Dallas!  (Note:  The giveaway there is closed now, but scroll down to get to the part about the party.)