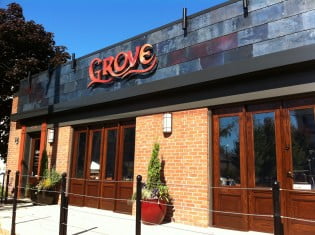 Kent and I finally got over to GROVE Restaurant recently with our friends David and Michelle. If you've been hanging around here a while, you'll remember that Chef Pat had me stop in to look around one day before they opened last year, which I told you about in this post: I Ate Crispy Pig Ears.  Here's how it begins:
"You Real Foodies will love this story! Especially you die-hard Weston A. Pricers who love to eat liver and other pieces and parts, and who like it when none of an animal goes to waste. Yeah, well I'm not always a big girl about eating some of that stuff…until Chef Pat…"
Fast forward to our dinner last weekend. Not the best shot here, but it was the low lighting/iPhone combo…
We tried all sorts of deliciousness – I love how Kent will split dishes with me so we can try a little of everything. Our steak came with a sweet potato purée that was seriously the best combination ever.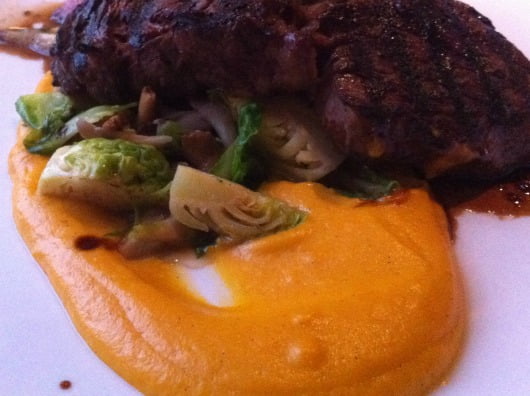 Every plate is literally like a work of art, not just because of how beautifully it's presented, but also because their menu changes daily, so they are working up new creations and collaborating with local farms for an ever changing tasting experience.  Don't you love that?
This salad was especially beautiful:
At first when our appetizers and salads came out the portions seemed small, but by the time we were done we were very full and because the portions were reasonable, we enjoyed each course more.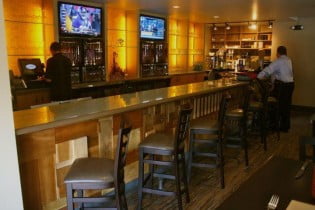 Michelle's steak wasn't cooked just right, so they brought her out an amazing bread and cheese plate "to snack on" while she waited. And they didn't just cook her steak longer, they brought her out a whole new meal.
Classy.
The following philosophy is what it all comes down to. If only more restaurants "got it" like these guys do…
"We responsibly source as many ingredients as are available from local, family and sustainable farms. We take great care in the preparation of these ingredients to demonstrate our respect for how our farmers raise or grow these products."
And there's something so neat about being friends with many of the farmers who grew or raised the food that we were able to enjoy in such a relaxing atmosphere.  Foods such as…
Read more about Grove and their earth-to-table philosophies.  Here's an excerpt:
"Farm to Table (or as we call it at Grove, Earth to Table) was a concept that grew out of the realization that the food we eat travels an average of 2,000 miles to get to our plates. This is especially strange considering that this area of West Michigan is the second most bio-diverse area of the country, meaning we grow a greater variety of food than they do anywhere expect an area in Southern California. Not bad, considering our growing season is only half what theirs is.

While it's a virtuous ideal to feed the local economy while feeding guests at your restaurant, I was especially concerned with what all that travel did to the flavor of the food. I read about a restaurant in Panama that feeds a tablespoon of wine to the chickens that are slated for the plate just before they are well, converted to food. This, in theory, made for what is widely considered the finest tasting chicken in the world. If this subtle change in the process could affect the taste of chicken so dramatically, then what would it do to pull as much of our food as possible from local farmers?

And then I read another article that cited how the content of carbon monoxide in foods gets higher and higher the farther they are shipped. (Maybe I should just stop reading.)

The final advantage to serving food that takes the most direct route from earth to table is that you actually get to know the farmers who produce the food. While working at The Green Well, we took the Cartel (our ambassador group) out to one of our farms, gave them a tour and then ate dinner in the farmer's field. Call me crazy, but I think this relationship actually makes the food taste better."
So here's the best part…
Not only are they on track with these Real Food philosophies, they're also so popular that getting a reservation here isn't easy unless you call way ahead!  These principles matter to more and more of us, and the growing popularity and success of these types of restaurants is our proof.  🙂
Are you blessed with similar restaurants near you?  If so, tell us about it in the comments, and don't forget to say where you're from! 
By the way, in case you were wondering, they didn't pay me or give me free food to write this post.  I just love talking about good food that's grown, raised and prepared by good people who get it.