I would like to introduce to you a blogging friend, Rachel Jones. Rachel writes at Nourishing Minimalism, her focus is on real food, simple recipes and minimalist living.  Thank you Rachel for having pity on me, and sending over a guest post JUST when I'm tearing my hair out trying to get ready for the kids to start school next week!!
Is the process of decluttering the kitchen long overdue at your house?
Getting real food into my family is a priority, we've simplified our schedule in many ways, but always left room in the schedule to enjoy real food. Even though, at times, it can (or rather, it seems like it can)  take more effort to get on the table, real food and minimalism completely fit together. I avoid collecting clutter in my home, and that mindset permeates every area of my life: including food!
I don't want junk in my pantry or in my body.
Simplifying the Home Helps Us to Eat Real Food
I know from experience that keeping my kitchen clean and tidy is high on my priority list. If I have a clean kitchen to work in, I'm happy to prepare food there.
Now, let's be honest: when the kitchen is in complete disarray, counters full and the sink bulging with dirty dishes, it's tempting to just order pizza and ignore the kitchen.
I can help you change that!
First, I want you to close your eyes and imagine walking into your kitchen. The counters are clean and clear, the refrigerator is well stocked, everything in the pantry is organized. The sink is empty and shiny, and pots and pans are sitting in the cupboard ready to serve you.
Now doesn't that make you want to cook?!
Today, I'm sharing a task from my new book: 30 Days to a Clean and Organized Home. Each day, I walk you through a task to clean out, declutter, and organize each space in your home. By the end of the course you will have the time and motivation for things that are truly important to you:
Serving your family real food.
Spending time with your children and spouse.
Enjoy a calm atmosphere in your home.
Having time to devote to hobbies and personal growth.
Let's take a good look at the pantry today!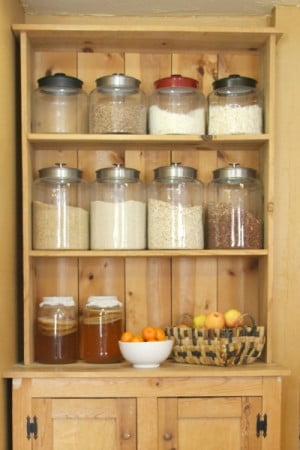 Remove all items from the pantry space.
Clean all the shelves.
 Toss old food. Anything that is expired or stale, or was gifted to you. If you haven't used it by now, will you really use it? (Look at each item and ask: Has this expired? If yes, throw it out. Do I use this? If no, throw it out. Do I like this? If no, throw it out.)
Toss duplicate items, or consolidate them. I'm not talking about the multiple cans of tomato sauce. I'm talking about the excess spices, or several half eaten cans of salted nuts that just won't get eaten.
Purge the junk food. Do you have food that makes you feel guilty or gross? Get rid of it.
Put food items back, in an organized way: all canned goods in one area, all pastas in one area, etc.
Evaluate any non-food items. Do they belong in the pantry? Do you really use them? Do they belong somewhere else? Put away any "rejected" items where they actually belong.
Toss any unused clutter.
Take donations out to the car.
Pantry completed?
Good! Now give yourself a reward! Take some time to sit down and enjoy a cup of coffee, call a friend to share your success, or sit and read a chapter of a book that you've been putting off.
Do you want more than just a clean pantry?
How about a clean and organized kitchen? Or your whole house? Breaking it up into quick daily tasks makes it happen. Besides that, I slowing introduce simple routines into your day. After you are done with this course, those simple routines will be so automatic it will feel like your house is cleaning itself!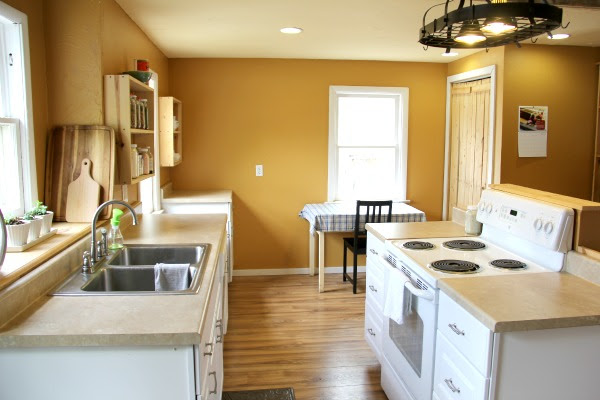 Rachel and her husband Brian live in Montana, with their 6 children and their miniature schnauzer, Janie. Rachel and Brian have been minimalists since 2008, shortly afterward they started their real food journey. Rachel attributes the ability to feed her large family real food and not go completely insane to the simple lifestyle that they have embraced. You can read more about Rachel and tour her kitchen on her blog: Nourishing Minimalism.