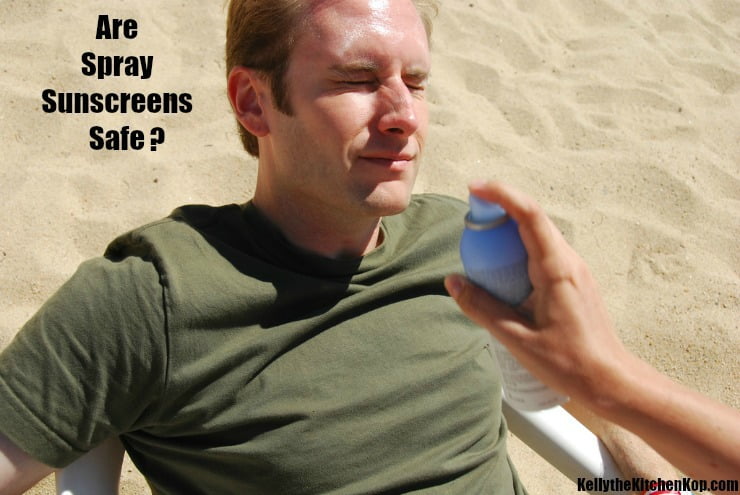 They're fast and convenient, but are spray sunscreens safe?
Back in the day, before I knew better about the junk in our food supply and the scary ingredients in all the products we use in daily life, spray sunscreens were the only sunscreen I used.  I kept a bottle in the back of the van so I could douse the kids at a moment's notice if we stopped at a park or went to the beach.  I felt confident I was applying it well to kids that wouldn't hold still and I could easily hit all the spots that take longer when rubbing it on.  Apparently I'm not alone, because nearly one in every three sunscreens in this year's EWG database is a spray.  If that's still you (don't beat yourself up, because we can't do better until we know better), I'm hoping I can convince you to go to your van or car and throw those into the trash.  As in, right now.  There are so many reasons why these are unsafe for your kids AND for you…
Are spray sunscreens safe?  NO!  Here's why:NOTE:  As an update to this post, this is the sunscreen we use now, and they DO have a spray sunscreen that I'm okay with using BUT I don't actually like it because it still needs to be rubbed in anyway to get it all over, so I prefer their safer sunscreen lotions.  Anyway, back to reading why most spray sunscreens are horrible and I'll tell you about another brand I like too…
They don't provide a uniform coating and are too easy to apply too little or miss a spot.
You don't want to inhale them and coat your lungs with sunscreen — they pose serious inhalation risks.  Consumer Reports says not to spray it on your kids, but the article was almost comical with all their "you can use it as an adult only, but follow these recommendations, don't breathe it in, spray on your hand not on your body and then rub it in", etc. etc. — reassuring, right?
Never use spray sunscreens by an open flame!
In the years since the above from the FDA, "consumers either haven't heeded the warnings, or they haven't been paying attention. To be fair, other than advising users to spray in a well-ventilated area and avoid spraying directly into the face, there are no real warnings on the product itself alerting users of the risk of inhalation. A warning label on a can of Coppertone Water Babies spray warns that "intentional misuse by deliberately concentrating and inhaling the contents can be harmful or fatal." So while it warns that intentional inhalation poses risks, there is no mention of the risks of unintentional inhalation that the FDA has been investigating since 2011." (Source)  Sadly, as long as they're legal and consumers are unaware of the risks, the apparent convenience of spray sunscreens will keep them on the market.
Sunscreen sprays easily travel in the wind, even in a light breeze. You can often smell spray sunscreens 50+ yards away. People using these outdoors/at the beach are impacting the health of everyone around them. People with compromised health issues are at serious risk, including infants and elderly.
Just like cigarettes (or even worse, since they travel farther and have more concentrated toxins), they should be banned from beaches and other public areas.  Even if YOU know better, we need to educate those around us.  If others are spraying and applying these toxins, they're almost impossible to avoid, especially during the summer at outdoor events, near pools (most sunscreen isn't very water resistant so a good portion ends up in the water; and particularly, oxybenzone is more dangerous when in contact with chlorine!), and at beaches.  Oxybenzone levels are dangerously high during high tide because a lot of these sprays end up in air and then land on the sand along the shore. During high tide the water pulls it into the ocean — the reefs and sea life certainly suffer.  Ultimately, it needs to be our community mission help other parents especially who are not aware of the dangers.  If the majority of the public doesn't stop using these toxic chemicals, there's no way for us to protect ourselves and our kids from exposure!
Not to mention that you could end up looking like this: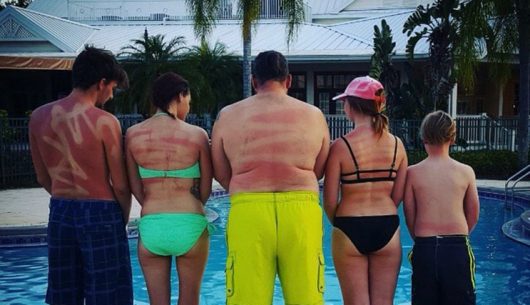 Which sunscreen to use instead
First of all, around here we're not afraid of the sun and don't use sunscreen daily, only if we'll be in the sun for long periods, and always when we're by water.  Otherwise, we want to get a good hit of vitamin D!  (Read Don't be afraid of the sun!)
However, now that you know how dangerous spray sunscreens are, you should also know that regular rub-on sunscreens at the store are really not much better.  They have many of the same dangerous concerns as listed above, including hormone disrupting chemical ingredients — why would we want MORE chemicals coming at our kids when they're already bombarded enough in our world.
Here's a safe sunscreen that we use:
I love this company, Raw Elements.  When I first read up on them I thought, "Wow, these guys have got it going on!"  Look at all they can say about their products, they are safe in SO many ways:
The EWG sunscreen report just came out and all Raw Elements products are #1 rated!

Great for kids and those with the most sensitive skin, while at the same time engineered to handle for extreme athletes.

I love this part (I keep one in my purse): their sticks are designed to fit flat in pockets/board shorts, and they even float.

Sweat resistant (never stings!) and so water resistant you can even apply under water!

Organic ingredients.

First and only full US brand that's NonGMO Project Approved.

Free of toxins, carcinogens, and truly eco-safe and reef-safe.

In case you want even more cool details:  Raw Elements are Leaping Bunny Cruelty Free, Certified Natural by the Natural Products Association, Rated #1 by the Environmental Working Group (five years in a row – as well as being a founding member of the EWG SunSafety Campaign). Certified Champion Status Signer of the Campaign for Safe Cosmetics, and made in the USA!  Proud sponsor of Surfers Healing for Autism, Sustainable Coastlines Hawaii, Coral Restoration Foundation, The Melanoma Foundation, and Make-A-Wish Hawaii / Bethany Hamilton Surf Camp.

Click here to get Raw Elements products.
Watch their new video:
Here's more information if you're an info geek and love learning about this stuff:
ABOUT ZINC/MINERALS:
• Most zinc oxide used in products may say it's "non-nano", or of a specific particle size, but there is a bell curve, so the average particle size may be over 100nm, but it doesn't mean there aren't smaller particles in the mix (some being well below nano particle sizing!). These small particles can have a negative impact on the environment and coral reefs. We have spoken with scientists who run tests on the impacts of personal care product ingredients on the reefs and this is a serious concern.
• Most zinc sold is mined. RE zinc is 100% recycled and completely sustainable. No mountains destroyed 🙂
• We use uncoated zinc. Many brands us zinc coated with dimethicone or aluminum – these are both not allowed in marine sanctuaries because they can have a negative impact on reefs.
Another reason is that there is no guarantee of how long these coatings last on minerals. Titanium for example reflects AND absorbs heat so it MUST be coated. Most titanium is small/nano particles, but are considered nonNano because the coating turns them into a larger sized particle. If the coating comes off in the environment (pounding waves on reefs for example), you now have nano particles that heat up and bleach corals.
As with aluminum, there is no bodily function for titanium. If ingested, the body works to purge it from the body. And kids always seem to get everything in their mouths.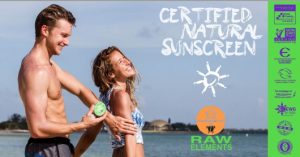 ABOUT HOMEMADE SUNSCREEN:
• While we love DIY, it's very difficult with homemade sunscreens to be 100% certain of a its SPF. To be certain you would need to run UV/SPF tests. We've spent many years mastering the tooling and mixing processes with the perfect combination of ingredients to get it just right.
We've also mastered the tooling so that our product is much more translucent on the skin compared to most homemade/zinc brands. RE can be rubbed in to almost clear – maintaining the SPF30 and without using nano particles!
ABOUT USING COCONUT OIL:
Many eco-conscious people suggest using just coconut oil as their "sunscreen".  We love coconut oil – goes without saying. And while we like the idea of using oils to maintain skin health, and appreciate the benefits they have on the skin, using straight greasy oils on one's skin while exercising or doing sports (getting sweaty, dirty), being at a sandy beach… is not ideal. (Nevermind that the SPF is much much lower). Also using coconut on the face & back often causes breakouts – many people are sensitive to coconut oil, as it doesn't let the skin breathe. RE, with a just-right blend of oils, butters, and zinc – is formulated very specifically to not be too greasy.
ABOUT VITAMIN D:
Obviously it's important to get a healthy daily dose of Vitamin D, but when we spend extended time outdoors (which doesn't take that long, particularly during prime mid-day hours) you want to have some back-up protection. Shade, hats, UV clothing, and a safe sunscreen.
ABOUT SUN SAFETY:
We're committed to educating on Sun Safety. Whether it's about the dangers of melanoma / skin cancers or toxins, carcinogens, and hormone disruptors in the products people use.
We work with groups like the Melanoma Foundation, Stand-up for the Cure, Environmental Working Group to name a few to help spread the word on everything from getting skin check-ups to safer sunscreen options.
ABOUT ECO SAFETY:
The dangers of much of the popular sunscreen ingredients are finally being verified with more and more scientific studies. These toxic chemicals include: avobenzone, oxybenzone, octinoxate, octisalate, octocrylene… to name a few.
When people use oxybenzone they may think they are not negatively affecting fish, sea life, reefs, because they're not going into a river or ocean. The problem is the chemical doesn't get filtered by treatment plants, so when they shower and even when they go to the bathroom (because it's also absorbed into the body), it ends up in the water/watershed.
Many sunscreens can claim to be eco-safe or reef-safe, simply because there is no regulation. It's similar to all the products that use the word "natural" on their packaging – where they may have nothing to do with what you or I would consider "natural". We work with marine biologists and scientists to try and stay up on the most recent research. Our goal has always been to offer the cleanest product we can, for kids > the environment.
More helpful links:
Remember to click here to get Raw Elements products now.
Marine Safe is another site that is trying to help consumers sort through whether ingredients are safe for the oceans or not. They work closely with the scientists releasing the top studies on the issue.
From the EWG:  the Worst Kids' Sunscreens
This post was originally paid for by Raw Elements USA.  You may want to check out my Icky small print stuff: privacy policy, copyright, disclaimers, terms & conditions.