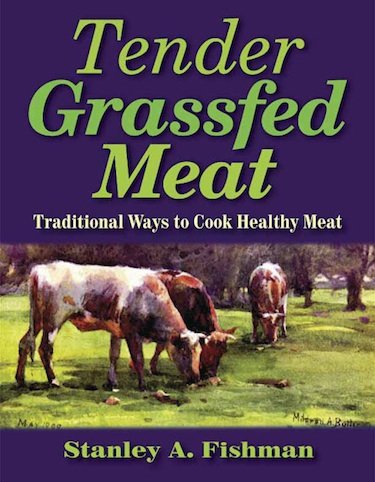 If you're getting more and more into the traditional foods lifestyle, and you've started eating grassfed meat, then you've probably figured out that it cooks differently than conventional meat.  Have you ruined some expensive steaks, too?  Ouch.  Not long ago, Stanley Fishman sent me his book, Tender Grassfed Meat: Traditional Ways to Cook Healthy Meat, and I'm thrilled to have this as a tool so we can cook certain cuts of meat that we were afraid to try again!  (Find safe sources of grassfed meat.)
As I got into it more, I became curious about the author, as often happens when a book grabs you.  I found out that Stanley has a Real Food Miracle story that you won't believe, and he's agreed to let me share it with all of you!
Thanks Stanley!
1.  Can you tell us a little about your background?
I have been sick most of my life. The main problem has been severe asthma, the kind that can kill you with a single attack. I have made dozens of trips to the emergency room, so many I lost count of them many years ago. I've also had chronic bronchitis, severe headaches, skin eruptions, digestive difficulties, and weight problems. I was a good patient, I listened to the doctors, took my medications, and got sicker and sicker. Despite all this, I was able to start a successful career as an attorney, and to meet and marry my true love.
These problems reached a point of no return in 1998, when I was 46, after I was exposed to hazardous chemicals at work, twice. I had to be rushed to the emergency room each time. It was really bad after the second time. It hurt to breathe, all the time. I could barely walk, I could not lie down and breathe, and I could no longer work. I could not blow out a single candle. I had to sleep sitting up in a chair (well, it was a very comfortable, overstuffed armchair).
The medical prognosis was horrible—I had severe and irreversible lung damage that would only get worse. A lung transplant was my only hope, but the immune suppressant drugs that would be necessary would weaken my already feeble immune system to the point that even antibiotics would not save me when I got bronchitis and/or pneumonia. And I got bronchitis constantly. They said I had five years left, no more, probably less.
After listening to this death sentence, I had a realization. The medical profession could not help me. All they had to offer me was a lingering death full of medication. But I did not want to die. I decided that I was going to live, despite them.
As an attorney, research was my specialty. So I decided to research everything I could about health and healing. I discovered ways to control my asthma without medication. But I remained very weak. A strange sequence of events led me to the website of the Weston A. Price Foundation. I spent dozens of hours on that website, reading everything. I started to change my diet to real food. And I started to get better. After adopting a total real food diet, everything improved. I stopped getting bronchitis. I was able to work. I could sleep lying down. My skin cleared up, the headaches disappeared, my digestion was fine, and I stopped getting asthma attacks. My breathing and stamina improved, somewhat. All of this happened with no medication and no medical care. But I was still weak, could not really exert myself, and tired easily.
I did some more research. Most traditional peoples would eat plenty of meat when recovering from an injury. The Germans even had a saying, "Meat gives strength." But I ate plenty of meat. Soon I realized that the factory meat I was eating was very different from the meat humanity had eaten for most of history.
I decided to eat grassfed meat.
2.  So then what led to you writing the book, "Tender Grassfed Meat"?
I was a fairly decent cook, but the first times I cooked grassfed meat, I ruined it. It was tough and tasted terrible. I tried all kinds of marinades and recipes, but it was always tough, never good. I was surprised and disappointed to find that there was no cookbook that could teach me how to cook it. But I knew that people must have known how to cook it. This led me to research old cookbooks from all over Europe and the US. I searched my early memories, read old novels. While most of these sources assumed that you knew how to cook and provided vague instructions, I was able to identify common themes, ingredients, and techniques. It was like putting a puzzle together. Eventually, I had a few breakthroughs, and I started to cook tender grassfed meat. I ate a lot of it, my body
craved it. This meat and the fat that came with it restored my body. I became strong and energetic, and the lungs that would never get better healed. And I started to lose weight without even trying. In my early fifties, I was in the best health of my life. I realized that the methods and techniques I had developed were largely unknown, and I did not even see a hint of many of them on the Internet or in other cookbooks.
I felt that real food and grassfed meat had given me my life back, I felt that I had an obligation to share what I learned. I wanted to make the blessings of this wonderful food available to others, so it could help them, too. I decided to write the cookbook that I had looked for and never found, a cookbook that would make the cooking of grassfed meat easy and accessible to all who wanted to cook it.
3.  How did you get involved in the Real Food Movement?
After publishing Tender Grassfed Meat, I had to market it. I ended up sending a review copy to Kimberly Hartke. Kimberly encouraged me to do a few guest blogs for her, I read a number of other Real Food Media blogs, and I came to realize that real food is the most worthy cause on earth. If everybody ate real food only, most of the other problems would disappear. Almost every physical, medical and mental problem in the world is caused or contributed to by a poor diet. Conversely, a good diet enables the natural functions of the body to deal with almost every physical, medical, and mental problem.
I was also stunned by the quality of the people I was meeting in the Real Food Movement. People who were giving priceless knowledge to all who would listen to it. People who genuinely wanted to make the world better, and were actually doing it. People who could think for themselves, and see through the lies and propaganda. People who were wise, competent, brave, loving, giving, genuinely kind and noble. People like Sally Fallon, Kimberly Hartke, Raine Saunders, Sarah Pope, Sheri Fogarty, Ann Marie Michaels, yourself, Kelly, a number of farmers and ranchers, and many others.
I also came to realize that some of the most powerful companies and organizations in the world base their power on and get their money from people being sick, malnourished, and ignorant, and are doing all they can to keep it that way.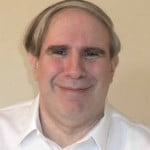 As an attorney, I had a professional obligation to represent every client to the best of my abilities, even when they were wrong. I was always bothered by this. I know the Real Food Movement is the right side, and I am thrilled to be on it.
This is why I started my blog, and I dream of the day when factory food is an unpleasant memory and we will all enjoy the blessings of real food.
Be Well,
Stanley
TenderGrassfedMeat.com
WOW!  If that doesn't convince you to eat REAL FOOD, then I don't know what will!!!  Thanks Stanley!