Many of us have 2014 resolutions revolving around our bodies and how we look.  Losing weight, eating better, exercising more, etc.  These are all great goals, obviously, and I write about them all of the time around here.  Sometimes, though, stress is what needs to be dealt with more than anything else —  it's toxic and can rob us of our health, not to mention how it takes all the fun out of life.
My Biggest Source of Stress
Besides my neverending to-do list, of course, my biggest source of stress is clutter.  I used to be right on top of my house, and piles didn't sit around here very long before everything was right back into it's place.  These days… not so much.
I'm energized when I get reorganized!
Getting reorganized makes me giddy.  To some that may sound really odd.  Cleaning off the countertop after looking at piles sitting there for days:  pure joy!  The other day I finally said "enough!" and cleaned out a closet that had gotten out of control.  Every time I opened it it stressed me out looking at the snow pants and winter stuff jammed in there.  Don't we all do that, though?  We get busy and let things go way too long.  Last night I finally got on top of our homeschooling books and reorganized using some new baskets I bought.  That was fun.  When I finished I just wanted to stand and stare at them!  (Here are some white baskets and these are cool, too.)  It felt good knowing we were all ready to get back to it next week when Christmas break is over.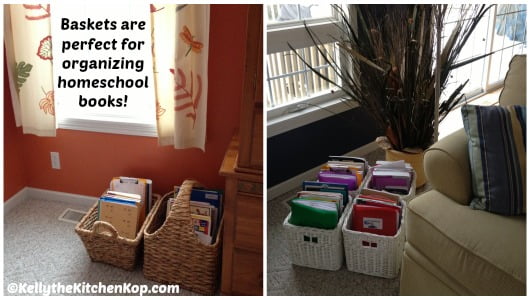 As we head into the new year, I've been reading this new book called, The Clutter Trap by Robin Konie, to help me stay on top of things better.
What is the cost of clutter?  Clutter costs a lot, and I'm not just talking dollar bills. We waste our time because of it.  We get frustrated. We miss out on opportunities. And yes, we literally pay more because of it.

• 23% of adults say they pay bills late (and incur fees) BECAUSE THEY LOSE THEM.6

• The U.S. Department of Energy reports that 25% of people with two-car garages CAN'T PARK A CAR because of too much stuff.

• US employees WASTE MORE THAN TWO HOURS A WEEK finding, sharing, and storing documents.7
Here's an important point she makes:
Even if you are clutter-free there will still be messes.

Not all messes are clutter. Clutter is the stuff that keeps you from being effective. It's often stuff you don't need or use. Messes are a result of using the things you DO need and/or want. As long as messes are cleaned up after you are done using the things involved you have nothing to worry about. This is why the purging and organizational steps are essential.
Then she goes on to give 7 tips for staying on top of messes.  Another of her tips that I loved was this one:
CREATE A SMALL FOLDER & LABEL IT "URGENT" FOR TIME-SENSITIVE MATERIALS (CURRENT BILLS, PERMISSION SLIPS, DOCTOR APPOINTMENT REMINDERS, ETC.)  KEEP THIS FOLDER IN A LOCATION WHERE YOU'LL SEE IT DAILY. THIS WILL HELP YOU STAY ON TOP OF THE THINGS THAT NEED TO GET DONE RIGHT AWAY WHILE YOU TAKE YOUR TIME ORGANIZING EVERYTHING ELSE.
A big topic she goes into is paper clutter.  She has some great tips and ideas for getting a handle on it, but my strategy for this has all revolved around one device:  my iPhone.  I have 379 notes on my phone, and I love how they're searchable!
Robin also discusses the importance of purging.  This makes some uncomfortable, but I love it.  I'm not real sentimental about things, so getting rid of stuff we haven't used feels great to this gal.  What about you?  If you struggle with this one, she'll show you what to purge and how to do it in only 15 minutes a day, too!  She's very detailed in her instructions on how to purge and then recategorize and reorganize step-by-step.  Even better, she tells you exactly how to prevent yourself from falling back into the clutter trap again once you've dug yourself out:  how to keep on top of the inflow and outflow that needs to be streamlined in any household, and especially one with kids.
This e-book is a great new year gift to yourself, to help you be FREE of clutter stress in your life!  As Robin says, "You can gain time, money, space and mental clarity."
Affiliate links are included above, thanks for helping me keep blogging!