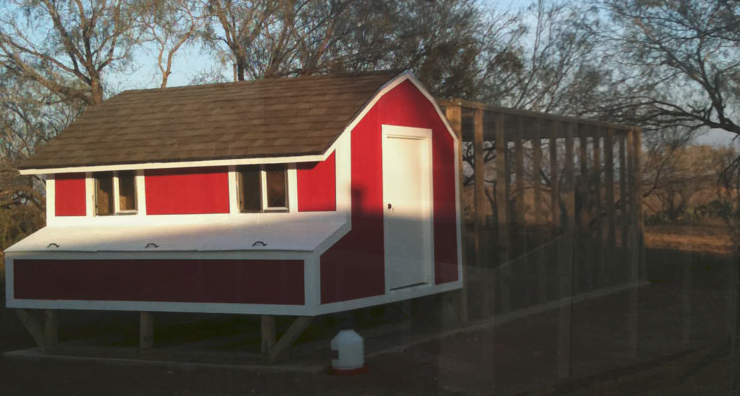 Yes, as of now, we don't plan to raise chickens ourselves (I also said that about homeschooling though!), but I do dream about it sometimes.  Fresh eggs right out our door…  Cute little chickens running around…  Doesn't that sound like fun?  However, even though Kent grew up on a farm he really isn't interested in raising chickens, and there's no way I'd take that on myself, so for now I sure appreciate those who do it for us!
I know that for many people out there, though, especially you crazies like me who really appreciate real food and want it as local as you can get it, you've had that little nudge in the back of your mind, and you just might get going this spring, right?
If so, I've got some great help for you…
Today, John White, the author of DIY Chicken Coops, and his trusted assistant, Gabrielle, share about the benefits of gardening and raising chickens yourself, and they want to remind you that WINTER is the best time to get planning!
Here's Gabrielle: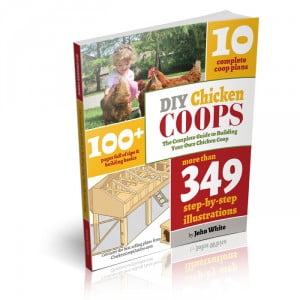 Golden yellow and delicious.
I think most of us know what a healthy egg yolk looks like, right? For those who don't, think about a golden apricot or summer sun for the yolk, and a nicely formed, not too watery clear white.
But why is this the best egg to eat?
Is it just for looks or foodie snobbery, or something to charge high prices for?
It's all about nutrient density. I have an entire section in the gardening book where I wax poetic about the differences between true organic and conventional produce, but beyond the glyphosate and GMOs are things like soil conditions, water, and sun. These are all important for good chicken health leading to good human health. Not to get too Disney here, but it's the circle of life. See? I didn't capitalize that. No harm, no foul, no lawsuit!
So think about it this way:
Chicken Y lives in the fresh air and sunshine, eating protein-rich bugs and sipping water from the farm's well or pond. Chicken Y eats whatever plants are available or necessary. Sometimes the farmer supplements her with feed made from oats, peas, etc. She usually self-medicates with whatever herbs are growing in the fields. Chicken Y is, due to diet and treatment, quite healthy and her eggs are high in vitamin content from her perfect diet.
Little Johnny eats Chicken Y's eggs and needs fewer of them to feel full because two eggs and some sauteed kale have all the vitamins, fat, and macronutrients he needs for good health. Then Johnny goes to play in the sunshine for a while to get the rest.
Chicken Z lives on a 'cage free' battery farm. Chicken Z sees the sun sometimes and once in awhile gets a bug, but for the most part lives with several thousand other chickens in a space that isn't really big enough for their needs. Chicken Z is fed corn and soy leftovers from industrialization, this may even be organic! Chicken Z is given a synthetic supplement to add omega 3's to their eggs to make up for the deficiency in her diet and lifestyle.
Little Jack eats Chicken Z's eggs. He's still hungry so he eats one or two more and adds some toast as well. He finally fills up his 'vitamin tanks'. Then he sits for a while because the added carbs he used to fill himself up made him sleepy. The synthetic omega 3's don't get absorbed well, either, and the GMO corn used to make it quietly damages his body.
So there are two extremes for you to illustrate the differences.
I didn't even go into the standard store-bought eggs. The ones you get for $1.50 a carton from incredibly ill, debeaked factory chickens. Healthy eggs from healthy chickens support healthy humans. Simple.
It's also a no brainer to say that raising chickens yourself is absolutely the best way to get the freshest, cleanest eggs.
But aside from the end product, there are other benefits to raising chickens and working in a garden!
Dirt itself can help to rebuild a GI tract ravaged by overuse of antibiotics, glyphosate, GMO's, and modern dietary habits. The pro and prebiotics we need are in the soil and digging in it with our hands, growing food, caring for animals ALL play a part in correcting a host of disorders related to intestinal permeability.
You need dirt. You need to get the good bacteria to rebuild your gut from somewhere, and the soil has it. There are even soil-based probiotics out there! But you can do that for free at home. Just make a garden spot and dig in.
Winter is the best time for planning, not spring. Make plans NOW to go out and get dirty. But no matter what, I wish you a great start to 2016. God bless!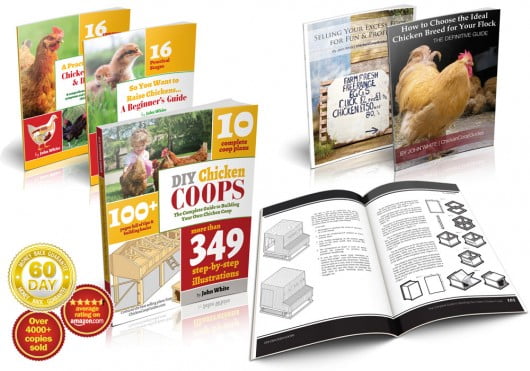 About the Author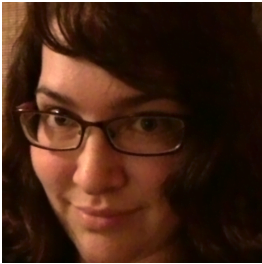 Gabrielle Yoder lives in central Kentucky with her husband and four children. She has studied nutrition, herbalism, and natural health since she was knee-high to a grasshopper, but has applied herself more seriously since 2005 when she apprenticed to an herbalist. That same year she also heard about Weston A. Price for the first time and didn't look back.  Gabrielle joined ChickenCoopGuides.com in 2013, and is John's right hand.  She looks after everything that gets published on the blog, site, or on the podcast.  She also enjoys writing, gardening, sewing, baking, cooking, operations management, and juggling children.
This was a paid post for ChickenCoopGuides.com, I hope it helps you!