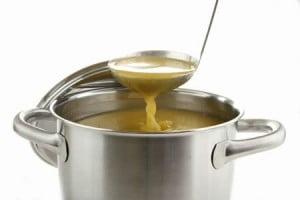 If you've been into the real food movement for very long, you know how nutrient-dense bone broth is, and that you should be getting more into your diet.  When made correctly, real organic bone broth it's chock full of minerals, which are beneficial for healthy bones, and real gelatin, which is great for our joints.  There are many reasons that Grandma always wanted you to drink up your soup broth!
It's easy to make, here's how:  Bone Broth for Rookies — How to Make Real Organic Bone Broth.
Or get "The Broth Bible":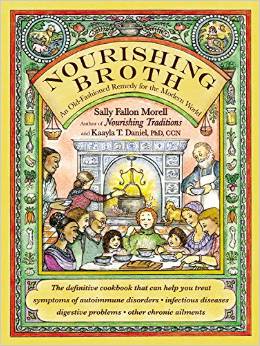 But maybe you don't always have time or you won't be around for hours in order to keep it simmering as long as it needs to, to draw all the minerals out of the bones.
Until now you were just stuck.  But now you have another option, you can buy healthy organic bone broth online, it's shelf-stable so you can keep in on-hand 'til you need it for your favorite soup or casserole, or to drink it plain for a nourishing beverage.
Read more:
100% Organic. 100% Grass-Fed.  
Every batch of our organic beef bone broth is made with bones from 100% grass-fed, pasture-grazed cattle that are antibiotic and hormone free. We also use all organic vegetables, sea salt and herbs to create the most nutritious bone broth available.
Slow Simmered For 24+ Hours
We make our broth the traditional way – slow simmered over low heat for 24+ hours – to give the bone marrow, collagen and amino acids time to soak into the broth. To top things off, our bone broth is fresh and never frozen, which means it tastes amazing.
Paleo-Friendly And Delicious
Not only is our broth incredibly good for you, it's incredibly good. We worked with a team of classically trained chefs to make a bone broth that's both tasty and has 19 critical amino acids and nutrients. Can't get much better than that!
Try drinking a daily mug of this delicious beef stock or chicken stock, instead of a morning cup of coffee, or as a soothing end to a long day!