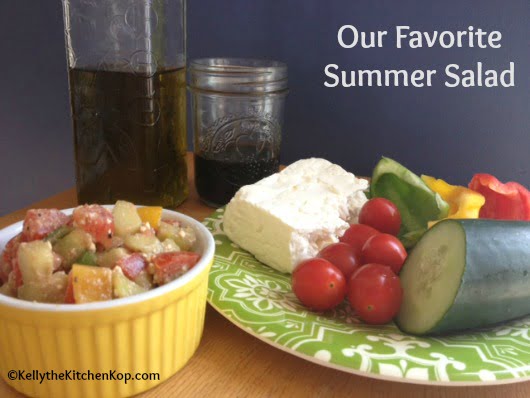 This is one of those "perfect" recipes because it's so flavorful AND easy!  I pulled it together in about 5 minutes the other day with veggies from our garden, so it has a super fresh taste.  I gave you rough measurements – use however much you'd like, and then try it and add more of whatever it needs.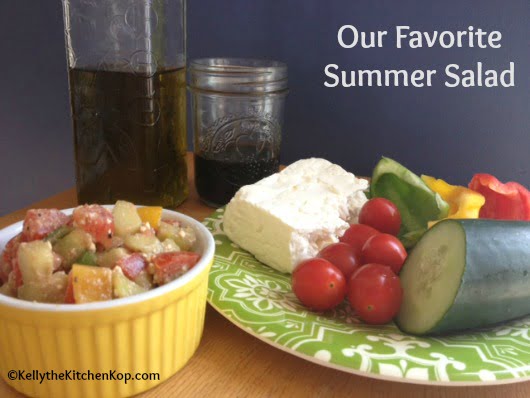 Print
Kitchen Kop's Favorite Summer Salad
Ingredients
1 or 2 Tomatoes, chopped into bite-sized pieces
1 or 2 Cucumbers, chopped into bite-sized pieces
1 or 2 peppers if desired, using the different colors makes it pretty
1 celery rib, chopped very small, if desired
1/2 – 3/4 cup feta cheese, crumbled (we like a lot)
Olive oil (start with 1/8 – 1/4 cup)
Pomegranate balsamic vinegar (start with 1/8 – 1/4 cup) or whichever is your favorite type of balsamic!
Sea salt (start with 1/2 teaspoon)
Instructions
Mix everything together, starting with a small amount of olive oil, vinegar and salt.  Taste test, and add more if needed.  You're done!
We've also made it with greens instead of cucumbers.
Did you make a real food recipe?
I want to see it! Tag @KitchenKop on Instagram and hashtag it #KitchenKopRecipes OR share anything you know I'll love by tagging @KitchenKop and hashtag #KitchenKop -- see you over there!
WHAT ARE YOUR FAVORITE SUMMER SALAD RECIPES?  (SEE THE COMMENTS FOR MORE GREAT IDEAS!)