Good morning readers!
Saturday night Kent and I went downtown here in Rockford for the grand opening of the Rogue River Winery.  It was a little awkward as we walked in because we'd never been to a wine tasting bar before and there was no one to seat us or tell us what to do.  But then this sweetheart named Kyle showed up, who was the manager's friend and had only popped in to help out for the night — he was amazing.  Turns out he goes to Michigan State and is planning to open his own winery and brewery someday, so he was super helpful and interesting to chat with, not to mention one of the best servers we've ever had.  He was just the right combination of humble and knowledgeable.
We saw the Channel 13 cameraman show up but didn't think much of it until he started aiming the camera our way…  Soon he came over to see if he could ask us some questions.  I promptly agreed, as Kent kicked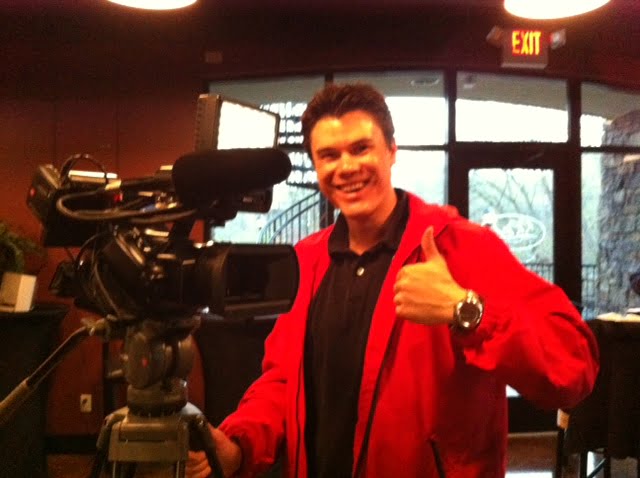 me under the table and gave me a dirty look, because he is the last guy to draw attention to himself.  Then I explained that Kent is much better at talking about beer and wine than I am, so I just stood back to snap some pictures as they talked.  🙂  Here's a shot of our nice cameraman.
Kent was thrilled to find out he'd be on the eleven o'clock news.  Here's the link to watch the clip.  (After I posted that on my FB page, people were calling him "Cap", so I had to watch it again to figure out why…)
We ended up hanging with some local friends who showed up, and we loved the live music from Rockford's favorite, Chris Corey.  (Personally, I think they should book Chris for every weekend.)  My favorite wines were the almond hard cider (sounds weird, huh?), and the cranberry fruit wine.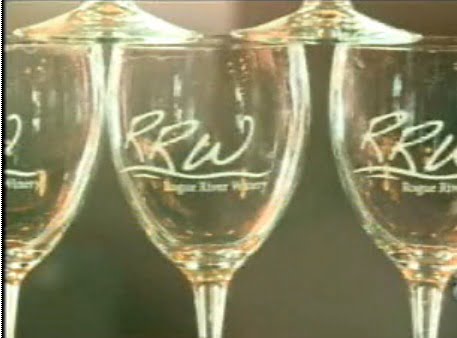 The only one I didn't like was a dry red that reminded me of the stuff my Dad used to use in a meat marinade for grilling, and it was good like that, but not in my glass for sure.  Kent liked it, but he's got a more mature palate than I do.
It was only $6 to try 7 different wines.  As Kyle brought out each new wine, he poured us a pretty generous taste into our glasses, which we got to keep.  Have you been to a wine tasting room before?  If so, I'm curious if that's how it's normally done?  For some reason I always thought wine tasting was done with the samples all lined up in front of you in smaller glasses.
Next we're looking forward to the new Rockford Brewing Company to open, well, mostly Kent is looking forward to that one.  I'm not a beer girl.  Hopefully they'll have wine or hard cider, too…  And good food is a must, of course.
The other day I read a great post on the dangers of irradiated foods from one of my sponsors, Chaya, at Pantry Paratus.  (They sell kitchen appliances, water filters, and lots more…)  If you
haven't ordered from them or gotten to know Chaya and Wilson yet, they are really good people, I am blessed with such amazing sponsors!  Check out the article and let me know what you think.
Only two more days to enter the latest Kitchen Kop giveaway to win a non-toxic coffee pot!
Did you see the post from last week with an update on the Stieler case?  Remember the story of the parents who have been taken to court because they chose not to give their son dangerous cancer drugs, especially since he's been cancer free for months?  Please go check it out if you haven't and see how you can help.
Thanks to my friend, Renee, who commented at that post about a new Kirk Cameron movie (I love anything he's in) that addresses these very issues, of our RIGHTS as Americans and how we've strayed so far from the country established by our Founding Fathers.  Local readers, it's showing this Tuesday, 7:30 pm, at Celebration North.  Everyone else, you can find out where it will be shown near you, and it's only for one night.  (I can't make it, so hopefully it will be online later…)  Here's the trailer:
Did you hear my friend, Stan, on the Underground Wellness show?  He talks about the latest boloney studies saying red meat will kill you.  In case you don't know, he's the author of the books, Tender Grassfed Meat and Tender Grassfed Barbecue, which I love because they're so jam-packed with info I need so that I don't ruin anymore of our expensive meats.
At our local Weston Price chapter meeting in February we talked about the health benefits of cultured foods and had everyone bring samples to share.  A gal named Lucinda brought the best sourdough I've ever tasted, soooo, believe it or not, even after all my flops (see my flop at the right, and check out my other Friday Food flops) I've decided to try again.  She brought me some of her starter, so stay tuned!
Also at that meeting I tasted some really delicious sauerkraut from a guy named John.  John was sweet enough to share the recipe, which my friend, Melissa, recently posted on her blog.
Our daughter and I went with some friends yesterday to see our high school perform the musical, Thoroughly Modern Millie.  WOW, the talent we have here is amazing, just as good as any show I've seen in Chicago or Toronto, seriously.  The sets, the music, the acting and singing, it is all just top notch.  I decided that I'm going to get my family to come see these shows every year now.