Good morning reader friends!  Grab your Monday morning happy beverage and check out all this good stuff…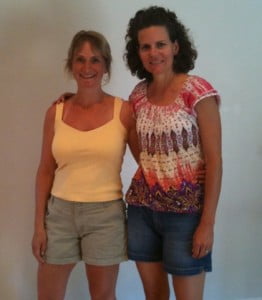 Have you voted yet?  Read what Sarah sent me, and I hope you can help!
The Natural News Video Recipe Contest ends Monday at midnight and my Nourishing Traditions Mayo video is only in first place by 16 votes.  The second place video (which uses health robbing protein powder – YUCK!) is closing fast.  If you are able to ask your readers to please vote if they haven't already and if they have voted, to go to the link anyway and Facebook share and Tweet the video to get more votes, that would be super great.  I plan to donate the $500 first prize to the Weston A. Price Foundation – hopefully I can hang on to win! PLEASE mention for your readers to click the "Vote for this Video" button to the right of the video window.  A bunch of folks have clicked the "Like" button probably by accident and no vote was logged this way."
Let's support Sarah and give her a great big lead.  Thank you!  (Over on the right is a picture of Sarah & I when she came to visit here last summer. Remember this picture is what prompted that much needed haircut that I got shortly after!)
Kent sent me some juicy articles recently.  This one by T. Colin Campbell (author of the book, "The China Study") was interesting to read from the "other side", even though I completely disagree with the guy:  Low fat diets are grossly misrepresented.  Here's the opposite side, which I DO agree with from Jimmy Moore's blog, an interview with Denise Minger.
I just read the cutest post from Alex called, "Could it be that Mom was right?"  All about the foods her Mom fed her when she was young, you'll love it!
I always knew there was something about the Mediterranean Diet that bugged me, but couldn't put my finger on it.  Probably because I didn't know all these powerful facts that Stanley shares in his post:  Call It Medical, Not Mediterranean.
Thanks to my friend, Bob, for finding this article:  Court rules rBGH-free milk *is* better than the kind produced with artificial hormones. Now what?A couple excerpts:


Earlier this week, the Sixth Circuit Court of Appeals overturned the state of Ohio's ban  on labels that identify milk as rBST- or rBGH-free, meaning produced without the use of artificial bovine growth hormone. Consumer and organic food groups were jubilant at the Ohio news, which may have far-reaching repercussions not only for all milk, but for genetically engineered foods."

"Compared to untreated milk, rBST milk has:

* Increased levels of the cancer-causing hormone IGF-1 [more about that in this report from the watchdog group Consumer Union]
* Lower nutritional quality when produced at certain points in the cow's lactation cycle; and
* Increased somatic cell counts (i.e. more pus in the milk)"

Uh huh.  You read that right.  Sick.