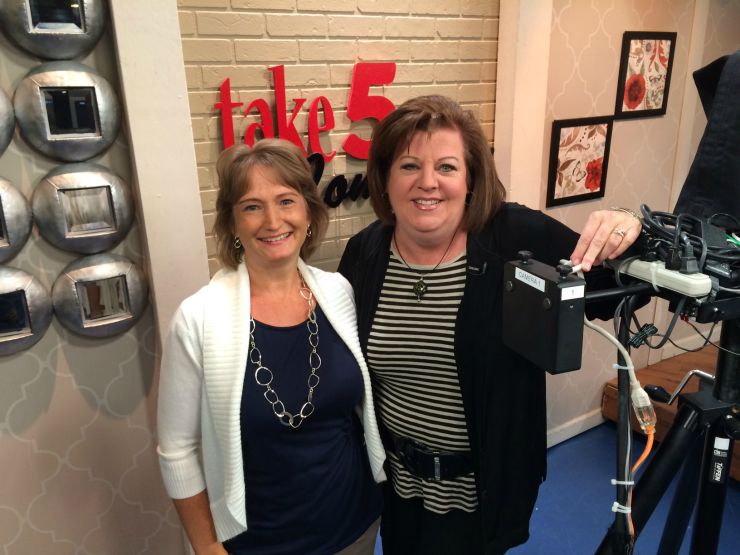 I Was On LIVE Television This Morning — YIKES!
This morning I was at the WZZM-ABC studio by 8:45 for their 9-10am LIVE show called, Take 5 and Company.  I had asked many people to pray that it would go well and He answered — it was fun!  When I first got there they had me wait in the green room with the other guests who were on today, and I really enjoyed getting to know some of them: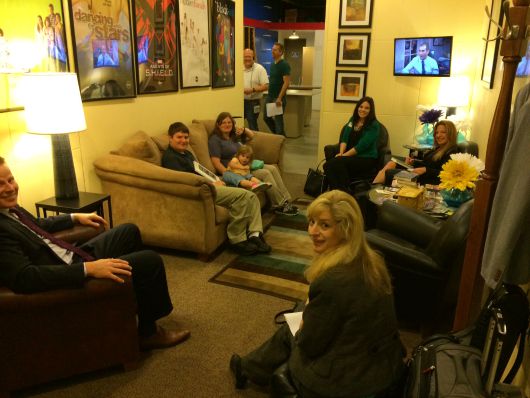 Especially Max and his Mom.  They were there with a gal from Gilda Club, telling about a book Max wrote with five other friends called, "Guys Guide to Grief".  The boys all tell about how they dealt with the death of their Dads (and for one boy, his Grandpa).
Eventually that nice guy you see in the white shirt came in and got us all set with a mic.  (Yes, I was a little nervous going to the bathroom after I had that on.)  Then they had me get my stuff that I was going to talk about situated and ready to roll in on this big table:
I probably should've set the table up in a more attractive way but I stink at that stuff, so oh well.  When it was my turn, I walked onto the set and chatted with Catherine for a bit (she's really easy to talk to) and then asked, "How do we know we're on?"  The next moment a guy said, "10 seconds!"  Alrighty then, it was time…
I was surprisingly comfortable (thank you Lord!) and excited to get the truth about real food out to more people!  I made a couple little flubs, but thankfully nothing too terrible.  (I wish I'd had more time to explain organic foods better.)
Afterward Catherine was joking about how she might have the I Can't Believe it's Not Butter spray in her kitchen, and I said, "Oh please can I get you to throw it out?!  I'll come do a kitchen clean-out at your house next time!"  She said, "I'd like to do that, but it would be embarrassing.  I have your contact info, I'll get in touch."  Who knows if she will, but I'd love to help her and let her know she doesn't need to be embarrassed, because she's just buying the stuff that "they" have told us for decades is good for us.  Who can blame people for not knowing what to buy?  (That's why I wrote Real Food for Rookies!)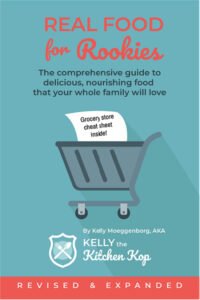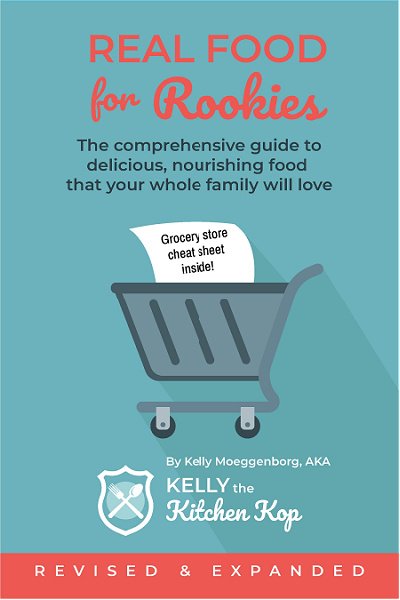 Another guy on the set asked about the stuff you can buy that's an olive oil-butter mix, so we chatted about that a bit.  I told him that it's probably okay if it's just those two things on the ingredient label, but I've seen it before and don't think that's the case.  Plus, since olive oil in the store is often fake, I wouldn't trust that from a grocery store and would just buy butter instead and add your own olive oil that you know is real when you're cooking.  I think it's interesting that everyone is getting more interested in real food these days, have you noticed that in your corner of the world, too?
Here's the link to watch my segment.  Note that they warned me that these videos don't stay up forever.
So then I came home and made the kids breakfast.  🙂