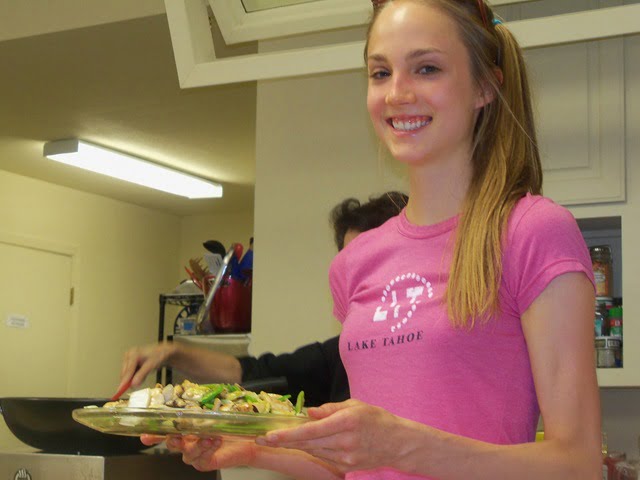 It's been a while since I've posted a health & nutrition interview and today I've got a great one from the "Teenage Health Freak".  If only all teenagers could be so excited and vocal about Real Food!
1.  What is your #1 motivation for eating healthier meals?
My number one motivation for my family and I to eat healthier is to avoid health problems. Because eating healthy is truly an investment for later in life, when you live longer. That's why it can cost so much!!!!
2.  What started you on the path toward better nutrition?
I started on the path toward better nutrition because my grandmother got Alzheimer's. I asked why does this have to happen to her??? Why do I have to "lose" her??  I didn't do anything and neither did she. I found out from research that it can be hereditary, but what we eat affects it as well.  I decided I don't want my grandchildren or kids to lose me like I did her. It's not fair to see someone you love go through it.  They're still there but they're not. With healthy foods, I can prevent this in our family and keep cancer/other diseases away!
3.  What is your biggest struggle in eating healthier meals?
It's expensive. We always are able to pull it off, but sometimes it gets really close to being just too much!  Unlike other teens my money goes towards my "extra" health foods. It may seem strange but I'm so passionate about health that I want to spend my money on it.  Also my parents are sooo supportive of me and understand what I believe and where I'm coming from.  It's hard to get other relatives to believe what I'm saying, especially about animal products/full fat dairy, etc. They look at me like I'm crazy.
4.  What is your favorite healthy recipe?
This is my favorite cookie recipe…it's a winner for everybody!!  I love it.
5.  How difficult has it been for you to get over the modern-day "fat phobia" and go back to drinking whole milk or eating butter, coconut oil, etc. with confidence that it's better for you and without feeling guilty?
I think to myself. Dude, this is what my grandma ate.  She didn't take fat out of anything. REAL, WHOLESOME FOOD IS GOOD, and that is so hard to explain. But when you get grass fed butter/milk/cheese/meat…etc. it's okay..the cows are healthy and providing you with so much nutrition.  If you were to take the fat out, you would lose nutrition. I also think of margarine like this: my body starts to try to break it down, but it's like, 'What the heck are you?  What do I do with you?  Store you as fat?  Put you over here?'  I believe the body doesn't know, and the build up of chemicals starts. Full fat tastes better and is more fulfilling  anyway.
6.  What is your best kitchen/nutrition tip?
Eat like your grandma did (or like they did MANY years ago).  Yeah, food takes longer to prepare and it's extra work at times, but who said it would be easy?  My grandma woke up every morning to bake a fresh loaf of bread, with probably lard or butter and WHEAT flour. I also never let my body go hungry, I think it's asking for food for a reason.
7.  What did you have for dinner last night?
I made a homemade pizza with a of crust of oat/barley/wheat flour with Bertolli's organic olive oil, garlic and basil pasta sauce, onions, bell peppers, spinach, real Canadian bacon, broccoli, parmesan cheese, and lots of Italian spices. Served with salad and passion tea. And I ate 5 normal sized pieces. 🙂
8.  Do you have a tip for how to fit exercise into your life? How do you do it?
I don't really consider what I do "exercise'. I call it 'me time'. Time to think. I walk with my mom sometimes, I may run if I feel like it, dance like nobody's watching, bike, hike, or swim. It's just 30 minutes to myself (or with my mom).  I make time for it because it's me time and I think everybody owes themselves at least 30 minutes a day, how you spend it is your thing. But I also do YOGA about 3 times a week for about 15-20 minutes. I try to not make "exercising" a chore.
9.  Just for fun, tell us how you began reading the Kelly the Kitchen Kop blog?
I was looking up broth and found it.  I wanted to find a good link so people would understand on my blog why I use broth. I love Kelly's blog because it's more on the "Nourishing Traditions" end of things, the real old-time stuff!!
More about the Teenage Health Freak:
I am a 16-year-old health freak!!!! I am extremely passionate about health topics and food, it's all I talk about. I'm not your average teen, I really don't like to sit around too long, and I hardly ever watch TV, unless Dr. Oz is having something good on!!  When I'm not in the kitchen cooking, tending to my "concoctions" or researching about food, I have several other places of interest.

I love to swim laps, run cross-country, play tennis, spend time with my horse, do anything with crafts (interior designing, painting, sketching, re-arranging my room all the time), or dance. I can play the piano and I also have a black belt in Tae-kwon-do.

I work in a culinary kitchen with a chef who prepares gourmet meals for large crowds; I don't get to work too often, only when we have events. But I love my job!! I get to learn so much about cooking, spend lots of time with food, and get a lot of hands on work. I also am a lifeguard and I teach swimming lessons during the summer.

The past year has not been easy for me. The way I eat/my lifestyle is so different from any of my friends' or anyone's for that matter, for the longest time I just felt that something was wrong with me. Just recently I've accepted myself as a health freak, someone who is passionate about something that most people aren't. I carry my head high and I'm proud of who I am and who I'm becoming!!!!!
Isn't she awesome?!  (BTW, her parents want her to be careful and not put her real name out on the internet. Smart, huh? So that's why you don't see it here.)