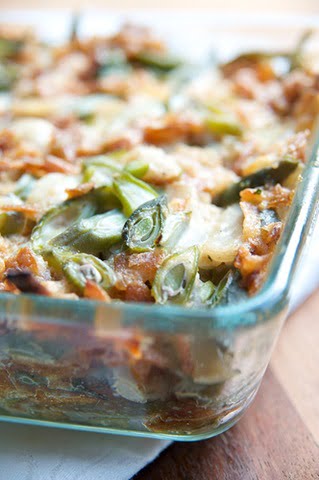 Barb has done it again!  She's coming through with all sorts of good stuff to share with you lately.  First it was the Halloween tips post, and then last week it was the Thanksgiving traditions post, and today she has shared a great Real Food recipe for a Thanksgiving classic…
Green Bean Casserole with Homemade Crispy Shoestring Onions
Ingredients:
6 cups steamed green beans
3-4 cups mushroom gravy (recipe below)
Shoestring onions (recipe below)
Instructions:
Stir green beans into gravy and pour into a buttered, square baking dish. Top with shoestring onions and bake at 375* until bubbly.
Mushroom Gravy
Ingredients:
Butter
1 package or more of mushrooms, sliced
1 medium onion, chopped
A few Tablespoons of Arrowroot Flour
2-3 cups Cream
Sea salt and pepper
Instructions:
Saute mushrooms and onion in butter until the onions are just beginning to brown. Add another couple of tablespoons of butter. Once butter is melted, add 2 tablespoons of arrowroot and mix all together. Add cream, stir at low/med heat until gravy begins to thicken and add salt and pepper to taste. Remove from heat and use as is or blend smooth.
Shoestring Onions
Ingredients:
2 large onions, halved, thinly sliced and separated
Arrowroot Flour
Flour
Lard or tallow for frying
Instructions:
Mix about equal parts arrowroot and flour together in a bowl. Toss onions slices in flour mix and fry in the fat until golden and crispy. Take out of fat and place on paper towel, sprinkle with sea salt.
Here's Lydia's recipe if you need a gluten free green bean casserole!
DUH.  Lydia just reminded me in the comments that this recipe is gluten-free as well.  For some reason I had flour in my head instead of arrowroot like Barb has here.  So now you have TWO gluten-free options!  🙂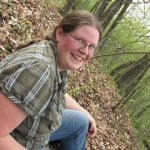 Barb's bio: "I'm a stay at home mom, beginning sustainable homesteader, heritage (everything) enthusiast and real food foodie living in the Driftless Region of Wisconsin."
Check out Barb's blog:  www.wholeandthensome.weebly.com
photo