Kent & I have ruined a few expensive grass-fed steaks before giving up – there's a definite difference in how you cook grass-fed vs. conventional meat! But now that we've got some solid instruction from Kristen (the "Food Renegade") in today's guest post, we'll be ready to give it another shot. Thanks Kristen!
5 Ways To Achieve Grass-Fed Beef Cooking Nirvana
Kelly has done a thorough job sharing the many benefits of eating grass-fed beef on this site. Hopefully, she's convinced you to make the switch. (If not, then what's holding you back?!) I remember when I decided to "go grass-fed," I enthusiastically brought home packages of grass-fed beef from the farmer's market, only to be disappointed.
Why?
Because I was still cooking that marvelous meat as if it were the same as conventional meat.
So, if you want to know how to cook grass-fed beef, look no further.
First, let me say this only applies to 100% grass-fed and finished beef. Many "grass-fed" labeled meats these days ship the cattle off to feed lots to finish fattening up on grain (even many organic operations). That basically strips away all the nutritional and health benefits of eating grass-fed beef, as even 30 days in a feedlot can undo the balance of Omega 6:3 ratios and virtually eliminate the presence of that miracle-working CLA.
Don't believe me? Take a look at the chart below, which I stole from Jo Robinson's book Why Grassfed Is Best!
5 Ways To Achieve Grass-Fed Beef Cooking Nirvana
The biggest mistake people make when cooking grass-fed beef is over-cooking it. Following these rules will help ensure don't make that mistake.
1. Lower the cooking temperature. Because grass-fed beef is leaner than its grain-fed counterpart, you need to cook it at a slightly lower temperature (at least 50 F) for 30-50% less time. Otherwise, you cook off the fat that's there and are left with a dry, tough, unappealing mass of meat that's lost many of its nutrients. (The more cooked your grass-fed beef, the more Omega 3s and CLA you lose.)
2. Invest in a meat thermomenter. You may know how to "eye" when conventional meat is done, but because grass-fed beef is leaner, you don't have the same kind of wiggle room for mistakes. A meat thermometer will ensure you cook your meat just the way you like it — every time. The desired internal temperatures for grass-fed beef are:
Rare — 120F
Medium Rare — 125F
Medium — 130F
Medium Well — 135F
Well — 140F
IMPORTANT NOTE! To achieve the desired temperature, remove the meat from heat when it's about 10F shy of what's on that list. The residual heat will finish cooking the meat over the next ten minutes as you let it rest.
3. Start steaks and roasts at room temperature. This is a good rule for all meats, but especially for grass-fed beef. By starting your meat at room temperature, it will take less time to reach the ideal internal temperature while cooking. This gentler cooking method will help your meat stay juicy and delicious.
4. Don't play with your meat. Avoid the temptation to poke steaks or roasts with forks or pat burgers down with spatulas. This lets all that delicious fat escape, giving you a less juicy end result.
5. Give your meat a rest. When you're done cooking your meat, let it rest for at least 10 minutes before slicing into it. This allows time for the escaped juices to get sucked back into the meat. If you don't do this final step, you'll slice into your meat only to have all the juices dribble out onto your cutting board or serving plate. What good are they there? You want them in each and every bite of meat you eat.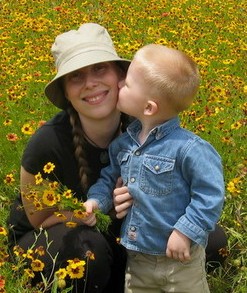 Kristen is a nutrition & wellness coach and a passionate advocate for Real Food. She is the author of Food Renegade, a growing community of like-minded people dedicated to passing on practical wisdom about traditional food preparation techniques. She leads regular film discussion groups, offers real food consultations, and teaches semi-regular courses in traditional food preparation and grocery store navigation. She also blogs. Endlessly. If you're a lover of raw milk, pastured meats & dairy products, locally grown and organic vegetables, and slow food, come join her at the Food Renegade Blog.
More you might like: