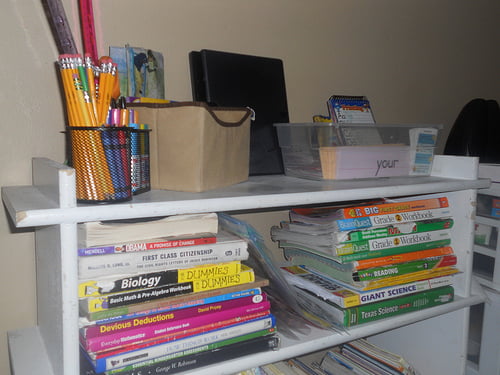 <
As a new school year is about to begin, and our second year of homeschooling, I've got some random thoughts to share as we roll through somewhere in Kentucky on our way home from vacation…
Do you have your kids do schoolwork in the summer?  Even a little?  I had big plans last spring, thinking I'd just have them do a little bit of math and writing over the summer to keep them in the groove.  I'm talking about 1-2 math lessons a week and writing in their thankful journal 1-2 times a week, surely that wouldn't be a big deal, right?  What a bomb.  I decided about half-way through that next summer I'm going to do what my friend, Sonia, does:  encourage reading but don't try to get the kids to do anything else.  NOTHING.  (Except chores, of course.)  All it does is frustrate me.  Our kids like to sleep in (all but Kasey anyway), so we've got friends knocking on our door before they're even awake.  This is a good problem, especially for our homeschooled kids because socializing is a non-issue for us (I happen to believe it's pretty much a non-issue anyway, but that's a topic for another day), so I'm not complaining.  I'm thankful for our great neighborhood full of friends, but even a little summer work has proven to be absolutely futile.  Too bad it took me years to finally figure this one out.
I've been reading a book on our vacation called, Discover Your Child's Learning Style.  When we get home I'll print out the assessments and it'll be interesting to find out what kind of learners we have in our family.  I'll have all six of us do it.  I think this will help us have a better year, because once you learn more, the book also helps you help your child in their own learning process.  By the way, this is not just for homeschoolers!
I have a lot of friends and family members who are teachers.  TWO local teacher friends have called this past week to say they're seriously considering homeschooling their kids.  And we live in an area with a pretty darn good school system, too.  I think it's a sad sign of how tough things are in all schools these days.  My sister is a teacher and every year it gets worse.  More and more teaching to the tests and evaluations based on requirements unrelated to actually helping the kids learn.  And that's not even mentioning the unbelievable behavior issues that get worse every year, too.  She's got stress coming at her from all sides.   By the way, this is NOT a judgment on those of you who send your kids to school, not even a little.  My kids were in the public schools for over 17 years, and mostly I was happy with them there.  If I hadn't been really convicted about homeschooling, we never would've done this.  Read about how in the world I decided to do something as crazy as homeschooling.  🙂  (I know, it's no longer seen as such a crazy thing really, but at the time, I really couldn't believe that was the direction God was calling us.)

As fall quickly approaches I'm feeling nervous again, hoping I can do this well, and wondering anew how I'm going to teach the kids full time and work full time here on the blog.  Somehow it worked out last year and I'm sure God will work it out this year, too.  It's a constant exercise in trust.  I have to keep reminding myself that we have such a few short years left of schooling and full time parenting; our youngest is eighteen in only TEN years! 🙁  I'm excited about our new curriculum, because I know it's really solid and will teach them well.  It'll be better than last year when I always wondered if we were doing enough, but planning out our first year myself was good for getting our feet wet.  I'm a little nervous about having a set curriculum now, too, though.   I did some of this curriculum with them after reading the founder's book, but only parts.  I know that for it all to go smooth, the kids have to wake up and stay on task.  Not for long, and definitely for less time than if they went to school all day, but I just don't want to be a nag all day every day.  "Is your work done yet…?  Where are you at on your schoolwork…?  How about now…?"  Their friends will come knocking before we know it each day and if the work isn't done, I suppose the natural consequences of not playing until it is will take care of that soon enough, but I know at first it won't be easy.
I'm still thinking of getting this brain exercise program that a friend told me about – it's actually for kids with definite learning or attention deficit issues, but besides helping to repair connections in kids' brains with ADHD, I'd like to see if it just helps our kids focus better so it won't take them ALL day to finish their work.  Read more at their site.  Better focus and work results:  The Learning Breakthrough Program is a medication-free treatment for improving the range of symptoms and closing the gaps that define attention deficit. This deceptively simple balance and movement program is one of the most respected alternatives to medications and a perfect complement to other therapies."  I love that 'medication-free' part.
Do you have any beginning of the school year musings to share with us? Or any advice?  I'm always open to hear what you might have for me!
Skim through my earlier homeschooling posts to see what you may have missed.  There's a lot there about our own journey with loads of input from all of you, too.  I'm so thankful to learn from many of you seasoned homeschoolers.  🙂