Do you struggle with keeping toddlers busy while homeschooling?
Today Heather will help you!  By the way, I know many of you are saying prayers for our family today that we have a good first day of homeschooling, I'm so thankful for you.  I'll be praying for all of you, too, for a peaceful back-to-school season, no matter what type of schooling your family does.  🙂  Today Heather was sweet enough to offer to write a guest post on this topic that is a perfect fit for her.  While we're past the toddler stage around here, she's still right in the middle of it, and I know many of you are, too.  I'll bet you could use these helpful tips, and hopefully you'll also have a lot of tips to share, thanks, Heather!
Very. Clean. Armpits.
Are you a homeschooling mom? Did you do tons of research before making the decision to home school? Did you talk to people both for and against, research curriculum options until your eyes crossed, and deck out Pinterest boards with every conceivable craft idea known to man?
Well then, I tip my hat to you. I'm a homeschooling mom, too, but I made my decision based on armpits. Mine, to be exact.
You see, when I was little a family friend told me a "secret" – leaving a film of Ivory soap under my arms would result in a fever by morning. For YEARS my sister and I tried to get it to work using a variety of "film thicknesses" and "soaping procedures." We hoped and prayed and (most of all) scrubbed in hopes of a sick day at home with mom, but all we got for our efforts were very clean armpits!
So, What Does This Have To Do With Keeping Toddlers Busy while Homeschooling?
Well, let's just say that while the rest of my class was whizzing through multiplication tables I struggled to understand basic principles, and by the time we got to fractions I was a goner! The one-size-fits-all approach of my school district didn't work for me, and I had Very Clean Armpits (VCA) to prove it. Plus, I missed my mom!
Now don't worry, I did eventually get that fraction thing worked out. But years later when I became a mama, the VCA experience served as a jumping off point for exploring educational models that fit for our family. Though there are exceptional schools out there (and even more exceptional children in them!), it didn't take long for us to settle on homeschooling.
The Thing Is . . .
The Very Clean Armpit decision making method does not adequately prepare a mama for actual homeschooling. If you need someone to show you how to peel and declaw a chicken foot I'm your girl, but I do not own a label maker, make flash cards for fun, or have any idea how to occupy my toddler long enough to teach my daughter to read.
Are you in the same boat? Well then, I think I can help you with that last one. Here are some tips I've gathered from friends and articles to kick off our school year:
12 Tips For Keeping Toddlers Busy While Homeschooling
1. Give them your full attention FIRST
Before trying to interest them in something, first give them your full attention. This may go a long way to diffusing a sense of rivalry or being left out, and your older child just might learn something via a free online educational game in the meantime! (I've heard Starfall, ABCYA, The Old Farmer's Almanac, NASA, National Geographic Kids and Sheppard Software are all fantastic for younger kiddos.)
2. Include them whenever possible
For example, make sensory tubs about whatever you're going over in school for your little ones to explore together, then nonchalantly draw aside your older child for more formal instruction. I love this one about weather, this one about snow, this one about the human body, and this one in which kids excavate treasure from a frozen block of ice. I also thought this article about the benefits of sensory play was very helpful.
3. Splash buckets never get old
No time to put together a sensory tub? "A dish tub or large pot or bucket half-filled with water and set on the floor on a folded bath towel provides hours of fun. Throw in some measuring cups, a big wooden spoon and some dish soap for added fun," says Melissa from HopeSprouts. A stool and the kitchen sink work, too!
4. Play dough and cookie cutters
Play dough and some kitchen tools/sticks/seashells to cut out shapes with – Nearly every article I read recommended this one! Make your own and and color it with blueberries, rose petals, beetroot, turmeric and oak tree bark using this recipe, or use this recipe if your littles cannot come in contact with gluten. You can also find natural dyes at many health food stores if you don't want to make your own. Quick tip: Add a layer of sensory experience by making scented playdough! Just add a smidge of vanilla, lemon extract or any other food grade scent you have on hand.
5. Hole punchers are amazing.
Hand them one and let them go to town.
6. Find the puzzle pieces!
For toddlers on the older side this tip from Krissy (in the comment section) is fantastic: "Hide puzzle pieces in a tupperware bowl with dry beans. He fishes them out and puts the puzzle together." For younger kids you could just hide fun items – figurines, cotton balls, maybe even a box of raisins at the bottom.
7. Safe electric gadgets
Krissy also mentioned that her son loves playing with an electric toothbrush. I say if the toddler is old enough to handle it safely, that's two birds with one stone!
8. Check out Paula's Archives ideas
This post from Paula's Archives has TONS of ideas for activity totes, and indoor kiddie pool filled with play dough or rice, and tips for letting them "wash" the windows. Definitely worth reading through!
9. Special school-time-only crafts
Bring out a special box of stickers, stamps and paper that are only available during class time (or in the case of my tattoo happy toddler, just stickers and paper).
10. Bath time
They may not work for you, but my littles don't get baths everyday so they pretty much think it's like going to Disney Land. For a day when you REALLY need some quiet time this ocean themed bath with blue water and spaghetti for seaweed looks awesome! I'd use natural food coloring.
11. Make a rice tub
This tutorial calls for vinegar instead of the more commonly used rubbing alcohol. I am going to make mine with natural food coloring.
12. Make an "I Spy" Bottle
Use some of your leftover rice to make an I Spy Bottle! Feel free to duct tape the lid on if your toddler is the type to pour it all over your freshly vacuumed carpet.  🙂
Bonus Tip:
Many mamas hold classes during their toddlers nap time. My kindergartner still takes a nap, but this might work for some of you!
Do You Have A Tip?
Lovely mamas, I've seen the comments you've left on Kelly's previous posts and you obviously know your stuff – how do you keep your little ones occupied during school time?
Not everything works on everyday, but with variety, most days SOMETHING works!
~ Melissa from HopeSprouts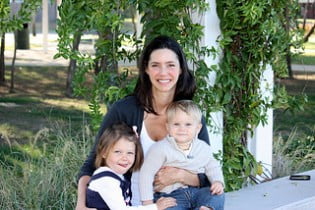 About Mommypotamus: Heather Dessinger, aka The Mommypotamus, is a wife, blogger, and mom to two amazing kiddos, both waterborn at home. She loves all things fermenty, talks to sock puppets, and dreams of owning a backyard flock of chickens.
Her e-cookbook, Nourished Baby, is a simple guide to first foods that explains why the birth experience affects cravings for life, how to decode nursing cravings, what the latest research says about introducing peanuts, eggs and other "allergenic" foods, and more.