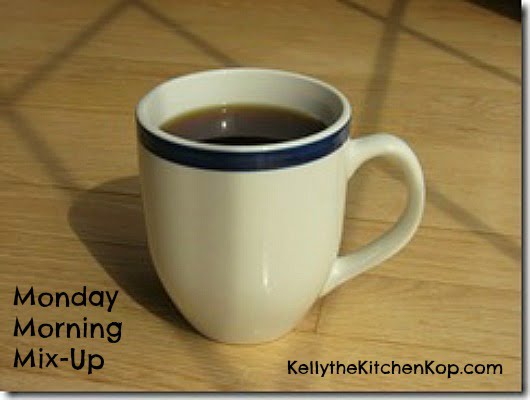 Good morning!  I wanted to find a neat video to share today for Memorial Day, but wow, there are a lot of cheesy ones out there.  I found one, though, a really good one:
So I'm not sure how many are even reading today (some of you crazies like to camp this weekend), but those who are, will you share in the comments who you want to thank today for their service in the military?
I want to thank my Dad who served in the Army, even though he passed away many years ago.  Also my brother-in-law, Kraig, who served in the Marines.  I especially want to thank Kyle, who has sacrificed a huge chunk of his health and his life in this past couple of years because of his service in Afghanistan. (Read more about Kyle here.)  And finally, I'd like to thank my Hubs, who actually joined the Marines when we were dating, when he was almost done with college, and all without telling me ahead of time!  Then when we'd been married 2 years, his unit was called up during the Gulf War and he was overseas for 9 months.  I'd show you our picture of his homecoming, but then you'd have to see my mullet, and that would just be wrong.  Oh wait, I forgot I already shared that.  If you click over, be forewarned, it's scary, LOL.
Here's what I've got for you this week…
I want to make sure you've seen the two latest giveaways from the blog recently:
The issue of whether or not to do cancer screenings is SUCH a sticky one — Sue and Janice have asked questions in the comments here and I just didn't know how to reply — can you help?  Click here:  Are Cancer Screenings Safe?

While I believe that what we eat matters more than how much we exercise (would you agree with that?), it's still very important to have a good amount of movement in our lives.  I thought this was an interesting info-graphic.  (Source)
70% of the "freshly prepared" food items at Whole Foods contain canola oil. What's wrong with that, you ask?  Here are 7 VERY wrong things — and I'll add a potential #8: if canola oil is not certified organic or GMO Project Verified, it is most certainly GMO.
What's your favorite bedtime snack?  I don't often eat at bedtime, but this is yummy now and then:  Organic apples with organic raw, soaked nut butter on top.
Do you have a Smart Meter? Has your power company announced that one will soon be installed?  Read what to do here.