What is a Paleo or Primal Diet? 
Have you seen the words "Paleo" or "Primal" and wondered what they mean?  Are these diets really as good for us as many say they are?
Thanks to Jeanmarie for allowing me to post excerpts today from her post titled, "Why is Everyone Talking Paleo and Primal?"
Is the Stone Age trend something you should take seriously? What are the advantages of Paleo/Primal eating, and how does it differ from low carb? Just who is this Grok, anyway? And do you have to wear a loin cloth?
American food habits are nothing if not trend-driven. We want to eat without restraint, we want to be slender with glowing good health, and we want easy-to-follow rules. And, if possible, we like to have an overarching philosophy to guide (or justify?) our dietary decisions.
Nothing is trendier now than vegan food except its polar opposite: caveman food, better known as the Paleolithic, Primal, or hunter-gatherer diet.
The boom and bust cycle of diet fads lends great appeal to the idea of getting back to our roots: eating the wild plants and animals that hominids evolved on in the Paleolithic era, from about 2.5 million years ago to the dawn of agriculture about 10,000 years ago.
The New York Times and The Washington Post ran feature stories on modern-day caveman food within a week of each other early this month, so you know it's only a matter of time before Grok meets Oprah. (For now, the queen of the talk shows seems to have fallen under the spell of Kathy Freston, who advocates a 21-day "cleansing" vegan diet.) (A note from Kelly:  read why you should stay away from vegan diets!)
There is considerable overlap between "Living La Vida Low Carb" (to borrow a phrase from low-carb blogger Jimmy Moore), and living the Primal lifestyle.
Both emphasize meats and fish, eggs, non-starchy vegetables, nuts, and low-sugar fruits such as berries. The Paleolithic diet includes root vegetables, and perhaps a bit of raw honey. What's generally excluded is grains, dairy, legumes, processed oils, refined sweeteners, sometimes peanuts and cashews. Some versions of the diet exclude or minimize salt. The more extreme view is to eat only what you could hunt with a stick or gather with your bare hands, which would exclude such nutritious delights as lacto-fermented vegetables and bone stock.
Both Paleo and low carb promise to help normalize weight and provide relief from modern medical scourges such as metabolic syndrome, insulin resistance and degenerative diseases and freedom from food cravings. They tend to diverge on dairy and artificial sweeteners (low carbers often include both), and each group has varying opinions on whether to eat lots of fat or little. Both overlap with the Weston A. Price Foundation's nutrient-dense, traditional foods philosophy, which teaches preparation techniques to make the dietary latecomer's grain and dairy more digestible and nutritious, while recognizing wide variation in healthful, native diets (and pointing out that none excluded animal products and all prized certain animal foods such as cod liver oil and organ meats). Neither low-carb nor Paleo necessarily include lacto-fermented vegetables—which are so important for good digestion and a strong immune system—but those would fit in either plan, except perhaps for the most extreme interpretations of Paleolithic nutrition.
Each respective philosophy could be simplified as:
Low carb: "Eat no sugar or starch to stay thin—it's not fat that makes you fat!"
Paleo/Primal: "Eat only foods your paleolithic ancestors could have eaten—with a spear!"
WAPF: "Eat local, nutrient-dense foods, prepared to maximize nutrition and good digestion—preferably with butter!"
Healthy fats:
These days while eating my veggies dripping with butter I think, what a waste! All those years I skimped on fat because everyone "knew" it made you fat, and prone to keel over from heart attack at any moment.
Somehow surviving those trends, I made my way to fat-laden, nutrient-dense eating, thanks to an accidental encounter with Nourishing Traditions by Sally Fallon at the book section of the Berkeley Whole Foods Market.
The work of Weston A. Price, detailed in Nutrition and Physical Degeneration, (and in more accessible form in Traditional Foods Are Your Best Medicine, by Ron Schmid), reveals the best practices devised by varied traditional cultures to overcome the shortcomings of agriculture. Price taught the modern world how those "primitive" people revered certain sacred foods such as butter and cod liver oil, which bestow in concentrated form the blessings of animal foods that our ancestors thrived on.
Food writer Michael Pollan famously boiled his nutritional advice down to "Eat food. Not too much. Mostly plants." One rebuttal to that by a New York Times blog reader was, "Ate plants. A big heap. Still hungry."
In a review of Pollan's In Defense of Food, a WAPF editor added: "Eat plants. Always with butter. Or cream."
Continue reading at Jeanmarie's blog for more:
Read about Cordain and others who started the Paleo trend.
Does Paleo or Primal necessarily mean eating mostly raw food?
How does intermittent fasting play into this lifestyle?
Do our bodies need carbohydrates?  (This one may surprise you!)
What about fermented foods?
She also includes a huge "further reading" list.
Jeanmarie's Suggested Resources:
For my money, the best of the Paleo/Primal guides are Nora Gedgaudas's Primal Body-Primal Mind: Empower Your Total Health The Way Evolution Intended (…And Didn't)
And The Primal Blueprint by Mark Sisson, author of the popular blog MarksDailyApple.com. Sisson, who named the prototypical Paleolithic man "Grok," advocates a holistic lifestyle encompassing a fat-loving ancestral diet, stress reduction, low-intensity exercise spiked with sprints and brief, intensive weight lifting, mimicking the demands Stone Age survival placed on the body and mind.
Gedgaudas pairs clear explanation
of high-fat Primal nutrition with a discussion of the wonders of neurofeedback (which I'm dying to try, if only I had the money and a practitioner nearby) for fixing whatever ails your brain. The two books are very much in harmony; each is worthwhile. Sisson's work is better written and edited; both are amply documented and emphasize plenty of natural fats in the diet, moderate protein and minimal carbohydrates to shift the metabolism from sugar-burning to fat-burning. Both specify natural animal and WAPF-friendly fats (coconut oil anyone?) and grass-fed meat and eggs, plus non-starchy vegetables as the best dietary foundation.
* * * * * * * *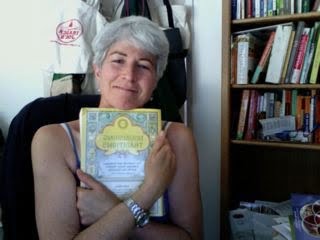 —Jeanmarie Todd loves to eat. Especially butter. And also cream.