You don't have room in your own back yard for a garden, or maybe there's some other reason you can't plant food where you live?  Then get a plot at your local community garden!  Today I'll show you pictures of our new community garden here in Rockford, a great little suburb North of Grand Rapids, Michigan.
Sharing the love from Seeds of Change!
We had extra seeds from the packets that Seeds of Change sent us a while back, so we gave them to Bob & Sonia to plant in their new plot at our local community garden.  If you're a regular reader, you already know what great friends they are, so you won't be surprised to hear that they are taking all sorts of pictures for me to use on my blog.  🙂
Why NOT just grow food in your own backyard?
I asked Sonia this question, and here's what she said:
We haven't had much luck in backyard gardening; not sure exactly why. Plus,  the soil is very compact, and the deer and bunnies think I've planted the feast for them.
We wanted to support the community initiative.  I actually spoke these words (don't fall over): "It would be nice to even meet new people doing this." (Note from Kelly:  Sonia thinks of herself as an introvert, but she's not really.)
We loved the features of a community garden:  the convenience of paying only $45 and having a raised bed already built and filled with dirt;  it's already fenced in; we have access to organic gardeners for tips and classes.  I realize it's not the cheapest way to garden, but it's worth the little extra to us."
Here are pictures from the day they planted last weekend, take a look: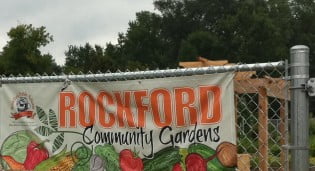 So far around here, Kent's got some herbs replanted in our pots (see our cute little basil coming up on the right?), along with some seeds in our garden, and the rest of our plants that we started from seeds will be planted this weekend.  (If it ever stops raining here anyway…)
Don't forget: keep us posted on your gardens, too!
If you "like" Seeds of Change on Facebook, you can join us by posting pictures there of your garden (please include: a photo caption and a link to the Virtual Garden photo album).  Also be sure to follow Seeds of Change on Twitter.
NOTE:  Seeds of Change is offering FREE shipping on orders over $30 through Monday, May 30th.  Use the code FREESHIPPING at checkout.  🙂
Thanks Bob & Sonia!
Part of the Eat Local West Michigan blog carnival!
I wrote this post while participating in the Sowing Millions Project by Real Food Media on behalf of Seeds of Change. I received product and exclusive content to facilitate my post. My thoughts and opinions are my own and not of those of Real Food Media or Seeds of Change.