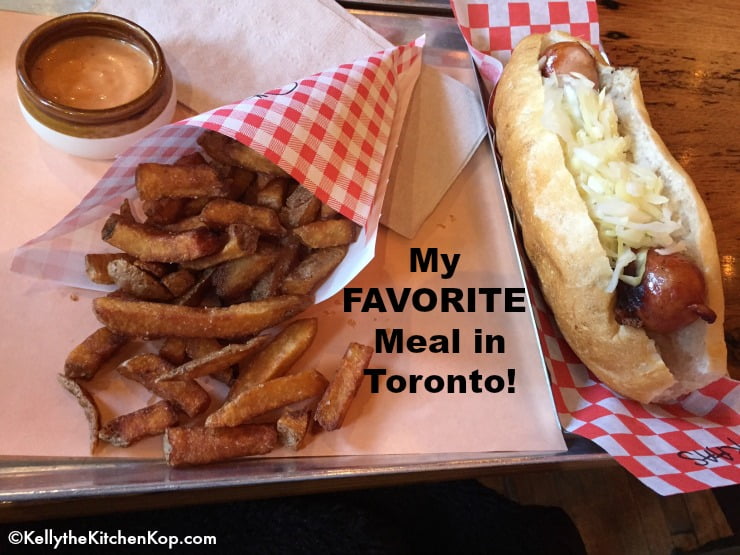 I'm feeling out of the loop here at the blog lately because our kitchen remodel is taking up so much time and it's kind of stressful!  I told you in my post on why we're ditching RO water about how buying our new water filter (and getting a tax refund) has led to one thing after another and now we're fixing all the broken and worn down stuff in our kitchen.  
It's exciting to get a little update after building our house here 18 years ago, but also nerve-wracking and time-consuming trying to stay in a budget and picking stuff that you know you'll need to live with for many years.  I'm so afraid I'll choose something wrong and hate it, like I hate the UGLY countertop we have now — WHAT was I thinking?
Also we went to Toronto over Easter for a long weekend and it was SO nice having our whole family together again!  That's all I'm allowed to say about that, and I'm also not allowed to share our family picture we took at Casa Loma; oh well, gotta respect the kids' privacy.  The top photo shows my favorite meal from Toronto.  It was from a German place called Wvrst, and I had a cheese-filled brat from a local farm in a homemade bun with real sauerkraut on top, and get this, my favorite:  duck fat french fries!  It's such a treat to get to eat fries at a restaurant.  Most EVERY place is still using heart-killer cheap vegetable oils like soybean or canola for frying.  🙁
Here's a neat shot of a shark at the Toronto aquarium, freaky huh?: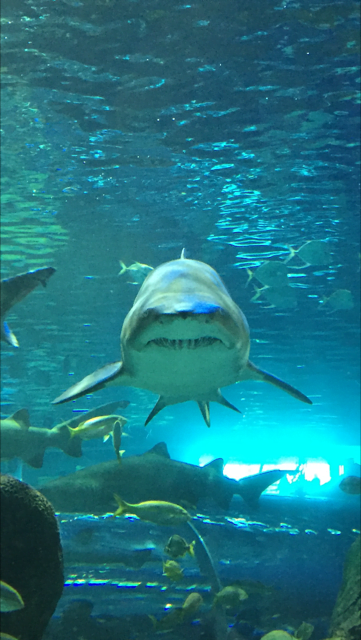 Our youngest is the ham of the family, and he doesn't mind me sharing anything, LOL.  This is his selfie from the top of the CN Tower: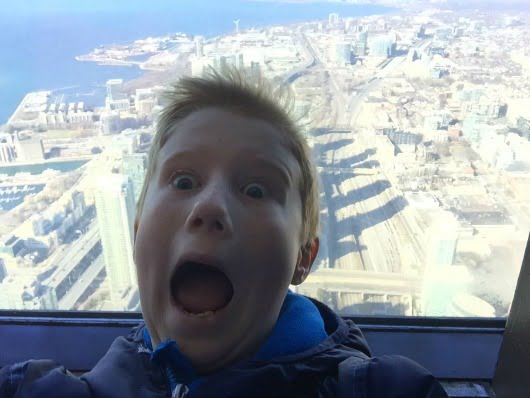 Here's what I've found for you in this week's mix-up, scroll down through and see what grabs you.
Topics are bolded so you can skim through easily…
Did you know that Catherine from Well Future has a new blog?  Her company makes Well Belly, a probiotic for babies and kids, and Vaccishield, the supplement blend that's recommended before and after you have a vaccine, either by choice or maybe it's mandatory through your work.  (Have you seen this post:  What you MUST do before mandatory vaccinations.)  On her new blog you'll find the latest in immune, brain and gut health news for babies and kids.  Find the blog here and also check out their Facebook page.  🙂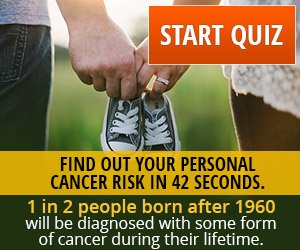 There's a good chance that another disease my Mom also had likely played a role in her cancer diagnosis, and sadly, it's a HUGE epidemic in our country as well:  Type II Diabetes.  If you or your loved ones are dealing with that, you'll want to click here to learn about how to reverse Type II Diabetes.  Yes, it can be done, I hear from people all of the time who do just that.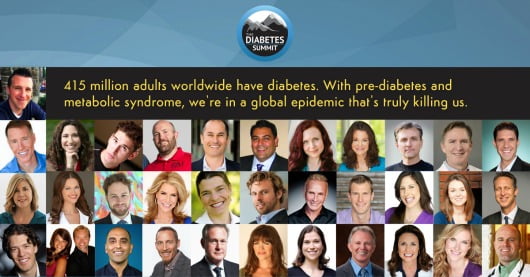 Box Top program encourages junk consumption?  Have you ever saved box tops for your kids' school?  Would you continue to do so if it was nothing more than a ploy to keep our kids addicted to processed junk?  Read this article where they give you a list of better product choices if you still want to participate in the box top program. (They also tell you which products to avoid, but my well-informed readers already know those type of products, right?)  We all want to help our kids' schools, but not at the sake of their health.  And have you seen my post on this:  Do School Fundraisers Annoy You?
My friend Susan sent me this doozie and said, "Right when you think you've heard it all, they come up with a new line of BS:  Flu vaccine cuts risk of stillbirth in half."  Yeah right.  As my friend Jill said, "I wonder what kind of statistical gymnastics they had to perform to come to that conclusion. They had to work pretty hard to get it THAT far fudged!  There's no possible way that forcing a pregnant woman's body into a highly inflammatory, immune system frenzy could possibly benefit their baby.  Just another reminder to think for yourselves."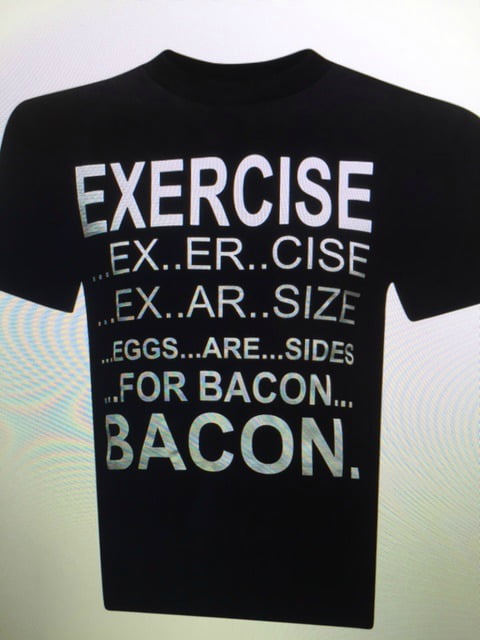 Ten foods to never refrigerate.

 Did you know there are 10 foods we should never refrigerate and why?  Can you guess any of them?  Click here to see how many you got right.  🙂
Find out if your doctor is getting bonuses from Big Pharma.

 Maybe you're searching for a new doctor. You ask friends who they go to, you've read Yelp reviews and you've researched their schooling and background.  Maybe the first thing we should be learning instead is if they write prescriptions heavily influenced by their relationship with Big Pharma, because all that other stuff you researched would seem unimportant if you learned your doctor was making a bonus off of your health, right? How would you know if their interest in your health problem is sincere and not based on a bonus check for writing a particular prescription? We've all heard that doctors get payouts from pharmaceutical companies, but how would you know if your doctor was in on it, too?  Be sure and read this great post that explains how Big Pharma woos physicians with payouts.  Then click on the link to see if your doctor has received any payouts.  Forget Yelp, this is a better place to begin searching for a new doctor.
Onions are healthy!

 I used to hate onions, but somewhere over the years my taste buds changed and now I find them dreamy!  I'll even cut one up and fry it in butter for a tasty snack.  I find myself adding them to everything now, and after reading this article about onion's many health benefits, I have a even more reason to love them.  There you'll even learn about each type of onion and the best ways to eat and store them.  Do you eat onions often?  What's your favorite way to cook them?  My friend Susan makes a big batch of "Angry Onions" weekly (similiar to the ones used on Red Robin burgers) by frying them up in tons of butter and sprinkling heavily with cajun seasoning while they cook.  She eats them all week as a side dish to her morning eggs, uses them on grass-fed burgers, on sandwiches, or on a piece of toast.  For more onion ideas be sure and check out my recipes for French Onion Soup and Haystack Onion Rings.  And while we were at it, be sure and read my post on how to avoid those nasty onion soup packets.
Speaking of giving birth, if you're a Mom, when you were pregnant, didn't you love those week-by-week pregnancy calendars that showed you how your baby was growing inside of you?  I loved those, and now there's a natural mama version!!!  Click here to check it out from Mama Natural.  🙂
I LOVE this article guys, I need to frame it for those days when I'm tired of looking at the dirty sinks or the piles of paper everywhere, and there's no time to keep on top of it all:  "You cannot focus your time, attention, gifts, energy, and enthusiasm toward noble goals while still keeping every corner of life perfectly tidy."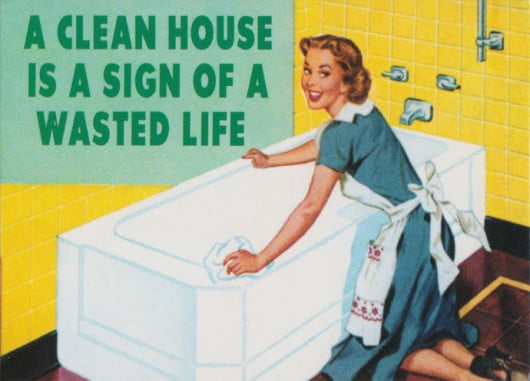 Did you catch all of these recent posts? Here they are in case you missed them:
Have a good weekend everyone!
(Affiliate links are often included in Morning Mix-up posts.  Check out my affiliate disclaimer here.)