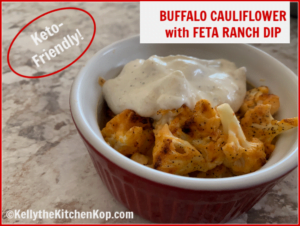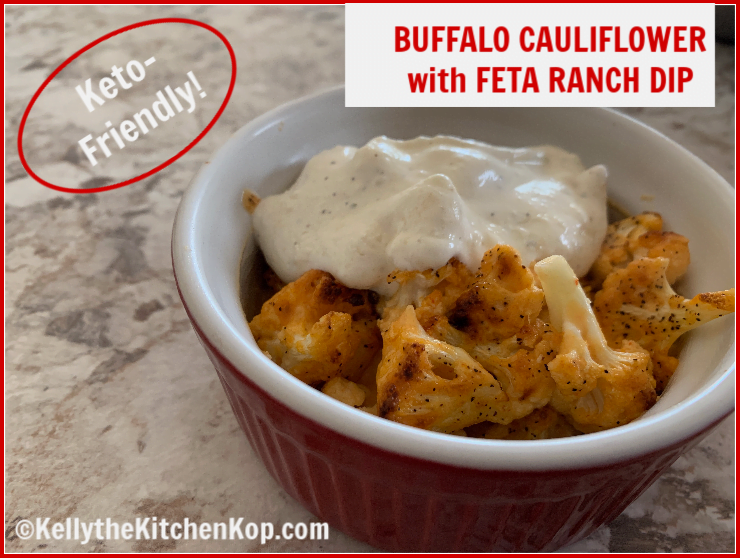 Keto Buffalo Cauliflower with Feta Ranch Dip
Yield 4-6 servings, depends
Ingredients
Large head of cauliflower, washed and cut into bite-sized pieces, dry well
3 Tablespoons avocado oil
4 teaspoons butter, melted
1/4 cup Franks or your favorite sriracha sauce
Juice from 1/2 lemon (about 1 Tablespoon)
4 ounces/half block cream cheese
Sea salt and pepper
Feta Ranch Dip:
1/2 cup ranch dip (basically about 1/4 cup sour cream, 1/4 cup mayo -- we like my homemade mayo best!, 1 teaspoon Italian seasoning, 1/2 teaspoon salt, 1/4 teaspoon pepper, 1/2 teaspoon garlic powder)
3 Tablespoons feta cheese, about 2 ounces
Juice from the other half of the lemon (1 Tablespoon or so)
Sea salt and pepper
Instructions
Clean and cut up cauliflower, dry well.  Preheat oven to 500*.  Line two cookie sheets with unbleached parchment paper, or just butter the pans, OR use my new favorite:  avocado cooking spray with nothing bad in the ingredients -- it's been so many years since I could use a cooking spray!!!!!!
In a medium saucepan over low-medium heat, whisk together oil, sea salt and pepper, melted butter, hot sauce, lemon juice and cream cheese until the cheese is melted and everything is mixed together well.
In a big bowl, mix the cauliflower and sauce together, then spread out into a single layer on the cookie sheets.  Sprinkle all over with sea salt and pepper.  Bake for 15-20 minutes or more until it starts to get golden.  Put your oven on broil for another 5 minutes or so to brown it up even more if needed and give it a nice crisp.
Whisk the feta ranch ingredients together and serve with the cauliflower.  YUMMO.
Recipe by Kelly the Kitchen Kop at https://kellythekitchenkop.com/keto-buffalo-cauliflower-with-feta-ranch-dip/