How to Make Healthy Pancakes
If you've read the post about how much healthier properly prepared grains are, yet are like me and sometimes forget to think ahead so your pancakes/waffles are ready for breakfast, then you can do what I do now – keep some sprouted flour in the freezer!  (Learn more about sprouting/grinding your own grains for sprouted flour here or if you know you won't do that, you can buy sprouted flour here.)

Any recipe will work:
You can use any basic pancake/waffle recipe you like, and then just use healthier ingredients. Here's a recipe in case you don't feel like hunting for yours…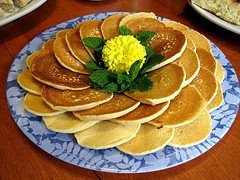 Print
Last Minute Pancakes/Waffles Recipe
Instructions
I mix it all up in my Bosch (Get the Bosch here or read here why I love my Bosch – I love that I can turn it on and walk away and don't have to stand there holding the hand mixer anymore! I fried them in virgin coconut oil for extra nutrition (and nice crispy edges), and didn't taste the coconut at all. If you're worried about it, you could use the refined coconut oil with no taste or smell.
This makes enough to feed a big family OR cook leftovers only 'til lightly brown, then freeze in between waxed paper in a freezer baggie – an easy and fast breakfast, just pop in the toaster.
Did you make a real food recipe?
I want to see it! Tag @KitchenKop on Instagram and hashtag it #KitchenKopRecipes OR share anything you know I'll love by tagging @KitchenKop and hashtag #KitchenKop -- see you over there!
More you might like:
photo by WayTru